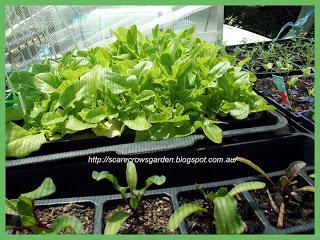 Hopefully the weather will sort itself out this week...I have many seedlings needing to be planted out. Last week it was hail and freezing winds, this week has seen the temperature rise but now the wind is hot, dry and dusty. I have started putting the shadecovers up already!!
Temperatures this week:
Lowest Min 3.5C
Highest Max 30.3C
0.5mm Rain (if you could call it rain!!)
Propagation:
Seeds:
Basil Greek  Ocimum obovatum from Local seed group
Kale Brassica oleracea Lacinato From The Lost Seed
Kale Brassica oleracea var.acephala Vates Blue Curled From The Lost Seed
Lettuce Lactuca sativa Red Coral From Eden Seeds
Lettuce Lactuca sativa Butternut From Home Saved seeds
Spinach Egyptian Corchorus olitoius From Cornucopia Seeds  (last try to get these to germinate!!!)
Spinach Mountain  Atriplex hortensis Yellow Orach From Cornucopia Seeds (ditto)
Potting up/on:
Amaranth Mekong Red
Basil Purple
Silverbeet Erbette
Volunteers:
Warrigal Greens Tetragonia tetragoniodes
Lemon Balm Melissa officinalis
Strawberry seedlings (???I think that's what they are)
These were from the Strawberry Tank Bed e
Seedlings planted out:
Amaranth Mekong Red into Bed 5
Chives into Bed 12 as Companion Plants for the Carrots growing there.
Cucumber Bushy into a new Fridge Wicking Bed FRWB1
Cucumber Suyo Long Into Bed 6
Lettuce Canasta into FRWB2
Lettuce Darwin into FRWB2 and Bed 5
Scuplit (Silene inflata) into FRWB2
Tomato Ida Gold into FRWB1
Tomato Roma into Bed 4 (a replacement for one the earwigs stole!)
Cuttings/Division:
Bugle Ajuga reptans
Divided Valerian Valerian officinalis
Yarrow White Achillea millefolium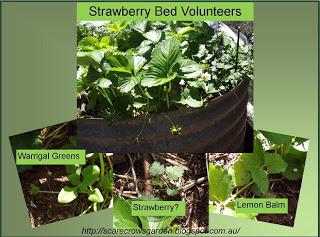 Volunteers rescued from Strawberry Tank Bed e - NZ Spinach (Warrigal Greens), Lemon Balm and what looks like it could be some Strawberry seedlings???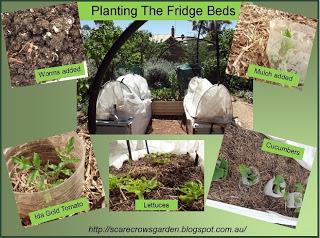 After topping up those Fridge Wicking Beds with extra Compost, soaked Coir and Worm Castings (full of worms) I planted out seedling Cucumber (Bushy) and Tomatoes (Ida Gold) in one bed and Lettuce (Darwin and a couple of Canasta) and Scuplit in the other. After planting the beds were covered with a good layer of Organic Sugar Cane Mulch. They have been covered with netting to stop the birds scratching through the mulch and getting all the worms!!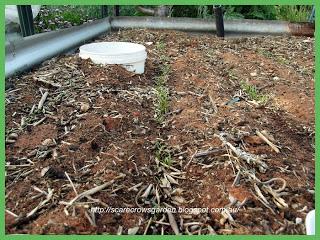 So far the Carrots and Hamburg Parsley in Bed 2 have germinated well...now all I have to do is keep the earwigs off the tiny seedlings...
To see how the various Garden areas fit on our half acre block check out the newest Map of our place HERE This is updated as planting/changes occur.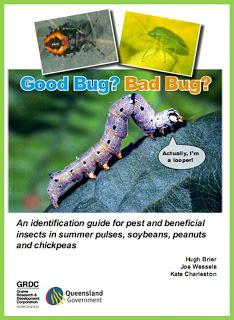 I found this useful resource through facebook the other day...It has some great photos for identifying good and bad bugs! Download the PDF