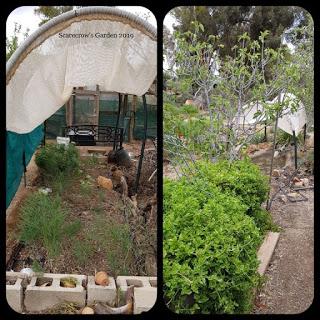 More Shade Covers this time near the Chook Runs...
...over the Pond and the Asparagus Bed

Saturday 16th
Put up Shade cloth covers over the Asparagus Bed and Pond in the Chook Block garden.
Sunday 17th
Watered Worm Farm with rainwater in preparation of the coming heat. Used the run off as a liquid feed (watered down further with rainwater) on new seedlings around the garden.
Chopped Lucerne from edge plantings and used it (along with the first cut of the Comfrey and Valerian for the season) as mulch on Beds 9, 14 and 15. This feeding mulch was topped of with a layer of Certified Organic Sugar Cane mulch.
Planted out Amaranth and Sorrel seedlings around the Asparagus bed in the Chook Block near the chook run. This now has irrigation connected and a shade cover.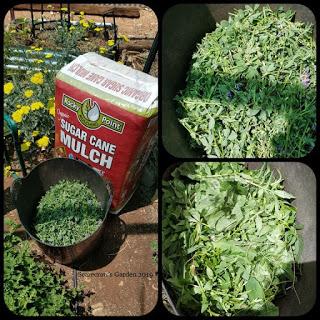 Mulching with chopped Lucerne, Comfrey and Valerian fresh from the garden
Planted out around the fruit trees on the Chook Block: Cuttings (or seedlings) taken earlier this season
Alyssum
Aptinia Mesembryanthemum cordifolium
Arctotis Yellow
Cape Mallow Anisodontea capensis
Cosmos
Daisy Argyranthemum frutescens
Lucerne Medicago sativa
Mountain Gold Perennial Alyssum Lobularia montanum
Pink Lady finger Grape
Red Ruby Grape
Roman Wormwood Artemisia pontica
Santolina Santolina chamaecyparissus (syn. S. incana)
Warrigal Greens (New Zealand Spinach) Tetragonia tetragonoides
White Sage Salvia apiana
Long Sweet Yellow Capsicums planted in bed 4 from shop bought seedlings
Saturday 23rd
Potted up:
Lucerne (Alfalfa) Medicago sativa seedlings
Wednesday 27th
Planted out:
Nasturtiums in various beds
Took cuttings:
Curry Bush Helichrysum italicum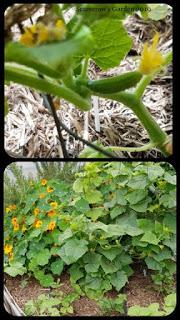 The first Cucumber from Bed 18