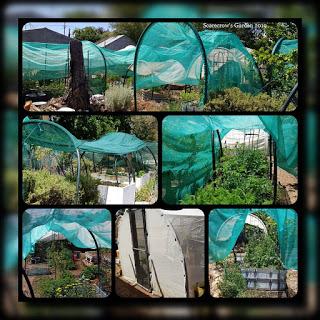 After the driest Spring on record (See Here)
the garden shade is set up for the long hot summer to come...
The end of November also means the end of Spring in Scarecrow's Garden and a time that should see all the summer seedlings planted out. The weather fluctuates between horrendous heat with wind (and fire danger) and beautiful spring days...and not much rain. Chilly mornings mean the cucurbits (pumpkins and squash) are struggling as they prefer minimum temperatures to be over 10C but they should take off next month as temperatures warm up. For sowing pumpkin seeds directly the soil temperature should be over 15C.
Rainfall November 13.8mm (av 27.7mm)
Year to date total 177.8mm (YTD 2018 184mm)
Coldest morning 3C on the 5th
Warmest day 40C on the 20th
20 Minimum Temperatures under 10C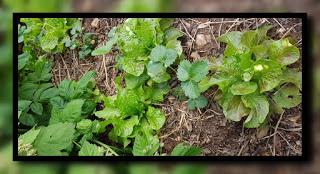 Mignonette Lettuces and Strawberries enjoying the shade under the Loganberry Canes
Mainly greens that are added to salads, stirfries, juices.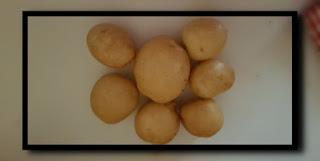 Bandicooted (dug around in the pot to get new potatoes without disturbing the main plant) Potatoes from the potato wicking pots in the greenhouse
Total of 84 Eggs from the girls (we lost one of the layers this month)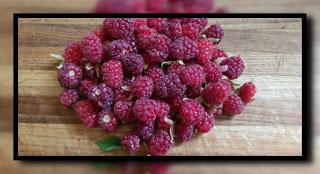 Harvesting a punnet of Loganberries each day for the freezer
Purchased plants/seeds this month:
Free seeds from Diggers Club:
Four O'Clock Broken Colours Mirabilis jalapa
Free Gambler's Herbs Chives Allium schoenoprasum
Pumpkin Buttercup Cucurbita maxima
Rockmelon Ha-ogen Cucumis melo