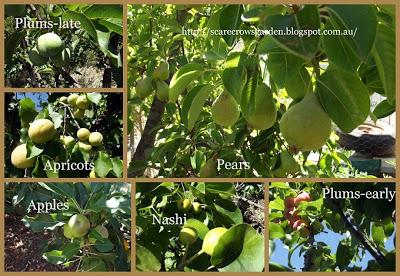 The fruit on the trees, waiting to ripen...giving us a chance to get some nets up before the birds invade again!
Temperatures:
Lowest Min 8.1C
Highest Max39C
9.5 mm Rain
Propagation:
Potting up/on:
Seedlings:
Zucchini Climbing
Cucumber Revel
Cuttings:
Blue Daisy - Felicia amelloides variegata
Cuttings Taken:
Sage Pineapple - Salvia elegans
Planting Out:
Beetroot Cylindra into FRWB 2
Beans Tepary Brown into Bed 20
Lettuce Gloria and Butternut went into Bed 23 in the Kitchen Garden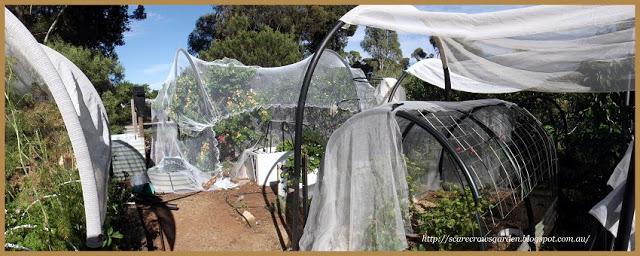 The Apricots are ripening quickly so the net went up and included the plum tree next to it...I can walk through this area and pick fruit as it ripens. Use caution with fruit tree netting if you share your garden with fruit bats...there are no fruit bats over here.
In the photo you can see the other beds in the Main Vegetable Garden are also covered with lightweight shadecloth (50%) or mesh/nets. This is to deter the birds from digging out the worms in the wicking beds and also protects from the worst of the heat and strong winds.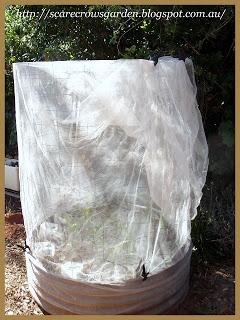 In Bed 20 in the Kitchen Garden the Black Sweetcorn has taken off along with the Cucumbers. The addition of some Tepary Bean seedlings will boost the nitrogen content in the soil. This whole bed has been wrapped in Vege Net as there are grasshoppers lurking and they love young sweetcorn! The cover will be removed by the time the Cucumbers are  flowering to let the bees in by which time the sweetcorn should be large enough to cope with some grasshopper attack!
To see how the various Garden areas fit on our half acre block check out the newest Map of our place HERE This is updated as planting/changes occur.