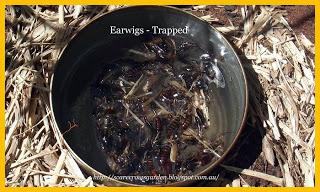 Springtime means Earwigs in the garden. Just when you are trying to plant out tender young seedlings...they disappear over night if not protected. Trapping the earwigs in tins of water with oil is one way of reducing their numbers when you don't have time to be checking hose traps everyday!

Weather Highlights:
Lowest Min -1.8C
Highest Min 17.4C
Lowest Max 16.4C
Highest Max 36.3C
2.5mm Rain
I think the numbers above tell the story...frost one day then hot the next...usual for this time of the year.
Propagation:
Seeds:
Beans Climbing Snake Black Seeded Vigna unguiculata var. sequipedalis Eden Seeds
Beans Climbing Snake Red Dragon Vigna unguiculata var. sesquipedalis Green Harvest
Beans Dwarf Gourmet Delight Phaseolus vulgaris New Gippsland Seeds
Beans Dwarf Tongues of Fire Phaseolus vulgaris New Gippsland Seeds
Beans Winged Psophocarpus tetragonolobus Green Harvest
Chickpeas White Cicer arietinum Select Organic
Mouse Melon Mexican Sour Gherkin Melothria scabra 4Seasons Seeds
Most of the Beans were direct sown but a back up of 6-8 of each were sown in the greenhouse...just as well since most of the climbers have been eaten by earwigs as they emerge!
Potting On/Up:
Cossack Pineapple Physalis pruinosa volunteer seedlings
Planting out:
Basil Large Leaf Italian
Tomato Roma x 3
Tomato Tommy Toe x 4
Into Bed 7
Tomato Kotlas x 4
Tomato Money Maker x 2
Tomato Black Krim x 2
Into the spare Wicking Bed in the Orchard Area
Pumpkin/Squash mix
Wangaporoa Crown, Sampson, Trombone, Spaghetti Squash, 
Into the Compost (Bed 20)  in the Almond Area Garden
Zucchini Golden x 2
Zucchini Black x 2
Zucchini Cocozelle x 2
Into Bed 10
Cuttings:
Rock Rose Pink
Daisy Pink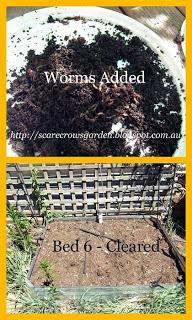 When Bed 6 was cleared it was full of earwigs...so the Faverolles came out and cleaned it up! Then I needed to top up the bed with more compost worms since they didn't just eat the earwigs!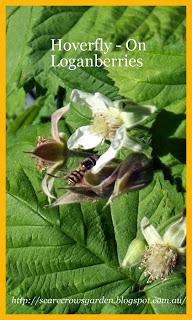 The garden has been full of Hoverflies (Family Syrphidae) this year...here they are visiting the Loganberry Flowers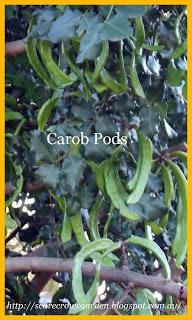 When started to cut back the Carob tree we found it was covered with pods this year.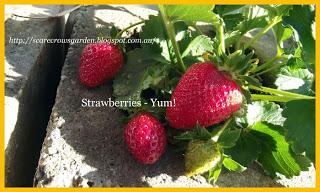 The Strawberries are ripening...yum!