BEAUTY
❤ ❤ ❤ ❤ ❤ ❤ ❤ ❤ ❤ ❤ ❤ ❤ ❤ ❤ ❤ ❤ ❤ ❤ ❤ ❤ ❤ ❤ ❤ ❤ ❤ ❤ ❤ ❤ ❤ ❤ ❤ ❤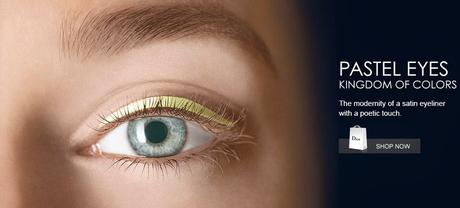 Have you ever said #wth after you found people made a huge effort about inventing something that didn't work? Have you seen people making a great deal about something that doesn't require much attention? DIOR  Eyeliner Patches called DIOR Pastel Eyes - basically a patch eyeliner available in pink, pistachio, peach and yellow shades.
I try to stay away from traits like negativity, dislike, hatred etc. But at times, thee are situations when heart say #wth . This was one of the those times. I could have skipped it like I have done in past, but it felt like that I should start talking about stuff that I don't like at all. These DIOR eyeliner patches for God knows who. 
Those who don't like using eyeliners but secretly want to try, or for those who always mess-up with their eyeliners (I am one of them!), or them who like to play sticker-sticker with kids.  (Remember who I just tried to point finger on  are the actual target buyers of DIOR eyeliner patches).
They Are Called Pastel Eyes - Kingdom Of Colors
The modernity of a satin patch-liner, in a poetic touch. OMG, too much of praise for something which might be eligible to get an entry at playschools through craft box.
You get 4 pairs of adjustable and multi-wear patches. You can create couture makeup with these patches. I have tighten my seat-belt to watch funny videos on youtube actually tutoring how to apply these patches and create different looks.
Priced at:
$61 = INR3,822.99
Check out more at DIOR site.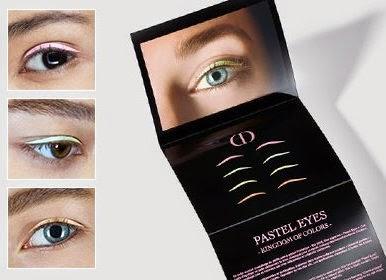 For The Shopaholic In You
I would not curse you if you really like these. But I don't and I don't see it's usefulness that demands approx. 4 grands.
Are there other inventions that scream #STUPID ?
Never miss A Post

  :
NEWSLETTER | FACEBOOK | TWITTER |  GOOGLE+ 
Disclosure Policy
.
Share on Facebook
Share on Twitter
Share on Google Plus