I'm Unsure What To Make Of
NYX Make Up.
It's Not A Slandering Post, It's Weighing
Up Whether Or Not To Invest In Products.
I Know Some Makeup Artists Use It,
But Im Unsure.
Since Their Weform Is A Failure
I Re-Typed My Message In Hotmail
And Sent It Off Last Night, Got My Answer This Morning.
As Previously I Asked 'Where Are The Products Made'
And They Replied With 'Taiwan'
Now I Ain't Being A Downer But
All The Cheap Makeup I Had As A Kid
[ And From Cheap Drugstores ]
Were All Crud, And Had The Worst, Harshest Ingredients 
Were Made In China/Taiwan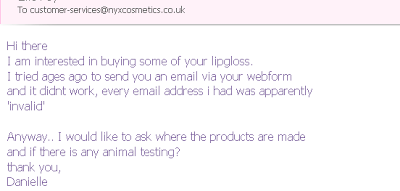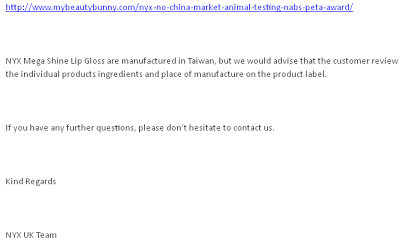 I Do Like The Look Of Their Gliteratti Palette 
But With Cheap Results Like This I'm
Asking Myself Why Should I Bother?
I'm Just So Used To The Great Performance Results
From My Mally Beauty! She's Spolied Me So!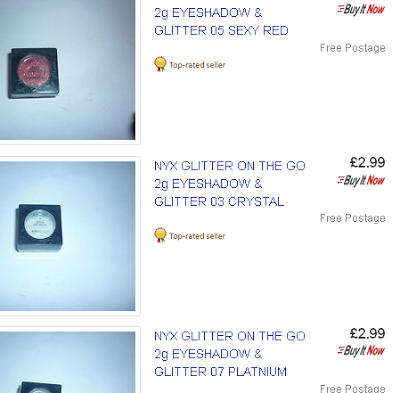 Does Anyone Have NYX Items? And If So
What Would You Rate:
Quality
/10
Durability
/10
Textures
/10
Longevity Of Products
/10
Wear Time
/10
How Often You Need To Re-Apply
& How Much Of The Product You Need To Use 
Are They Scented?
On A Plus Side I Am Very Impressed With Their Customer
Service, I Got My Answer Within One Working Day!
And They Didn't Leave Some Parts Of My Questions Out
Like Alot Of Companies I've Dealt With Have. 
No Posts Tomorrow, As It's My Birthdayyyy <3
Have A Wonderful Weekend!
~

~

~

x

o

x

o

~

~

~