Just A Quickie Really While
I Have 5 Minutes Out Of Your Saturday!
If You Buy The Mally Beauty
Makeup Makeover Collection
All Night Party Kit Or Fierce Face In 5 Minutes
You Get This Cute Little Makeup Holder
Which Is Pink.
In The All Night Party It's Pink Satin.
Sometimes I Use Them, Sometimes I Don't
But It Saves All Your Stuff Clunking Around
And Getting Broken 
[ For Those Of Us Not Particularly Careful With Our Makeup ]
And Yeah, They're Just Full Stop Cute.
She Really Thinks Of Everything!! 
Alot Of People Reviewing The Makeup Makeover
Collection Are All Dissing The Cute Lil Silver
Bag Which Can Be Used As A Makeup Bag
Or Messenger Crossbody.
The Majority Of Them Though
Were Fogies Anyway [Some Being 65+], And Wouldn't
Know Quality If They Opened
A Tin Of Quality Street!
They All Came Out With Comments Like
' Bags Going Straight In The Bin '
' I'd Have Preferred Just A Cardboard Box '
Well, NEWSFLASH!
Mally Makes Amazing Style & Quality
Bags!! Most Of Them Sell For 12+ Alone
On eBay!! I Have Well
Over 6 Bags From Mally
And Love & Adore Them All Equally.
There Really Is No Excuse For Rudeness.
They Are FABULOUS 
And Make The Sets Great
For Gift-Giving
And A Luxurious Treat For Yourself!!
Sorry For The Ramble,
Those Comments Really Ruffled My Feathers.
So In One Side Of My Pink Holder I Have My
Eyesentials ;-)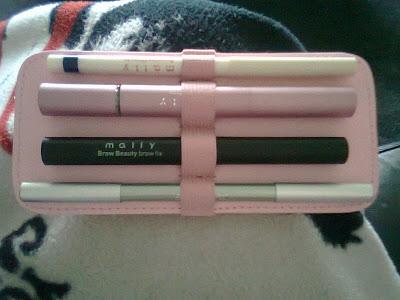 Ultimate Waterproof Eyeliner In Navy
Perfect Prep Undereye Brightener in Light
Brow Beauty Brow Fix Stick
Brow Beauty Brow Pencil Softcolor In Sable
And On The Other Side We Have The
Eye Popping Final Touches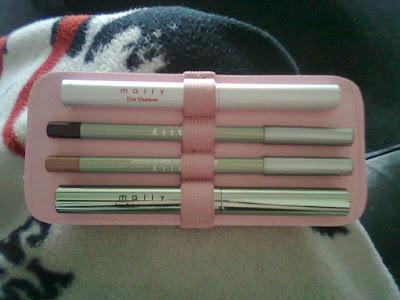 Evercolour Eyeshadow Stick In New Shade Antique Taupe
Starlight Waterproof Eyeliner In Pink Champagne [ MY FAVE!!!!!]
Starlight Waterproof Eyeliner In New Shade Violet Black
Age Rebel Eye Shadow In Sugar [ Light Champagne ]
Have A Wonderful Saturday!!