No internet means way more time to get the house set up. Which is why four days after moving in our house looks like this!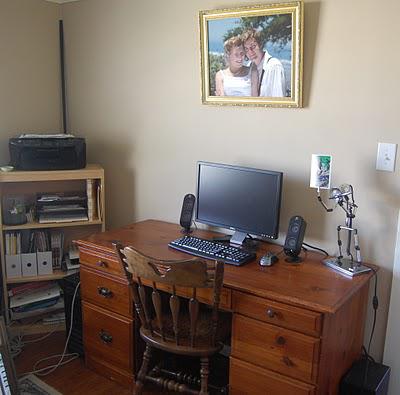 Luke's desk
 The office is going to double as a guest room and TV-on-the-internet-watching room. We put our comfy old couch on the far wall (it's great for sleeping on) and set up Luke's computer facing it. Our wedding picture printed on canvas given to us by my uncle and aunt hangs proudly over the monitor. My mom gave Luke that cute little robot desk lamp.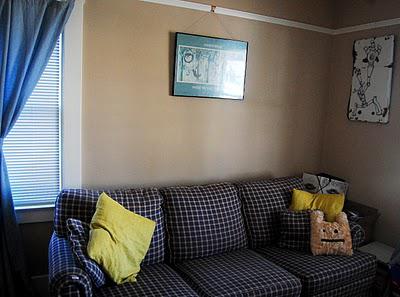 Great old couch given to us by the guy who painted our apartment building. A thrifted picture of "where the wild things are" and a Aaron Hassler original robot found out grace the walls. I made the little monster throw pillow (another failed attempt to make Christmas presents).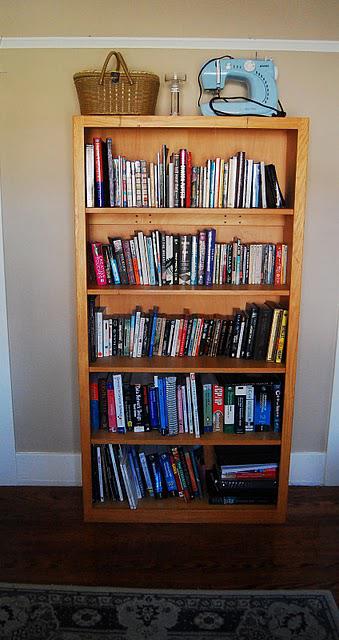 Our nerdy little library, 25% Sci-fi, 25% networking text boks, 25% comic books or books about comic books, 25% other. The rug is Mongolian, my dad brought it back for my grandmother years ago but she wasn't using it. I spent three years of my childhood in Mongolia so this rug is extra special to me.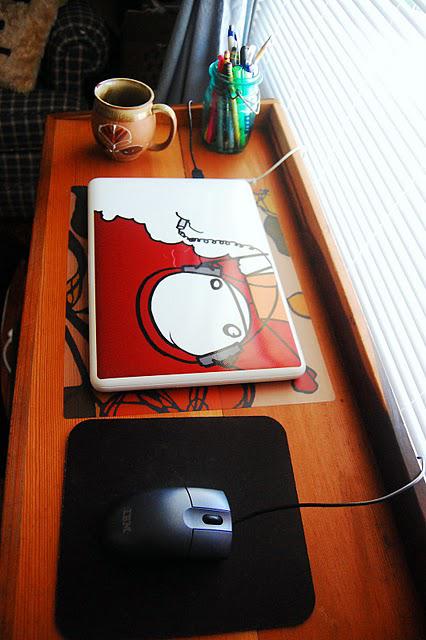 my desk
 One of the first pieces of mail to come to our new house was a present from Luke to me! He knew I wanted a protective cover for my laptop and purchased this adorable
Exploding Dog
skin, entitled "I like this music."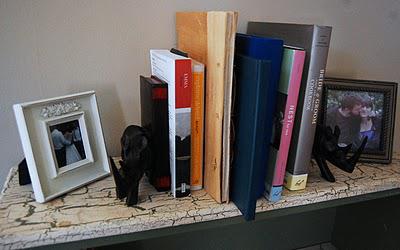 Our less nerdy, shabby chic, book shelf in the dining room. Cook books, photo albums held up by ebony rhinos brought back from Africa by my father.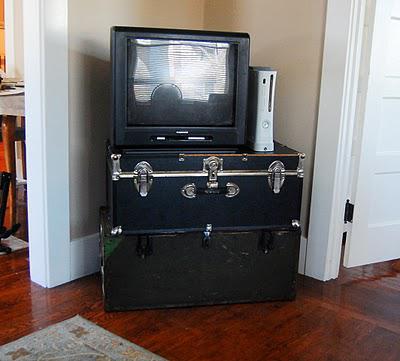 Make-shift entertainment center. One trunk found on the side of the road in eureka and a 1940's military trunk found at an estate sale for $20 make a perfect TV stand.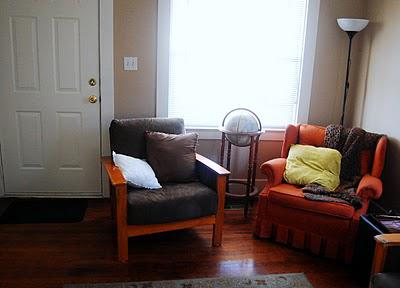 A cozy visiting spot. We found the green chaior on craig's list in Arcata, came as a set (originally from Arcata Exchange) $40, the orange chair was left in our old apartment by a previous tenant. The globe I picked up at the big swap meet/rummage sale held annually at Redwood Acres Fairgrounds in Eureka.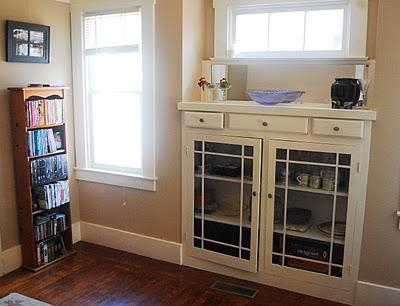 The built-in hutch in the dining room filled with our beautiful things, Fire and Light bowls and a fancy tea set. The small shelving unit holds our DVD collection color organized by spine.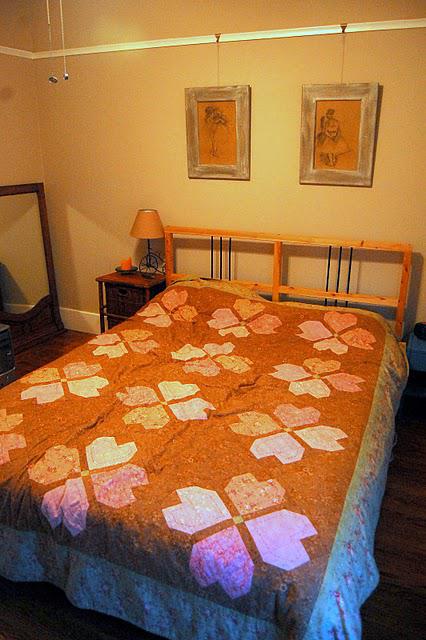 Our cheap-o Ikea bed covered with a quilt made for us by my grandmother on the occasion of our wedding. She used vintage reprinted fabric. I love the browns and pinks. I got the Degas ballerina reprints from a yard sale for $5 each and I picked up that adorable penny farthing lamp stand from a ally-sale in midtown for $7. Scoooooore!
Hope you enjoyed the tour of our little home. The kitchen is still pretty messy, so pictures to come when I get it all pretty. The bathroom looks pretty awesome, but there's still some important hardware that needs to be installed before I'm ready to showcase it on the internet.