Still no internet, 10 days and counting.
I couldn't research my illustration homework, which was to create a set of illustrations based on work of Robert Passantino, so I threw something together last minute and it turned out only so-so.
Something I really love about my fashion illustration class is Sergio Reyes. He's just a fabulous and hilarious designer. Every presentation is entertaining and even if I completely hate the designs, he presents them in such a way it makes me love them and him.
Here's him explaining a dress inspired by those cone things to keep dogs from scratching wounds: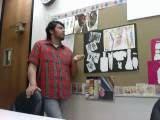 In that same collection he had a dress that was mostly a hood and a onsies in the shape of the word sex. The first collection he did for class featured a few high waisted thongs. His ideas are innovative sluttiness. And, as I'm going to start saying, "if you have to be slutty, at least be innovative."
Here's his collection I pulled off his Twitter account: @sergypoo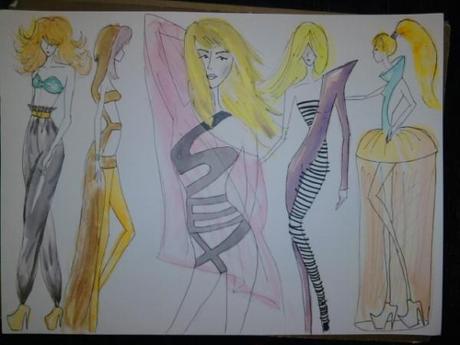 When explaining the middle outfit he said it would be perfect for a sexy lady wanting to go out on the town or to a baby shower. It will remind people about where babies come from. Now that's responsible designing.