Gran Canaria is a real "Miniature Continent". Dunes, deep ravines, ancient pine forests, lush palm trees and beautiful beaches. Mild summers and warm winters. The absence of extreme temperatures, warm waters and gentle winds invite to leisure, relax and enjoy anytime of the year. These are the sites that we believe essential in your visit to the round island, the most populated of the
Canary Islands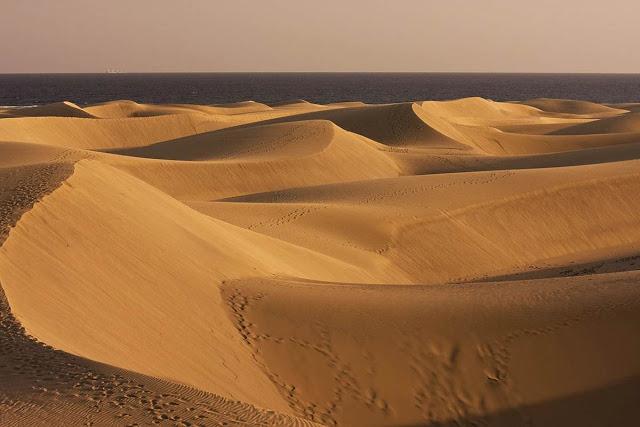 Las Palmas de Gran Canaria
Las Palmas is the capital of the island of Gran Canaria. The capital has two distinct areas: the historical and the port area with the beach of Las Canteras, and not forgetting the uptown area.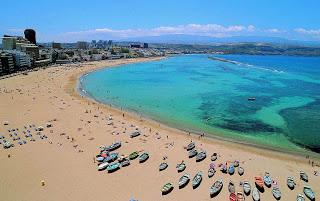 Vegueta district: the narrow streets of the old quarter of Vegueta have lived over 500 years.
Casa de Colon (recalls the visit of Columbus on his voyage to America, C/ Colon  1. www.casadecolon.com. 9:00-19:00 Mon-Fri, 10:00-18:00 Sat and 10:00-15:00 Sun)

Santa Ana Cathedral (interior and exterior in Gothic neoclassical style, cathedral's tower €1.50, C/ Obispo Codina 13, 10:00-17:00 Mon-Fri, 10:00-14:00 Sat)

Diocesan Museum (C/ Espíritu Santo 20; €3.00; www.diocesisdecanarias.es; 10:00-16:30 Mon-Fri; 10:00-13:30 Sat)

Church of San Antonio Abad (Plaza San Antonio Abad 4)

Church and Plaza de Santo Domingo, holding every Sunday a flower market.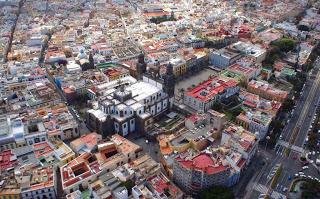 Triana district
Gabinete Literario (historical building, Plazoleta Cairasco)

Calle Mayor de Triana.

Museum of Perez Galdos (birthplace of Benito Perez Galdos, 1843, C/ Cano, 2 & 6. www.casamuseoperezgaldos.com; 10:00-14:00 & 16:00-20:00 Tue-Fri, 10:00-14:00 Sat-Sun)

San Telmo Park (chapel of the same name and modernist kiosk)
Santa Catalina district
Santa Catalina Park (emblematic park from 19th century, very popular between locals)

Las Canteras Beach (one of the most beautiful urban beaches in the country, nearly four miles of golden sand)

La Luz Castle (built in the 16th century, it was for centuries one of the main defenses of the city)
Tafira Alta: fish restaurants and good views of the town.
Viera y Clavijo Canarian Botanic Garden (free entrance; displays more than 500 species of Canary Islands endemic flora, covering an area of 27 hectares, it's considered the largest botanical garden in Spain. Carretera del Centro Km.7, Tafira Alta, www.jardincanario.org, 10:00-17:00 Mon-Sun)
Telde
San Francisco district, with steep & narrow streets, churches, monasteries and old Canarian style houses dressed in stone and wooden balconies.

San Juan district, with the Church of San Juan housing a beautiful Flemish altarpiece and an image of Christ made in the 16th century by Mexican Indians with millet paste (corn).
Ingenio
Church of La Candelaria, 1901, with Gothic altarpiece and bells built and donated by the islanders from Cuba in 1820.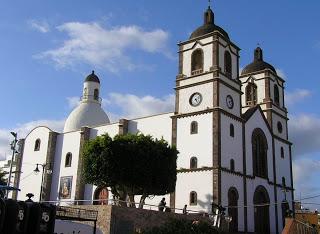 Agüimes
Church of San Sebastián (9.30-12.30 & 17.00-19.00 Tue, Thu, Sat & Sun; with many works of Luján Pérez and other images of anonymous authors)
Barranco de Guayadeque
Located between Agüimes and Ingenio, rising to 1,500 meters above sea level and ending at the east coast of the island. For its sites and caves, is believed to be an important aboriginal settlement. As outstanding appeal, in Guayadeque there is a church carved into the rock, as well as bars and restaurants adapted to the topography.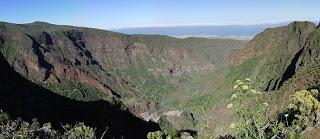 Santa Lucia
Fortress of Ansite, volcanic building with numerous caves and aboriginal burial rooms.

Church of Santa Lucía, located in the main square of the village, on the top of a hill.

Museum Castillo de la Fortaleza, archaeological museum, with remains of the archaeological sites of the area. Around this museum we can find a garden where to enjoy the native flora.
Barranco de Fataga
Ravine stretching from the village of San Bartolome de Tirajana to Maspalomas, hosting a palm-filled valley between steep cliffs and spectacular views.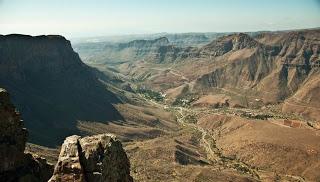 Tejeda
Tejeda, at the summit of Gran Canaria, is a town appearing over a sea of clouds. A place to watch the impressive Roque Nublo, the surrounding lunar landscape and ocean pines that seem to fall as far as the eye can see.
Cruz de Tejeda (large stone cross that dominates the entrance to the Parador Hotel, offering one of the most relaxing views of the island)

Roque Nublo (huge basaltic monolith over 70 meters high)

Roque Bentayga (natural element of great singularity that was sacred to the aborigines)

Pozo de Las Nieves summit, maximum altitude of the island (1,949 meters)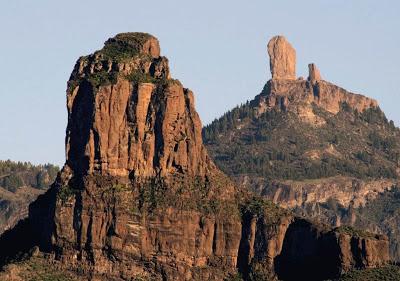 Vega de San Mateo
Farm and livestock village, with a popular flea market on weekends.
Santa Brigida
Beautiful palm trees and Canarian architecture.
Casa del Vino de Gran Canaria (tasting of all varieties of Gran Canaria wines)

Dragon Tree Barranco Alonso (around Santa Brigida, aged about 500 years, hanging from a cliff)

Caldera de Bandama (large volcanic crater with great views of the island)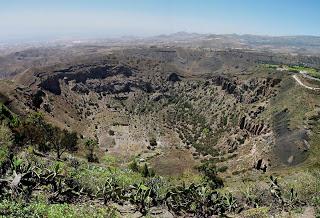 Santa Maria de Guia
Village named as a National Historic-Artistic Monument.
Parish Church (neoclassical style)

House of Quintana (Plaza Mayor, 16th century with Moorish wooden balcony).

Birthplace of Nestor Alamo (C/ San Jose, 17th century)

San Roque Chapel (Plaza de San Roque, neoclassical style)

San Sebastian Chapel (typical Canarian 16th century chapel)
Teror
Village in the heart of the island, with plenty of typical spots. A place of great symbolic value to the islanders home of the Virgen del Pino.
House of the Patrons of the Virgin (Plaza Nuestra Señora del Pino 3, €3.00; 11.00-18.00 Mon-Fri, 10.00-14 Sun)

Basilica of the Virgen del Pino (built in the 17th century, it houses the patron saint of Gran Canaria, 8.00-12.00 & 14.00-18.00)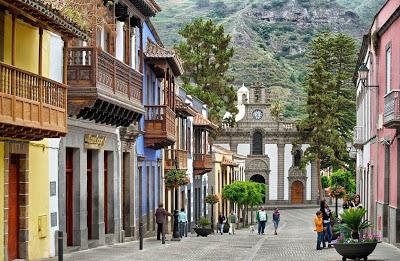 Firgas
With typical streets and places of great beauty as the Square and Parish Church of San Roque, the City Hall (old house in neo-canarian style) and the House of Culture.
Arucas
Town declared of historical-artistic interest.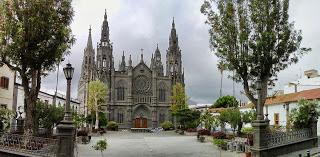 Church of San Juan Bautista (9.30-12.30 & 16.30-19.15; Gothic church)

Town Hall & municipal gardens.

House of Culture, traditional Canarian house 17th century including a courtyard with balconies and a magnificent specimen of dragon tree.

Ron Arehucas Factory (from 1884; www.arehucas.com; 10.00-14.00 Mon-Fri)

Garden of the Hesperides (€6.00; 9.00-13.00 & 14.00-18.00 Mon-Sat)

Arucas Mountain: volcano with a small garden on the summit with views towards the north of Gran Canaria.
Galdar
Church of Santiago, one of the most beautiful temples of the Canary Islands, built between Baroque and Neoclassical styles.




City Hall, it houses one of the oldest copies of dragon tree in Gran Canaria, first documented in 1718.



Cueva Pintada Archaeological Park (€ 6; museum on the aboriginal culture, C/ Audience 2, www.cuevapintada.com; Sep-June 10.00-18.00 Tue-Sat, 11.00-19.00 Sun; Jun-Sep 10.30-19.30 Tue-Sat 11.00-19:00 Sun)


La Guancha Necropolis (on the coast, some of the most significant burial mounds of the Canary Islands)



Agaete & Puerto de las Nieves
Small fishing village with quayside cafes and sunsets with the sea cliffs as background.
Church of Nuestra Señora de la Concepción (in the town center)

Chapel de las Nieves (in the Puerto de las Nieves)

Dedo de Dios (rock formation that rises from the sea)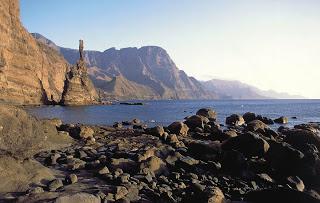 Artenara
Archaeological sites:
Acusa Archaeological Complex (housing and burial caves)




Cueva de Caballero (aboriginal cave)




Cueva de Los Candiles (cave with rock carvings)



Chapel of the Virgen de La Cuevita (carved into a cliff and located 400 meters from the town center, from 18th century, it has an altar, a pulpit and a choir all carved into the rock)
Tamadaba Pine Forest of 8 square kilometers with spectacular views and plenty of trails to explore.  
Maspalomas
The desert Maspalomas dunes is a huge sea of golden sand that covers the south coast of the island with swimmers and surfers. The whole area is a huge natural area of exceptional value. You can also watch the Maspalomas lighthouse, 55 meters high, built in 1890.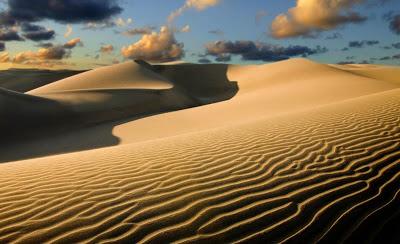 Palmitos Park (€17): Botanical and Ornithological Garden, where you can see 51 different kinds of palm trees and 1,500 exotic birds. It has a great collection of cacti, orchids, butterflies and hummingbirds, 160 species of tropical fish, crocodiles and a parrot show. www.palmitospark.es, 9.00-18.00 Mon-Sun.

Mundo Aborigen (Playa del Inglés-Fataga Road; €10): Cultural Canarian Park with aboriginal settlement history and way of life of the ancient inhabitants of Gran Canaria. Playa del Ingles to Fataga Road, Km 6. 9.00-18.00 Mon-Sun.

Camel Safari Park La Baranda (Playa del Inglés-Fataga Road; 1hr ride €25; 9.00-18.00 Mon-Sun.)

Thalassotherapy Center Canarias (www.gloriapalaceth.com; Gloria Palace Hotel, Calle Las Margaritas, San Agustin)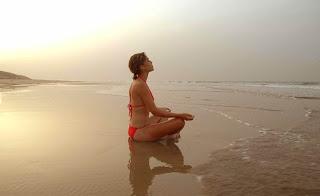 Puerto de Mogan
Puerto de Mogan, with black sand beach, is a seaside neighborhood with a unique location and natural beauty. It is a seaside village with villas built among bougainvillea and canals, a great sunset and diving center.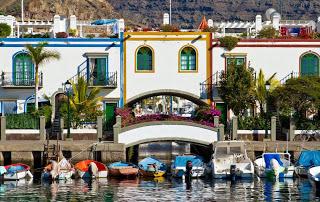 Moya
Cultural heritage buildings such as:
Church of Our Lady of Candelaria (hanging on the cliffs over the Moya Ravine)

Heredad de Aguas: basalt stone building with six neoclassical columns at the façade.
Gran Canaria Map
Find all these places in our new tailor-made high quality map. Click on it to enlarge or download it as a fully scalable PDF file.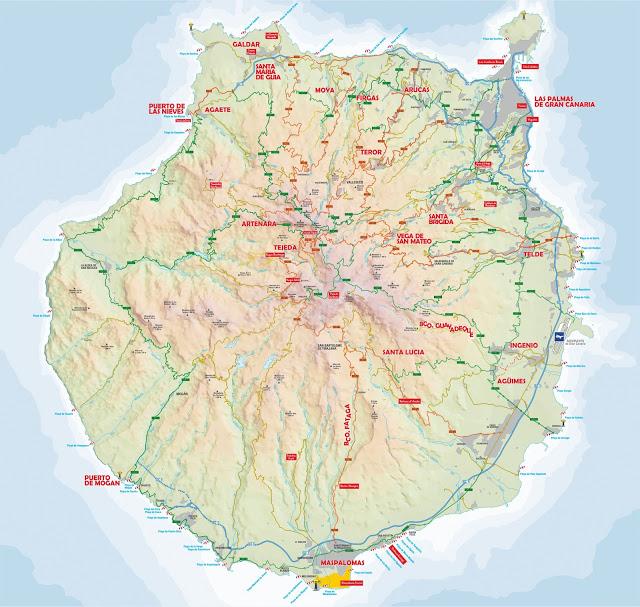 PDF download