Spanish culinary emblem, Paella is originally from Valencia, though it has today many variants with ingredients from the different regions of Spain. It's basically a cook of rice with chicken, duck, rabbit and snails, but with common variants as the seafood paella (with fish or seafood) and the mixed paella (with meat and fish paella).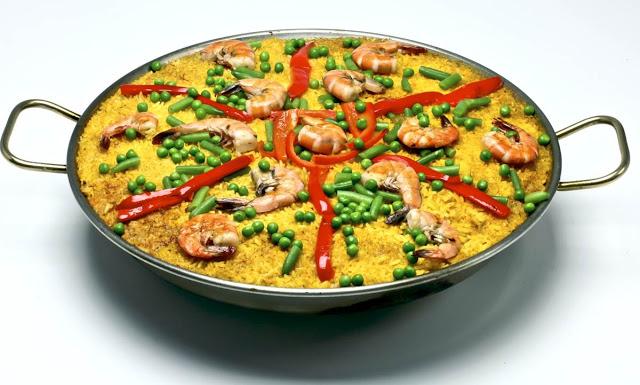 (see below for French version - voir ci-dessous pour la version française)
Ingredients (serves 4)
4 small cups of rice (paella rice type called "bomba" recommended)

1 red pepper, sliced

5 or 6 cloves of garlic, sliced

Olive oil

2 or 3 squids, sliced

300 gr of shrimps

250 gr of clams or 500 gr of mussels

300 gr of chicken, cut into small pieces

A teaspoon of saffron

250 gr of green beans, cut into 3 cm pieces

Salt

A pinch of pepper

1/2 teaspoon of parsley

2 laurel leaves

2 lemons

8 small cups of liquid*
Instructions
Peel the shrimps, keeping the bodies and grind the heads and the rest with a bit of water. Strain and keep the liquid*. Wash the clams or mussels well. Cook a little bit the squids with very little water and keep the liquid*.
Cover the bottom of a large frying pan (paella pan or "paellera") with olive oil, heat a little and add garlics and peppers. Following, add vegetables and chicken and go on like this until the chicken meat is browned. Be careful not to burn the garlics and peppers; this may be avoided by adding 2 or 3 tablespoons of white wine.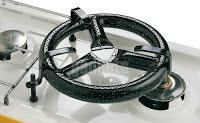 Paella gas burner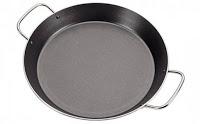 Paella pan
Mix all the liquids* that we have been keeping, and pour 8 small cups of it on the frying pan. If there is any lack of this liquid, fulfill with white wine or water, but only in this case.
Now add the squids, clams or mussels, saffron, laurel, and salt and pepper to taste. Raise the heat to boiling and, immediately add 4 cups of rice and wait for boiling again. Go on like this for 3 or 4 minutes and afterwards stir and reduce the heat. Almost at the end of cooking, add the shrimp bodies and the juice of a lemon. In total, the rice has been cooking between 18 and 20 minutes.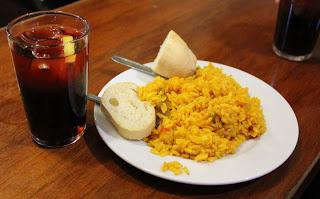 Tapa of paella
When the heart of the rice grains is still a bit hard, just a little, turn off the heat, sprinkle it with parsley and decorate with the second piece of lemon cut into 4 pieces at the edge of the frying pan. Cover the frying pan with aluminum foil and let it stand until the rice is done. The liquid shall be gone then.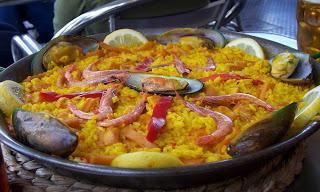 PAELLA ESPAGNOLE (
version française)
Ingrédients pour 4 personnes
4 petites tasses du riz (type de riz appelé « bomba » recommandé)

8 petits tasses de liquide*

1 poivron tranché en bandes

5 ou 6 gousses d'ail tranché

Huile d'olive

2 ou 3 calmars en tranches

300 gr de crevettes rose

250 gr de clovisses ou 500 gr de moules

300 gr de poulet coupé à petit morceaux

Une petite cuillère de safran

250 gr d'haricots vert coupés en morceaux de 3 cm

Sel

Une pincée de poivre

Une demie petite cuillère de persil

2 feuilles de laurier

2 citrons
Préparation
Pour faire la paella, 
commencer à 
décortiquer les crevettes, garder les corps et triturer les têtes et le reste avec un peu d'eau. Filtrer et garder le liquide*. Laver très bien les clovisses ou les moules. Cuire un peu le calmar avec très peu d'eau et garder le liquide*.
Couvrir le fond d'une grand poêle ("paellera") avec de l'huile d'olive, chauffer un peu et ajouter les ails et le poivrons. Alors, ajouter les légumes et le poulet, et continuer comme ça jusqu'à ce que la viande soit dorée. Faite attention de ne pas brûler les ailes et le poivron; on peut ça éviter en ajoutant 2 ou 3 cuillères du vin blanc. Le vin pour paella est toujours blanc.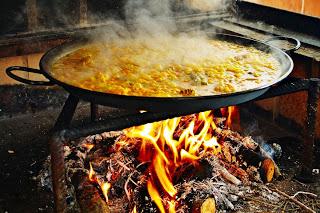 Mélanger tous les liquides* gardés et en verser sur la poêle 8 petites tasses. Si manque du liquide, compléter avec du vin blanc ou de l'eau, mais ce n'est pas bon.
Maintenant, ajouter le calmar, les clovisses ou les moules, du safran, du laurier, et du sel et de la poivre à discrétion. Élever le feu jusqu'à l'ébullition et, tout de suite, ajouter les 4 tasses du riz et attendre de nouveau l'ébullition. Continuer comme çà pendant 3 ou 4 minutes et après, remuer et baisser le feu. Presque à la fin de la cuisson, ajouter les corps des crevettes et le jus d'un citron. Au total, le riz est cuit entre 18 et 20 minutes.
Quand le cœur du grain du riz soit encore un peu dur, seulement un peu, fermer le feu, asperger le persil piqué et orner avec le deuxième citron en 4 morceaux au bord de la poêle. Couvrez la poêle avec une feuille d'aluminium et laisser reposer jusqu'à ce que le riz soit à point. Le liquide aura disparu.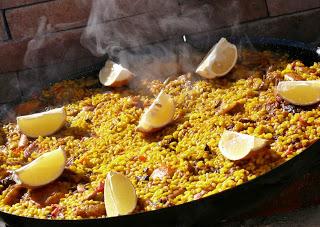 Bon appétit!
Ce post en français est dédié à Mme. Comiti, une charmante dame qui gère le également charmant "Rughjonu", maison d'hôtes dans l'Alta-Rocca, Corse.
Visitez son site sur le Internet ici: www.chambres-dhotes-alta-rocca-corse.com