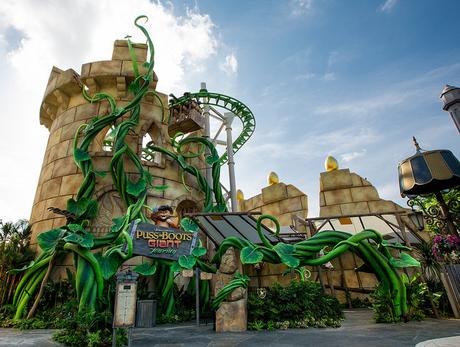 After co-starring in the Shrek franchise and being feature in his own movie, Puss In Boots is taking the spotlight at Universal Studios Singapore. The furry feline we've all adored is the star of Puss In Boots' Giant Journey, the first suspended roller coaster themed after the franchise.
Located at the storybook-inspired Far Far Away themed zone, the new attraction takes everyone on a larger-than-life adventure across the Giant's Castle, which was ruined by an entwined beanstalk. The duo of Puss In Boots and Kitty Softpaws go on a swashbuckling quest for precious golden eggs to save San Ricardo's Orphanage against the Great Terror.
The ride was developed with an impressive array of 23 animatronic figures and thrilling sensations of flight and anti-gravity. Its opening headlines Universal Studio Singapore's fifth anniversary celebrations, with more exciting events coming up in this 2015.
Learn more about Universal Studios Singapore at www.rwsentosa.com/uss. Tickets may be purchased through their website, authorized travel agents, or their hotline +65 6577 8899.