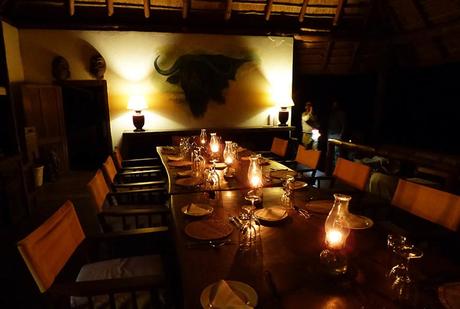 Where in Uganda can you enjoy a night game drive, engage with experts who are actively conserving a Protected Area and share stories over Masterchef-calibre dinners at the Captain's Table?
The luxurious Semliki Safari Lodge sits in the middle of Toro-Semliki Wildlife Reserve, a Protected Area that will soon be upgraded to a National Park. "Uganda's oldest upmarket tented camp" is equidistant from Lake Albert and the excellent new road from Fort Portal to Bundibugyo that winds its way through jaw-dropping Rift Valley panoramas.
This was my third - and arguably my most interesting - visit to this luxury lodge. My mission? To count birds on behalf of Nature Uganda... (while being spoiled rotten!)
Toro-Semliki's birdlife is fantastic and easily seen. The wildlife reserve may not have the animal numbers of well-established National Parks but forest elephants and a multitude of primates made for three memorable game drives. One morning I even heard the unmistakable sound of a chimpanzee in the forest below my tent.
If you want to reconnect with nature - in luxury and style - I highly recommend a few days at Semliki Safari Lodge.
"I heard a leopard last night" Lodge Manager Tony announced when we checked in - but would we see one?
Scroll down to read the Muzungu's account of our night game drive and learn about all the diverse activities you can do in and around the lodge.
Scat, cats and bats! A night game drive in Semliki Wildlife Reserve
We were thrilled when the team suggested we jump in the lodge's safari vehicle for a night game drive. As we dimmed our torches, fireflies blinked in the darkness and we bumped along the marram track towards the airstrip.
Our first sighting was a pretty little Genet Cat, similar in size to a domestic cat with a bushy tail. Once I was familiar with their eye colour and size, it was easy to pick out more Genets in the woodland either side of the track.
A few minutes from the lodge, we pulled up next to a big puddle. We were amazed when Tony jumped out and plucked a terrapin from the muddy water! He explained how Side-headed Terrapins are common in Toro-Semliki Wildlife Reserve but only appear when the rain fills up the ruts and gullies. "Our guides drive around the puddles to protect the terrapins, rather than through them." He added.
On the airstrip, a small flat area of cut grass, we cruised slowly up and down looking for nightjars, shy nocturnal birds that are sometimes seen 'dust bathing' on the ground. They are masters of camouflage. It's only when you (almost) run over them that you notice them fly off in alarm.
According to Stevenson and Fanshawe's Birds of East Africa "Nightjars are a notoriously difficult group to identify: not only do the species look alike, several have different colour morphs." Don't ask this casual birder to tell the two species apart, but our guides did. There were two new ticks for the muzungu that night: a Square-tailed Nightjar and a Slender-tailed Nightjar. Temporarily dazzled by our torches, the nightjars sat silent and immobile giving us the chance to admire their delicate plumage.
A Water Thick-knee pretended not to see us. This mainly nocturnal bird "freezes or squats if disturbed," the book tells us. How true! "They are easily identified by their well-camouflaged brown plumage, large yellow eyes and long thickly jointed yellowish legs."
Our nocturnal adventure continued with more interesting creatures: a leopard had visited the airstrip not long before us.
As we swept our torches along the ground, we picked out the small dark shapes of animal droppings. On closer inspection, the leopard scat (poo) was crawling with 40 dung beetles. Tony's eyes lit up with excitement "I've never seen so many!" He said. "It's the remains of a leopard's kill."
As we leaned in for a closer look, we recognised fluffy grey baboon fur among the dung beetles, moths and leopard scat. The beetles had clearly been industrious in the preceding 24-hours: little remained of the baboon prey.
Back in the vehicle, we spotted the ears of a young Kob poking through the long grass at the verge of the airstrip.
"Don't disturb it." Tony explained how we must not draw attention to this lone calf. It would make easy pickings for a leopard.
As we drove back to the lodge - and around the puddles - a Yellow-winged Bat swept through the night air. The beam of the headlights picked out a Defassa Waterbuck in the sanctuary of the lodge grounds. We may not have seen the leopard, but it was clearly around.
Wining, dining and sleeping - Semliki Safari Lodge's creature comforts
Even with the reduced number of staff (due to the pandemic) the lodge did a tremendous job of looking after us. Every mouthful of food was delicious. Each ingredient is carefully considered, from the home-made chili to the exquisite pumpkin soup and pretty creations of delicate salad leaves. Breakfast is a gourmet affair of poached eggs with bacon and rocket, cereals and tropical fruit served with home-made bread, chunky marmalade and excellent coffee.
Every night, guests are invited to dine by candlelight with the lodge managers at the Captain's Table, a rare treat at a Ugandan lodge. Tony and Noline are seasoned Safari experts. (I would revisit Semliki Safari Lodge any time for these shared dining experiences alone!)
The huge dining table - fashioned from one gigantic slab of wood - is perfect for social distancing. Semliki's main living area of chunky sofas, tribal art and wall murals by the artist Taga is rather grand.
All rooms are fitted to a high standard. The hardwood floor of the luxury tents felt wonderful underfoot and there is generous amounts of hot water for the showers and luxurious outdoor bathtubs. Persian carpets and antique furniture recall a classic African safari. Kikois and slippers are provided, as well as mosquito repellent and a lockable cupboard. Every suite has a daybed on its private deck. (As I write this, I feel the urge to return!)
On a tour of the lodge grounds, lodge manager Tony explained how the units have been re-modelled to maximise the forest views. The new layout almost doubles the floor size of each luxury setup. Where possible, every item has been recycled, including "Amin's steel," reclaimed from the ruins of the original Uganda Hotel that once sat on this site. New materials include Elgon olive wood and thatch provided by the nearby Ntoroko Grass Growers' Association.
Here in the bush, the Uganda Safari Company has invested heavily in solar power, a water borehole, a vegetable garden and more. They supply the water to the Uganda Wildlife Authority and UPDF camps, a key contribution to managing the security of the Wildlife Reserve and its wildlife. Working together, the three organisations have cut the tracks and created a pond for animals to drink from during the dry season, amongst other initiatives. I admire The Uganda Safari Company's vision - and determination - to protect this little pocket of nature.
What was Diary of a Muzungu doing at Semliki Safari Lodge?
Twice a year the team from Sunbird Hill carry out bird population monitoring on behalf of NatureUganda. Our patch is the Kibale Conservation Area which comprises Kibale National Park, Toro-Semliki Wildlife Reserve, Semliki National Park, Lake Saka / Lake Bikere, Toro Botanical Gardens, Fort Portal and Katonga Wildlife Reserve.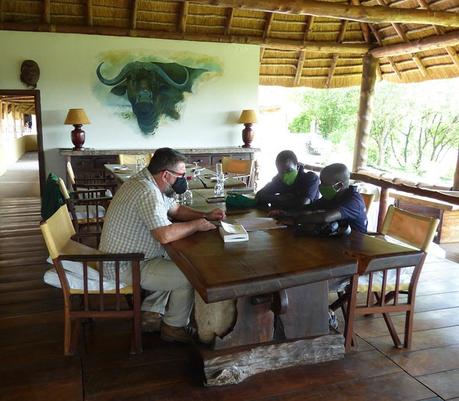 Sunbird Hill team visit Semliki Safari Lodge Uganda September 2020.
It was wonderful for our team to be in the company of like-minded conservationists and nature-lovers
- especially after lockdown!
Why should you go on safari at Semliki Safari Lodge?
Whether you drive - or fly in - to Semliki, I highly recommend game drives with the lodge's knowledgeable site guides Julius and David. They know the Toro-Semliki Wildlife Reserve inside out and are full of interesting anecdotes. They are expert drivers too. In fact, if you want to learn four-wheel-drive defensive driving, manager Tony is your man!
Recommended activities from Semliki Safari Lodge
A night game drive to the airstrip.
Safari game drive on one of the numerous tracks in Toro-Semliki Wildlife Reserve.
A dip in the lodge swimming pool.
Sundowners around the lodge campfire at the lodge or at the Semliki Bush Bar on an evening game drive.
Luxurious bush breakfasts, picnics and private dinners in stunning locations.
Primate walk in Mugiri Forest below the lodge. Chimp sightings are not guaranteed but you have a good chance of seeing Olive Baboons, Vervet, Red-tailed and Black and White Colobus Monkeys. Bookings can be made at the Uganda Wildlife Authority office next to the lodge entrance.
Lake Albert and tours to see the Shoebill are 30 minutes' drive away and can be arranged by the lodge.
Semliki is "a Mecca for birders" with over 425 species recorded. My birding highlights included: Abyssinian Ground Hornbill, Crested Francolin, Crowned Hornbill, Palm Nut Vulture, Flappet Lark, White-browed Coucal, Grey Kestrel, Yellow-throated Longclaw, Striped Kingfisher, Helmeted Guineafowl, African Paradise Flycatcher, Black-billed Barbet, Northern Black Flycatcher, Oxpecker, Ruppell's Long-tailed Starling, Long-crested Eagle, Black Coucal, Grey-backed Fiscal, Rattling Cisticcola, Blue-naped Mousebird, Ring-necked Dove, Grey-headed Kingfisher, Ross's Turaco, Pygmy Kingfisher, Piapiac, Bateleur, African White-backed Vulture, Red-cheeked Cordon Bleu, Blue-spotted Wood-dove, Little Bee eater, White-banded Snake Eagle, Fork-tailed Drongo, Black-billed Wood-dove, Lanner Falcon, Spotted Morning Thrush - and two species of Nightjar.
Look for butterflies. The Sunbird Hill team identified over 50 species including: Blue Sailor, Sulphur Orange Tip, Pea Blue, Red Tip, African Queen, Pearl Charaxes, Citrus Swallowtail, Blue Demon Charaxes, Scarlet Tip and Guineafowl Butterfly.
Birding in Semliki National Park (SNP) or Ntandi along the main road just outside SNP, just over an hour's drive from the lodge.
The hot springs at Sempaya, Semliki National Park.
Do a day - or longer - hike in the Rwenzori foothills. There are a number of tour operators and community organisations that organise hikes. Send me a message if you would like a recommendation.
Andrew Roberts, co-author of the Bradt Uganda Guide, recommends the (very steep) walk from Ntandi to Karagutu.
Bundibugyo is the closest town in Rwenzoris to the DRC (just 10km). There is not a lot to do in Bundibugyo but I find it rather charming. It's a scenic drive, particularly during the rainy seasons. Look out for cocoa plantations along the route.
Enjoy the Rift Valley scenery. As you drive from Fort Portal, skirting the Rwenzori foothills to the left, there are a number of roadside stops where you can take photographs. To your right is the Kijura Escarpment, the "eastern wall of the Rift Valley" according to Andrew Roberts' excellent maps of Uganda.
If you love birds, a tranquil pace, seriously great food and stimulating company, you will love Semliki Safari Lodge. It's perfect for seasoned safari-goers who want to reconnect with nature.
Would you like to visit Semliki? Which activities would you try?
Read more about Semliki Safari Lodge in my Travel Directory and, if you make an enquiry, please mention the Muzungu sent you 😉