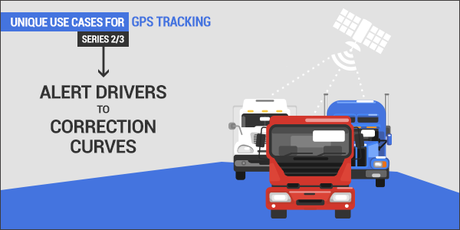 GPS tracking solutions are much more than just dots on a map and can be customized to best meet the needs of every business. This is the second blog in the series of unique use cases for GPS tracking and highlights a delivery fleet that was able to solve a major safety hazard facing their business.
The challenge:
We have found that fleets with heavy duty vehicles run into a safety challenge with correction curves that are built to connect two roads that do not line up between state lines. Correction curves are recognized as a safety hazard for larger vehicles because they are often unanticipated and come up quickly. If vehicles are traveling too fast when approaching correction curves, they will be unable to slow down in time and can experience rollover accidents.
A food delivery fleet that experienced a few rollovers and even 1 fatality over the course of 60 days started researching GPS tracking technology to find a solution to this safety challenge. To prevent rollovers and ensure the safety of their drivers and the public, they were in need of a solution that could warn drivers when they were approaching correction curves so they could reduce the speed of their vehicles.
How it was solved:
To solve this unique safety challenge, fleets can use a GPS tracking solution to create landmarks, or geo-fences, around dangerous stretches of road. By setting landmark alerts for these correction curves, the food delivery fleet is now able to notify their drivers as soon as they enter the geo-fence. The alert can be sent to the driver's Garmin navigation device with a note like, "Correction curve is approaching, slow down your vehicle!"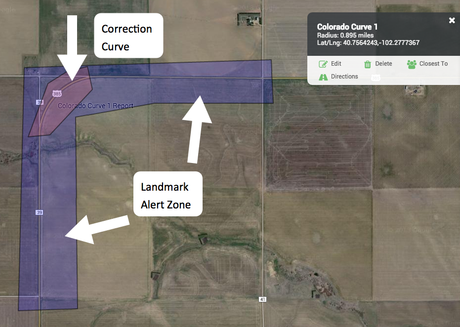 Example Landmark Showing Correction Curve Area
Because this was such a major safety hazard, the food delivery fleet wanted to take extra precaution to ensure drivers did not miss the alert. To meet this need, custom functionality was added to the landmark alert to trigger a buzzer and flashing light when their driver enters the correction curve landmark. The buzzer and light were mounted to the dash of the vehicles to ensure drivers would not miss the warning signal when approaching correction curves.
GPS tracking alerts have the ability to notify drivers and/or managers of situations that require immediate attention. Having the ability to notify drivers of potentially hazardous driving conditions automatically helped this food delivery business increase fleet safety and can be applied to any fleet that is interested in this type of in-cab alerting.
To learn more about how GPS tracking can solve your unique business challenges, contact GPS Insight!