At GPS Insight, we pride ourselves on being more than just a top fleet and asset tracking software; we pride ourselves in being a partner for our customers. Account management is a big part of establishing that partnership. Our account management team aims to help our customers tackle tough business challenges and achieve the most ROI from our solution. We want to learn about our customers' values and align them with their fleet management goals so that each customer can be truly proud of what they achieve with GPS Insight.
What makes your business special?
What makes your business special? Are your customers as varied as the markets in which you serve them? Does your business operate under an awesome umbrella of idiosyncrasies? Are you passionate about making your community a better place? Is your business an extension of your home?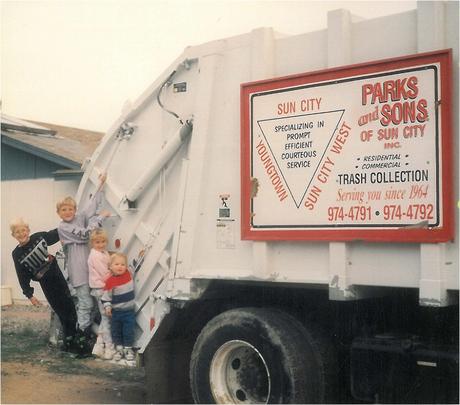 A vintage snapshot featuring a family-owned business with four of the Parks children (five if you include the truck).
Getting to know your business is our favorite part of our sales process—so much so that we established a dedicated Account Management team to continue learning about your values long after initial implementation of the GPS Insight solution.
In fact, the good-humored towhead in the above picture (Todd Parks, far left) grew up to become one of our most skillful Account Managers at GPS Insight. Todd now helps customers manage their own fleets by preparing quarterly snapshots of key metrics, identifying potential trends, proposing strategies to correct undesirable trends, and measuring how those corrective actions translate into actual cost savings.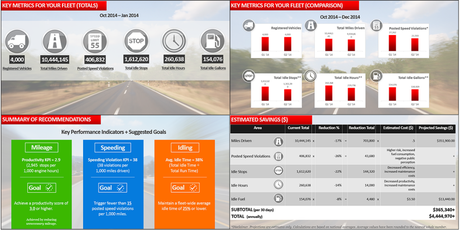 A preview of a GPS Insight account review
Other fleet management systems may leave you feeling overwhelmed with the data, which leads to under-utilization. Our goal is to ensure that you can use the fleet management system to get out of it exactly what you need—even if you don't know what that is yet. This dedicated approach to your business is the same one we take with our own. It's what makes our customers so successful in realizing maximum ROI of their fleet management investment with GPS Insight.
Thank you to Parks & Sons of Sun City, Inc.