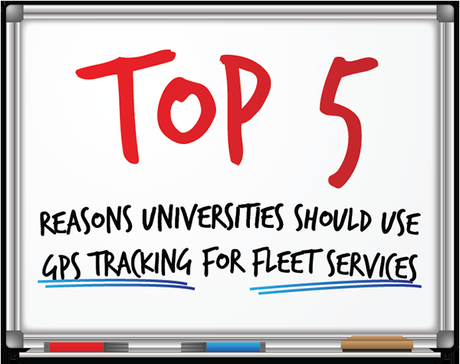 Is your university researching GPS tracking technology to monitor fleet location and activity around campus? There are many benefits to using GPS tracking for university fleet services. Read this blog to learn about the top 5 reasons your fleet should implement a GPS tracking solution to benefit your campus overall!
1. Increase Employee Productivity
When employees know that their activity is being supervised, they simply will be more productive. Monitoring vehicle activity with a GPS tracking solution gives transportation services the ability to ensure that drivers are performing their jobs in the most efficient way possible. By viewing current and historical vehicle locations, fleet services managers can assess productivity and coach employees with the data obtained.
2. Improve Fleet and Public Safety
Another important reason for universities to utilize GPS tracking is to assure fleet safety on campus. By monitoring speeding, rapid acceleration/deceleration, and other types of dangerous driving behaviors, university fleets are able to prevent unsafe driving and accidents.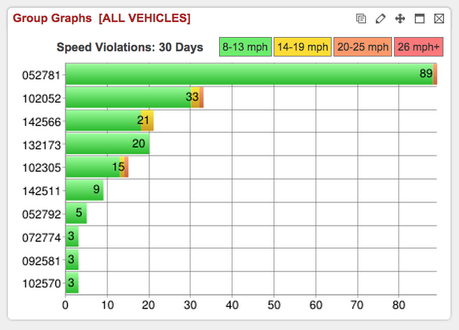 Sample Speed Violations Graph
With a busy campus full of pedestrians, it is essential to put processes in place to make sure vehicles are not being driven recklessly. With GPS tracking, ensure that your safety regulations are being upheld by preventing unsafe driver behavior.
3. Improve Maintenance
Ensure vehicles are brought into the service department when they are due for a tune up by setting automated reminders. With GPS tracking, eliminate the task of having drivers and fleet services managers manually checking odometer readings, miles driven, and logging services to stay on top of maintenance. Not only will this eliminate the time-consuming process, it will ensure that important services are not overlooked and prevent the need to purchase replacements sooner than necessary.
4. Create Incentives for Employees
Creating an incentive program, like bonuses or gift cards to employees' favorite restaurants, is a great way to motivate employees and improve metrics at the same time. With a GPS tracking solution, utilize the Driver Scorecard Report to rank vehicles based on speeding, rapid acceleration and deceleration, and idling to measure driver performance individually.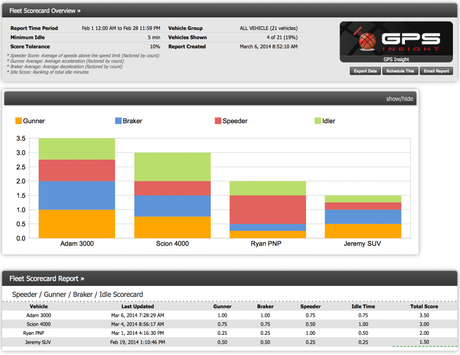 Sample Driver Scorecard Report
With this report's graphical results, obtain a visual representation of driver behavior data to share with employees. This will provide a clear understanding of their performance and the goals they need to achieve in order to receive their bonus or incentive.
5. Generate Positive PR for the University
It is not uncommon for universities to receive bad press for one reason or another, so finding ways to also generate positive press is important. Starting a green initiative is a great way to generate positive PR for universities. By monitoring speeding, idling, route efficiency, and fleet maintenance, fleets are able to reduce CO2 emissions by up to 20%, which is the right type of headline you want associated with your institution.
Another way to generate positive PR with GPS tracking is to promote the safety measures taken by your university. Sharing year-over-year accident rates as they decrease will demonstrate that your university is taking safety seriously, which will generate positive attention in the community.
Along with these top 5 reasons, there are many other benefits to using GPS tracking to monitor the vehicles and equipment on your campus. To learn more about how your university's fleet could benefit from this technology, contact GPS Insight!