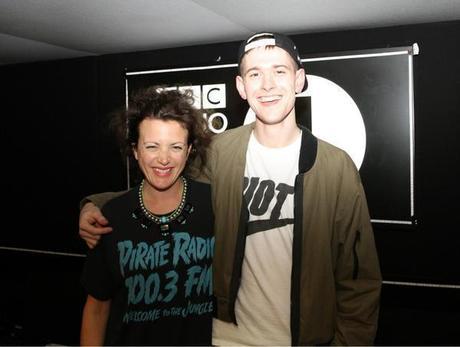 Image: BBCR1 Twitter – Annie Mac and Unicorn Kid
For those who aren't familiar with Unicorn Kid, Scottish producer and musician, Oliver Sabin, started creating music at the early age of 16, revitalizing 'Chiptune' (music made from game console sound-chips). Another artist to emerge from the ever successful BBC Introducing, 20 year old Sabin has since gone on to create electro-pop perfection with big synths, big bass and big sample vocals, or as he puts it 'something cohesive with a proper idea behind it'. Currently signed to 3Beat and Ultra Records, Sabine has an impressive back-record including various self-releases, high profile remixes of Pet Shop Boys and Gorrilaz, releases through Ministry of Sound and his most recent EP 'Tidal Wave'. Having already been compared to fellow Scottish producer Calvin Harris, (not a bad comparison so early in the game), Unicorn Kid is determined to make his own mark and has so far made quite an impact in the EDM scene, supporting Major Lazer (DJ/Producer Diplo) on tour in March.
Speaking with Annie Mac earlier in the week, Unicorn Kid unveiled his new single 'Feel So Real' which samples the rave track 'So Real' by Love Decade. The track once again features his signature big vocals, looped synths and chiptune infused elements through-out.  This follows on from previous singles such as 'True Loves Fantasy' and 'I Need You'.
Currently supporting The Midnight Beast on tour, his next UK date is the sold out Shepherds Bush Empire gig on October 15th, followed by upcoming dates in New York, California, Rome and Milan. No doubt we can expect many performances during 2013 festival season.
The new single 'I Need You' will be released December 16th. In the meantime, check out his soundcloud and also his wicked set from BBC Radio 1′s Festive Festival, which showcased the rising stars for 2012, as selected by Nick grimshaw and Zane Lowe.  

Full interview below. New single 'Feel So Real' can be heard at 11.40
Festive Festival Performance – 2011