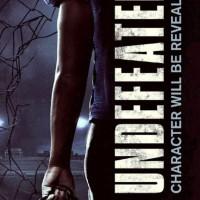 Movie: Undefeated
Director: Daniel Lindsay and T.J Martin
Cast: Montrail 'Money' Brown, O.C Brown, Bill Courtney and Chavis Daniels 
Rating: ***1/2
If you were to make a giant list of inspiring sports films then you would probably want to place this film somewhere at the top because it truly deserves it.  "Undefeated", an Oscar-winning documentary, is not about honing the sportsmanship skills of a bunch of black school kids. It's the true story of all black American Football playing team who learnt more about right and wrong, success and failure, character and discipline on the Football field than in classroom.
Bill Courtney, a highly enthusiastic Football coach, comes to the rescue of an underfunded inner-city Manassas High School, where he preaches discipline, character and respect to a team of young kids through the sport they love the most. While, initially, Coach Courtney finds it difficult to even make them listen to him but gradually succeeds in making them win matches as well as conduct both on and off the field. After weeks of training, will Manassas Tigers beat all local teams and make it to the playoffs?
To these kids, playing members of Manassas Tigers, Football is a way of life but sadly, what stops them from making a career out of it is proper guidance. This is where Coach Courtney, who coaches free of cost, comes into the picture. He spends more time with these kids on the field than with his own kids at home. And having to deal with issues with the team such as basic obedience, team-spirit and attitude, he makes an effort in every step to impart life's lessons into the team.
The film follows true documentary style filmmaking, for most part, as the directors capture the smallest emotion of every single player, including the coach and his assistants. In fact, there are scenes in the film that you will find so tough to belive that you wonder how the filmmakers managed to capture it on camera. One such scene is towards the end of the film where Courtney and his favorite player O.C Brown say goodbye to each other. This amount of detailing in depiction wouldn't have been only possible had the directors not spent time with the team throughout the playoff season.
Bill is a perfect example of a modern day coach who even in the worst case scenario wouldn't give up on his lads. He spends grueling hours with his team to ensure that they not only shine on field but at the same time perform well academically. The one-to-one relationship between Bill and few characters such as O.C, Money and Chavis are moments that you most enjoy in the film.