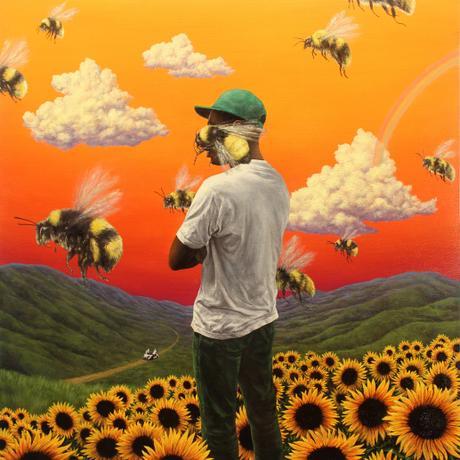 In the lead up to Tyler The Creator's fourth album Flower Boy and follow-up to 2015's Cherry Bomb, Tyler gave us a taste of what's to come. Two such tracks include 'Boredom' and 'I Ain't Got Time'.
'Boredom' features vocal contributions from Rex Orange County, Norwegian singer/songwriter Anna Of The North and Corinne Bailey Rae, who together offer up a unique collaboration, allowing Tyler to showcase his slick production skills. Opening with a chilled mix of subtle guitar strums and shuffling drum rolls, the trio weave in and out of the sonic textures, before stirring strings gain momentum and Tyler makes an appearance with his smooth neo-soul vocals. Tyler is a long-time supporter of Rex Orange County, who also features on the album's opening track 'Forward'.
Up next is the psychedelic hip-hop track 'I Ain't' Got Time', where Tyler let's loose and really experiments with various styles and flavours, offering up barrage of synth hooks, whirring electronics and some playful, unpredictable and provocative lyrics. Speaking with Zane Lowe on Beats 1, Tyler commented on the origin of the track, which happened while he was in Kanye's studio working on The Life Of Pablo.
"I think [West] went to take a nap. And I was just in the studio, and there was an MPC [Music Production Controller] there. There was a mic right here, and [I said to engineer Noah Goldstein], 'Just start recording me.' I just started smacking, started clapping, started making weird noises and then added a [bass sound] … I was like, 'Kanye should take this song. He would sound so much cooler saying, "I ain't got time!" than me.' He didn't like it."
Despite Kanye turning down the track, Tyler had someone else in mind for the verse:
"I wanted her [Nicki Minaj] on that shit so fucking bad, like, you have no idea. I reached out to her so many times, tried to get her number. She couldn't think of nothing … I'm like, 'How the fuck do you hear this beat and [not] think of shit?'"
Flower Boy is available now. Other artists featuring on the album include A$AP Rocky, Frank Ocean, Lil Wayne & Estelle.
Flower Boy
iTunes
Google Play
Advertisements