by Ray Sanchez / CNN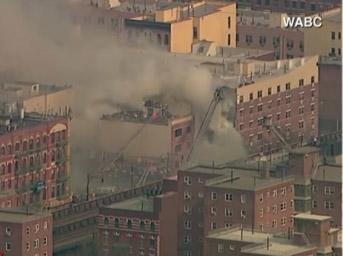 At least two people were killed after a massive explosion and raging fire Wednesday morning in Manhattan's East Harlem, authorities said.
Two building collapsed and firefighters frantically picked through the rubble in a search for survivors, fire officials said.
At least 18 people were injured. Four of the injured were taken to Harlem Hospital, including a child in critical condition, a hospital spokeswoman said. A number of people were missing.
Mount Sinai Hospital was treating at least 14 patients, including one with a brain injury, and two children. Three were in serious condition, a spokeswoman said.
More fatalities appeared likely. Near 116th Street and Park Avenue, once the heart of New York's large Puerto Rican community, about a dozen firefighters tore at mounds of bricks in a search for survivors from the two buildings — a piano store and an evangelical church.
As gas and electric utility workers tore up pavement in an effort to shut gas lines, people gathered in the streets, many crying. One woman tried in vain to find her husband, Jordy Salas, who may have been on the second floor of one of the collapsed buildings. She fainted and was taken to a hospital.
The cause was unclear, but Con Ed spokesman Bob McGee said the utility received a call about a gas leak at 9:13 a.m. The call came from a resident at one of the newer buildings on Park Avenue. The utility dispatched a truck two minutes later but it arrived after the explosion, the spokesman said.
"This is a tragedy of the worst kind, because there was no indication in time to save people," Mayor Bill de Blasio said at the scene.
The mayor told reporters that the report of the gas leak, which he said came about 15 minutes before the explosion, was "the only indication of danger."
Clouds of dark smoke rose over the largely residential area of redbrick tenements and small businesses after the explosion, which some residents said sounded like a bomb.
Hundreds of firefighters responded, many spraying water on the roaring blaze from ladders, others furiously pulling bricks from the collapsed buildings.
Metro North commuter rail service was suspended as debris from the explosion landed on the elevated tracks across the street, authorities said.
"I heard a big explosion," said a resident who identified herself as Angelica. "I didn't know what was going on. … My neighbors came banging on my door, telling me to get out. I guess they were evacuating the building. And I couldn't get out. My door was jammed. Everything on my windowsill fell. I guess the impact of the explosion jammed the door as well."
She added, "It was extremely loud. I couldn't even explain it to you, if I could. It was just so loud. It woke me out of my sleep. That's how loud it was."
Molley Mills, who lives nearby, said at the time of the explosion her building rumbled as if the subway was passing beneath it.
"I went outside my terrace and there was smoke pouring out," she said.
The New York police bomb squad responded to the scene, according to a law enforcement source.
Once a predominantly Italian neighborhood, the stretch of East Harlem saw a large influx of Puerto Ricans in the 1950s. It went on to be called Spanish Harlem. In the 1990s, many Mexican immigrants began to move into the area, which has been gentrified in recent years, with many mom-and-pop shops replaced by restaurants and bars.