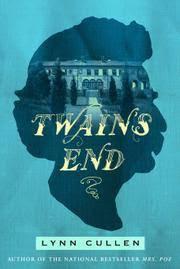 Mark Twain has been a favorite of mine ever since I read Tom Sawyer many years ago. (The scene where Tom doses the cat with the tonic 
his aunt has been forcing on him and the zipped-up feline sails out 
 the window, carrying two pots of geraniums with it, 
still
cracks me up.
) 
When I grew older and discovered  the delightful and irreverent 
Letters from Earth --
I thought I'd found the
real
Twain, the deeper, 
darker thinker.
But Lynn Cullen's excellent novel Twain's End peels back the Twain persona to reveal the  man beneath: Samuel Clemens -complicated, conflicted, passionate, volatile, and deeply flawed -- something that the beloved Mark Twain could never allow himself to be. 
Cullen's story focuses on Twain/Clemens' puzzling relationship with his secretary. Isobel Lyon served Clemens for six years, traveling with the family and 
enjoying a high degree of trust, confidentiality, and perhaps something more. 
 But shortly after Isobel's marriage to his business manager, Clemens fired her -- and soon after vilified her publicly, calling her " a liar, a forger, a thief, a hypocrite, a drunkard, a sneak, a humbug, a traitor, a conspirator, a filthy-minded slut pining for seduction."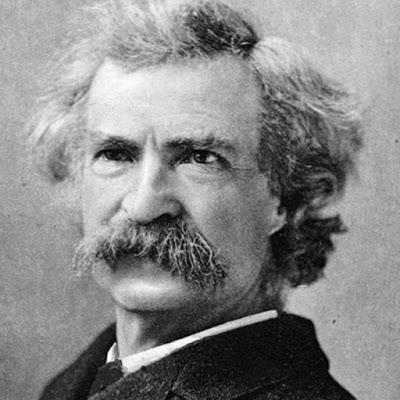 Well! One suspects there's an interesting story here and, by golly, one would be right. Working from primary and secondary sources, Cullen has pieced together a completely plausible and satisfactory answer to the question, why did Clemens attend his secretary's wedding, appearing to give his blessing to the union, only to cast her into outer darknessa short time later?
The twin powder kegs of S
am Cl
emens' family life ( two definitely difficult daughters
, a saintly, recently departed invalid wife, and a servant who may have had
 her own agenda) 
 and Mark Twain's public life (he was a celebrity who hobnobbed with celebrities, who could go nowhere without being recognized) combine to produce an explosive plot that carries the reader breathlessly along.
The book brims with lush descriptions of the world of the rich and famous at the turn of the 20th Century. An intriguing interlude (based on an actual event) is Twain's entertaining Helen Keller, h
er Teacher, and her Teacher's husband -- who may just be little too fond of Miss Keller.
 Isobel is a charming character -- an early career girl at a time when few women had careers. And her mother -- who remembers past glories and dreams of more for Isobel, is a character worthy of Jane Austen.
 But as in real life, Sam Clemens/Mark Twain's dueling personas take center stage. At times a lovable wit, at times a
 monster, at times a lost soul, his luster is not dimmed. 
Highly recommended! 
(Disclaimer: I received an advance reading copy of this book but I was under no obligation to write a review, much less a positive one.)
Go 
HERE for more about Twain's End.