<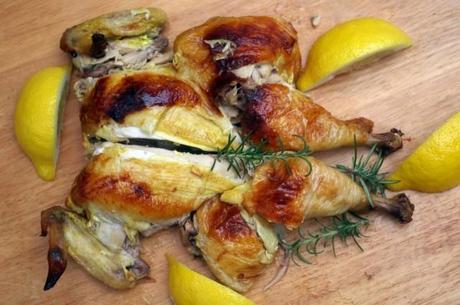 I recently found out that one of our Ina Friday Contributors daughter has passed away.
Chaya lost her daughter and I would like to send this prayer to her and her family.
She blogs over at Bizzy Bakes.
Although Chaya will not be joining us this month, she will within a month or two.
Our thoughts and prayers go out to her and her family. I hope this prayer brings her and her family some consolation.
God of all consolation,
in your unending love and mercy for us,
you turn the darkness of death into the dawn of new life.
Show compassion to your people in sorrow.
Be our refuge and our strength to lift us
from the darkness of this grief
to peace and joy in your presence.
We ask this through Christ, our Lord. 
For Ina Friday I decided to make her Tuscan Lemon Chicken. I got the recipe from Food Network.

Print Recipe
Tuscan Lemon Chicken
Ingredients:
3 1/2 pound chicken flattened
2 teaspoon salt
1/3 cup olive oil
2 teaspoons lemon zest
juice of the lemon that you zested
1 garlic clove minced
1 tablespoon rosemary chopped
1 teaspoon black pepper
Directions:
Sprinkle the chicken with 1 teaspoon of salt on each side. Combine the olive oil, lemon zest, juice, rosemary and pepper in a large zip-lock bag. Add the chicken and allow to marinade at least 4 hours or overnight.
The recipe says to grill this, I have a grill pan and used it to cook the chicken in. I preheated my oven to 350 degrees and roasted it for about 40 minutes. About 20 minutes per side.