Turmeric. Health. Omnipotent. Panacea for all ills. Cold. Sniffles. Cough and Congestion. Warmth... Make sense??? Double ,double, toil and trouble fire burn and cauldron bubble... Somewhere these are all related.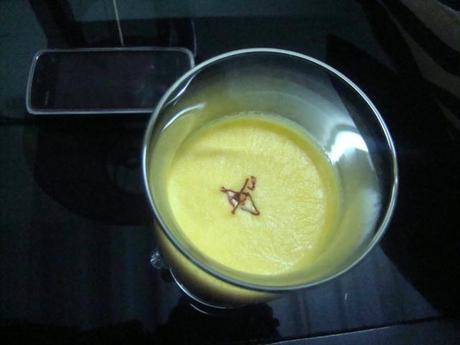 And when they are mom -made to alleviate all aches and pains and allow you to sleep snug and warm at night...any potion is good. And when it comes with the goodness of turmeric and the warmth of peppers and the ethereal saffron adding another zing along with the blessings of Her Holiness Herb Basil in a sweet milky muddle, whats not good about it?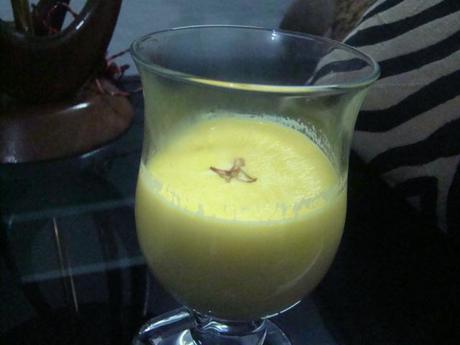 I know its a little late in the day , the winters are almost over, but the infection struck us all at this moment, so there was not a lot that we could do... Sniffling blocked noses, sore throats and sleepless nights... At this point in time,even a whole lot of anti histamines and cold lozenges don't work. This is when all ailments need to be shot, with a shot of turmeric flavoured milk. I eavesdropped. I was part of a boring party, when I overheard strains of cooking milk and saffron behind me...I heard carefully as the lady(who dabbles in naturopathy )repeated the method and the ingredients for others benefits and came home and headed for the kitchen. The first night I used turmeric powder, but I called for fresh turmeric the next day. Same process, different flavor. Try this concoction-I verified all the ingredients with my mom... All good! And feels good ,even if you are not unwell...just a nice feeling of warmth and satisfaction.
for the 
Turmeric Milk with Saffron-Haldi for all seasons...
you need
500  mils milk 2 tsp grated fresh turmeric or a teaspoon of turmeric/haldi powder sugar to taste 7-8 black peppercorns 7-8 white peppercorns(I didn't have any so I doubled the black peppercorns) 7-8 leaves basil shredded-I used 1/2 tsp dried basil a generous pinch saffron sugar to taste Start with the turmeric...fresh -this is what it looks like-available only in season-now!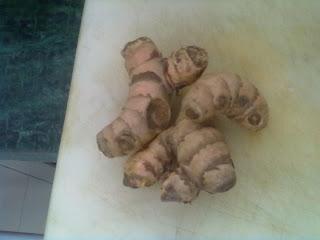 Peeled-this is what  it is like-does stain your hands mildly while you are grating it...but washes off.If you are not able to get fresh turmeric, use normal turmeric powder.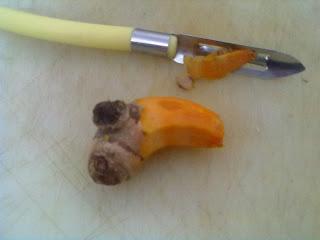 Into a heavy based pan,add the grated turmeric,the pepper corns and the basil leaves to the milk and sugar and let it come to a boil.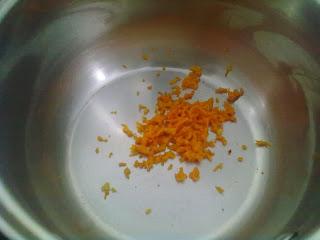 That sthe basil I used...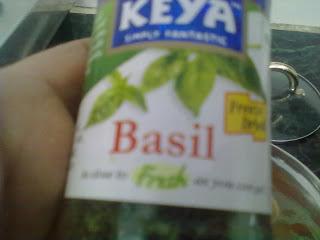 Simmer gently,for about 5 minutes and turn it off.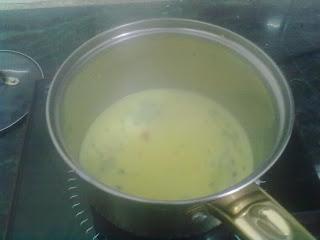 Let the mix steep for about 5 minutes while you go about setting the strainer and the cups.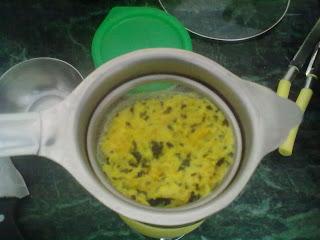 Strain out the milk into the cups and sprinkle the saffron. Let it sit and prettily shed its color and inhibitions in the milk.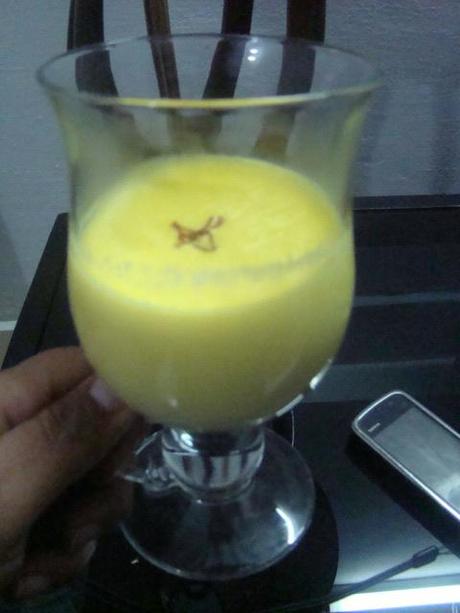 Sip the comforting elixir for good health... Just make sure you don't head out into the cold soon after you drink this , it just might backfire. The right time to drink this would be before you go to bed, but in the mornings, just wait about 20 minutes before you head out. Bask and feel warm. And Kanchan Bhartari,if you recognize the Irish Coffee Mug, then Cheers!!!


So what cauldron are you boiling today???