I happened to be at a store called Lunds the other day and noticed that they sell rotisserie turkey breast meat.  Too often we think of turkey as a meat to be served on holidays such as thanksgiving.  Given the attractive protein density and better than average essential amino acid profile turkey breast meat should be seen more on our plates.
Is Turkey Protein Complete?
The answer is an unequivocal yes.  Glance at the chart below.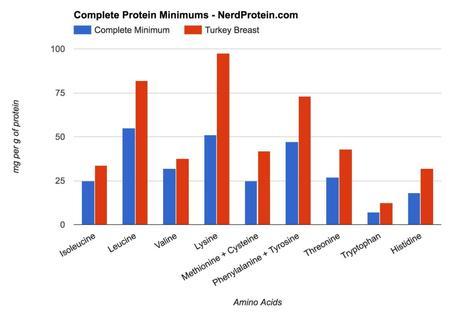 Protein Density of Turkey Breast
I knew turkey breast meat was lean but in the back of my mind I had assumed it was similar to chicken breast meat.  That assumption is more than a little off.  Here we're looking at the density relative to calories or, equivalently, Calories per gram of protein.  Pure protein is roughly 4 Calories per gram an turkey breast is not all that much higher at 4.88 Calories per gram.  Note that chicken breast protein will cost you 5.32 Calories per gram a whole 0.44 Calories higher.  Not bad.
Source Density (Calories per g of protein)
Pure Protein 4.00
Pacific Cod 4.54
Egg Whites 4.77
Turkey Breast 4.88
Alaskan Halibut 5.11
Chicken Breast 5.32
Whey 4.40
Tofu, Soft 8.51
Lentils 12.86
Black Beans 14.90
Pinto Beans 15.87
Quinoa 27.27
Oatmeal 27.95
Brown Rice 48.28
Other Vitamins and Minerals in Turkey
The following values are for 100g of turkey breast meat.  What might be surprising to most of you is that turkey is a good source of selenium.
%DV
Sodium 42%
Selenium 33%
Vitamin B2/Riboflavin 19%
Phosphorus 16%
Potassium 9%
Zinc 9%
Vitamin C 9%
Vitamin B1/Thiamin 9%
Iron 8%
Comparison with Lentil and Soy Protein
The goal here isn't to open a plant vs animal protein debate.  The goal here is to have benchmarks from both the animal protein space and the plant protein space so that we all have a point of reference.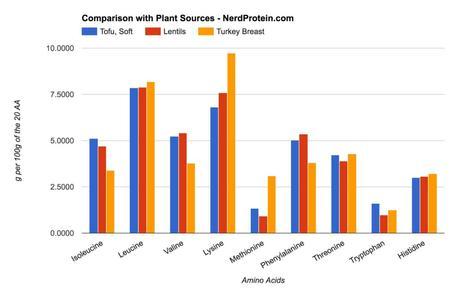 Comparison with Whey Protein
The comparison with whey is done for two reasons.  First, it's a common protein source in the fitness world.   Second, whey is a fantastic source of leucine.  In the chart below we can see that, in terms of leucine, turkey protein does fairly well.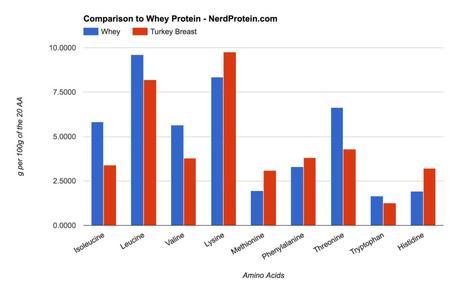 Conclusion
With the increasing availability of rotisserie turkey in supermarkets we no longer have to spend all day cooking the bird.  I think that was one of the biggest barriers to everyday consumption.  One word of warning though if you choose to go the deli meat route.  Deli meats tend to be highly processed and lose much of their protein, vitamin and mineral content (except the sodium that is added during processing.)  Whenever possible buy larger pieces as they tend to experience less loss of the above.