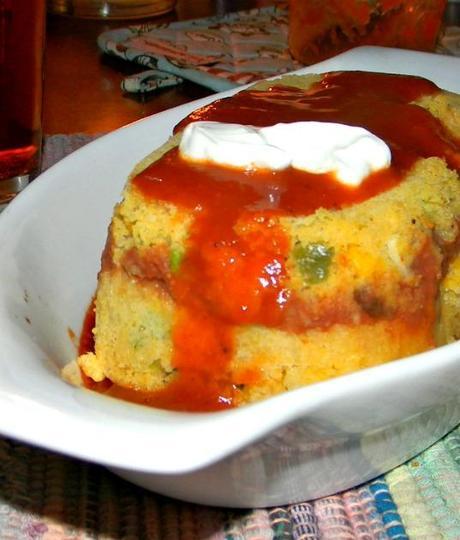 I bet there is not one household out there (or person) who has not eaten a enchilada casserole of some sort. Has to be hundreds of variations on this similar theme. Could be a lasagna with tortillas or cornmeal layers with turkey, beans, cheese and a chili sauce.
A good one can be great and, well, the bad ones are so in the garbage.
This is a good one.
I took my inspiration from this dish that was all the rage and is still served at many Super Bowl Party's but mine is baked like a torte. I also think mine is healthier, no sour cream (I used yogurt) or chopped meats but you could substitute any ingredient to one you would prefer.
Instead of tortillas, I made a mixture of corn muffin mix and a frozen bagged southwest vegetable mix.
I separate bowls I mixed refried beans with salsa, turkey meat with chili sauce and chopped green chilies, and a bowl of grated pepper jack cheese. Since I planned on inverting the loafs onto a plate, the first layer will eventually be the top, so I was careful to think the layering sequence.
I started with a very thin layer of the cornmeal mix and then I did a layer of the bean mix. Grated cheese and then more cornmeal. Next I spread the turkey mix and then grated cheese and the last of the cornmeal mix brought me right to the top (or the bottom) of the loaf pans. So I had a total of three layers of goodies. I plan on spooning some of my homemade ancho chili sauce down the center of the loaf, refried beans on the side and a small container of sour cream and hot sauce. I really hoped this would bake up exactly the way I envisioned it.    
The beauty of this dish is that I used a packaged muffin mix but added extra milk (to make it spreadable), and used leftover turkey. These could be made in a full sized loaf pan but if you are bringing it to a party I would use recyclable aluminum ones (easy to carry and dispose of).
I made ours in mini loaf pans so we each got our own serving.
You will need these ingredients:
* 1/4 cup salsa
* 1/2 cup cooked meat
* 1 package corn muffin mix (I like Betty Crocker)
* 1/2 cup frozen southwest corn mixture
* 1/2 cup refried beans
* 4 ounces grated pepper jack cheese
* 1 tablespoon chopped green chilis
* Homemade ancho chili or enchilada sauce
* 2 scallions, finely chopped
Mix scallions and green chilies with prepared cornmeal mixture. Add frozen corn.
1st layer of cornmeal mixture and top with cheese. Layer of refried beans.
2nd layer of cornmeal mixture topped with cheese. Layer of turkey and salsa.
Last layer of cornmeal mixture.
Bake at 350° for 40 minutes. Cool, slice and serve with enchilada sauce and yogurt.