If you are some what mechanically inclined and like to save money then you probably have a good idea about how to repair your own car. When repairing your vehicle, there are times when you must replace some vital parts like brake pads, mufflers etc. and it is often better to buy these parts new. However there are many parts on your vehicle that can cost you an arm and a leg to replace because they are less common such as interior parts, bumpers etc. Well there are ways to reduce the cost of these parts, thanks to the many "Automotive Part Recyclers".
Auto parts recyclers usually offer great deals on gently used automobile parts. These days quite a few auto parts recyclers exist and many can be found on the web. Many of them alsp network together so sometimes if they do not have the part you need, they can often get it from another associated recycler that they commonly deal with. Because they offer recycled parts, their prices are very reasonable and much lower then a dealer. Most of the auto parts come from cars that are bought from insurance companies that are in basic fender benders. Perhaps the front of the car is destroyed of a car in an accident but the rest of the car is fine, the car is written off by the insurance company and the Automotive Part Recycler companies take the rest of the car apart salvaging the remaining good parts.
And did you know that when you purchase used car parts, you are also helping to Save the Environment?
New car parts need to be manufactured so while they are being made they can emit more pollution than used auto parts (that are already made). When a company produces new car parts, they end up using oil and other sources of energy. When you buy used parts you are doing your part to reduce air pollutants. Finding good used parts for your car is really easy, due to the many recyclers that exist, so there are enough used car parts to pick from, ensuring you get the best part for the best price.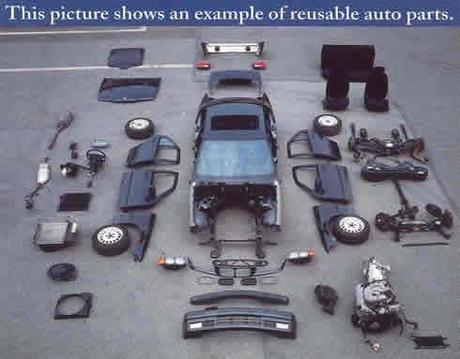 When people bring their old cars to an auto parts recycler, they are actually helping the Environment. Since it does not really make much sense to throw away something when it still has a use. In most cases when you get parts from a used car, you are going to still be getting an good brand name parts. And you can be assured that the auto recyclers know which parts are still usable, and which parts ones are actually junk. Some places will even offer you cash for your junk car and come pick it up, so if you have an old car in your yard then you can help the environment by having the parts recycled and reused again and make a little of spending cash at the same time.
So next time you need to get parts for your car, why not try going to a used auto parts recycler, chances are you will get parts that are slightly used yet reasonably priced. In fact sometimes some used auto parts recycler businesses have what they call "Free Parts Days" where customers have access to the entire self serve part of the yard with a small admission fee to take away as many parts as you can can during that time.
Next time you need car parts, why not go to a local auto parts recycler, or go on the internet to find one near your and chances are they may have what you need, or if you have a junk car in your back yard, do your part by having it sent to recycle and still make a few bucks at the same time.