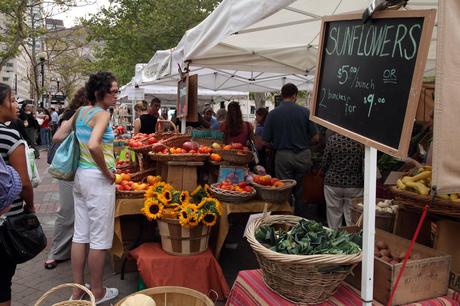 Living green in the Midwest is easier now than ever before. Residents throughout the Midwest are embracing a recent surge of Farmers' Markets, eco-friendly transportation options, bike lanes and other sustainability initiatives. If you live in the Midwest and want to participate in green events and activities, check out this list of happenings on the green scene in your city.
Chicago
The Green Festival: The Windy City's annual Green Festival is one of the best Chicago events for residents with an interest in living a greener lifestyle. The Chicago Green Festival is held every May at the Navy Pier. The event features knowledgeable speakers, vendors with a commitment to social and environmental responsibility, educational exhibits and more.
Slow Food Chicago: The Slow Food movement has a mission to create "… a world in which all people can eat food that is good for them, good for the people who grow it and good for the planet." Slow Food Chicago is a member-supported nonprofit organization run by a network of volunteers and Board of Directors comprised entirely of volunteers. You can get involved by volunteering, becoming a member or attending an event, including Whole Foods Day, A preSERVE Garden Workday, the Beaver Dam Pepper Celebration and more.
Indianapolis
The Original Farmers' Market: Get back to your Indiana Farmers' Market roots with a trip to the Original Farmers' Market in downtown Indianapolis. Located at 222 E. Market Street, the Original Farmers' Market is now in its 16th year and runs from May 1 through October 30 every Wednesday. The market offers Indiana-grown products from more than 50 vendors. Find meats, cheeses, eggs, plants, flowers, produce, baked goods, poultry, syrup, honey and more.
Sustainable Living Expo: The annual Sustainable Living Expo takes place every August just outside of Indianapolis in Howe, IN. The expo includes speakers, vendors and exhibitors. The event draws a crowd from all over the Midwest and Great Lakes Region, and tickets are usually available beginning in late spring or early summer.
St. Louis
Green Homes & Great Health Festival: St. Louis families can celebrate sustainable living and learn how to live greener and healthier at the annual Green Homes & Green Health Festival at the Missouri Botanical Garden. One admission ticket provides access to the garden, an opportunity to hear speakers, partake in workshops and learn how to maintain a healthy body and planet.
Cincinnati
Findlay Market: Cincinnati's Findlay Market is one of the state's oldest continuously running farmers markets. The market is just blocks away from downtown Cincinnati in the Over-the-Rhine historic neighborhood district. It's open Tuesday through Sunday year-round and offers more than two dozen indoor and outdoor vendors that sell poultry, fish, meat, produce, cheese, ethnic foods, deli goods, baked goods, flowers and more.
Getting involved in your local Green community is a great way to stay up-to-date on your community happenings and learn how you can continue to make changes for a greener lifestyle. Become involved, volunteer and help spread the word about how going green is a healthy choice for your body, your community and the entire planet.

About danielle
has written 15 article(s) for EnvironmentGreen.com.
View all posts by danielle

→
Share
Filed in: Green Lifestyle