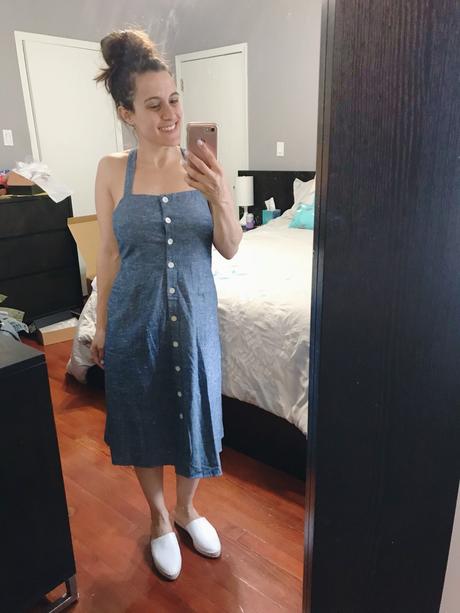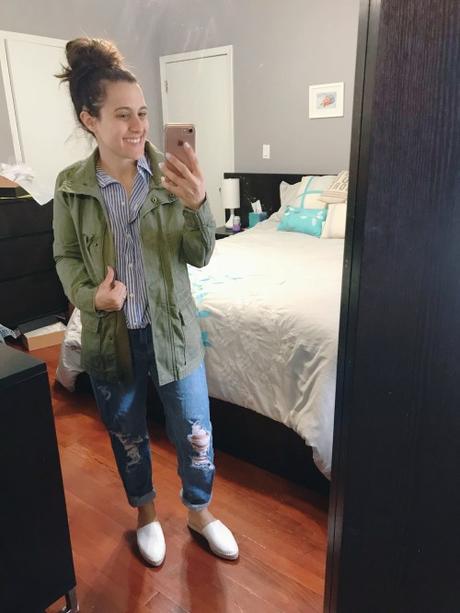 Happy Monday! So excited to share another round of try-ons. Today, I'm sharing my Nordstrom Trunk Club. My stylist sent me a bunch of new on-trend favorite pieces to check out. Some were total hits and some were major misses (for me), but it's always fun to try on new things. Whatever you love, you keep and whatever you don't, you just send back! You have a chance to review the trunk before it ships and you can also let your stylist know about specific items you may desire. There is a $25 styling fee, but you can use it as credit if you purchase anything from the trunk. So here we go!
The first outfit was a win for me. I own the mom jeans (Target), and decided to style them with this breezy button up, cotton jacket and leather espadrille slip-ons from the Trunk. Loving this casual look! Comfortable and also nursing friendly.
Madewell Surplus Cotton Jacket Halogen White Leather Espadrille Mule Treasure & Bond Breezy Striped Boyfriend Shirt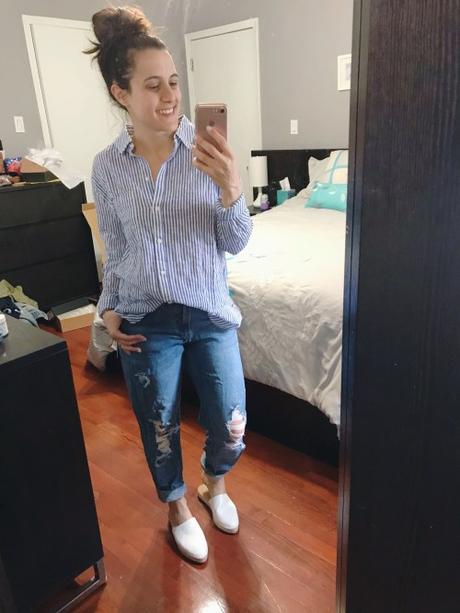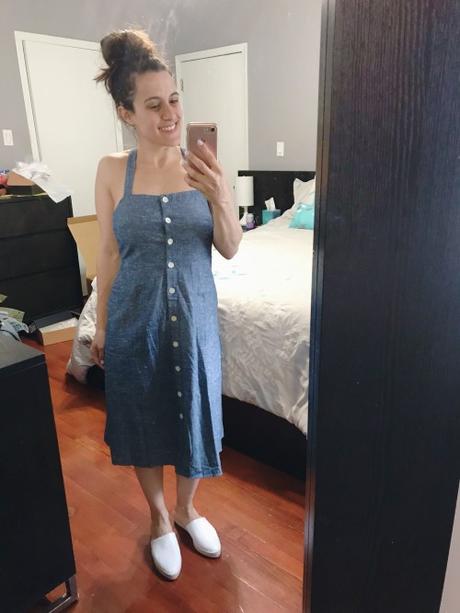 I've been seeing these button down dresses everywhere, and I LOVED this chambray version from Madewell. Very comfy and loved the pockets as well! The back straps criss-cross in the back as well which was a nice added touch. And of course, also nursing friendly.
Madewell Button Front Chambray Tank Dress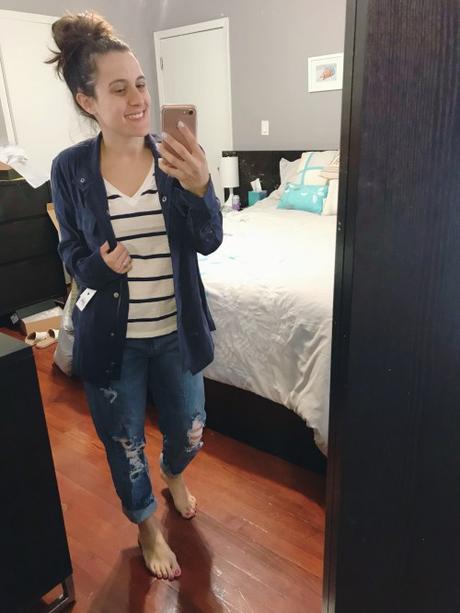 This was called a utility jacket, but it felt more like a shirt. It was super lightweight, but definitely really comfortable and soft! The striped tee underneath was comfy and great as a basic tee!
Treasure & Bond Utility Jacket Madewell Striped Pocket Tee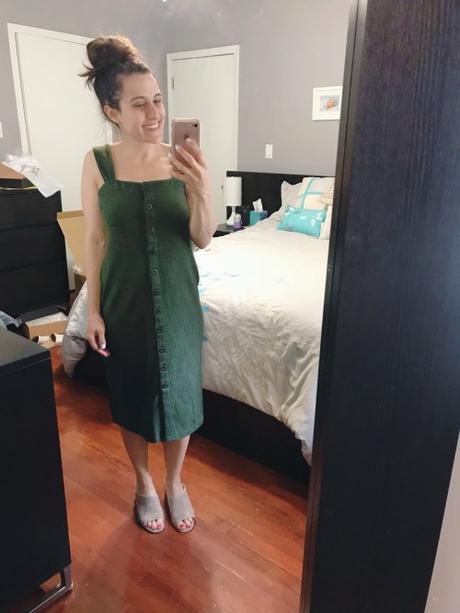 I also loved this button down thread dress from Madewell. This is an XS, the material was super comfy, and it fit well! These nude suede slip on sandals by Halogen were also great. The heel is a good height where it doesn't hurt your foot and bonus: it's currently marked down!
Madewell Texture & Thread Front Button Dress
Halogen Slide Sandal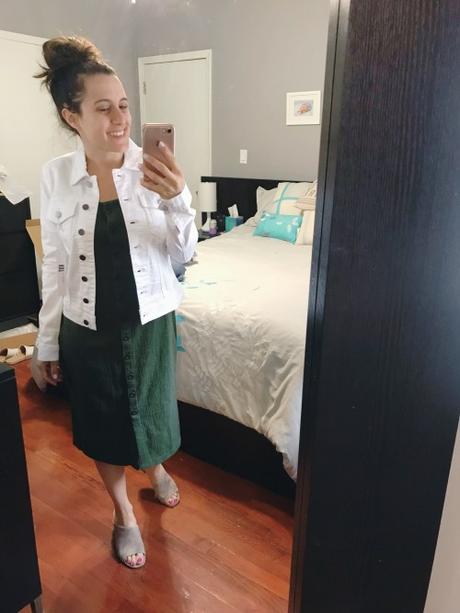 I got majorly excited when I saw this white denim jacket in the trunk! I don't own anything like it, and it seems like a great spring and summer staple! Bonus: it's really soft and comfortable as well. I think I'm keeping this one.
Kut from the Kloth White Denim Jacket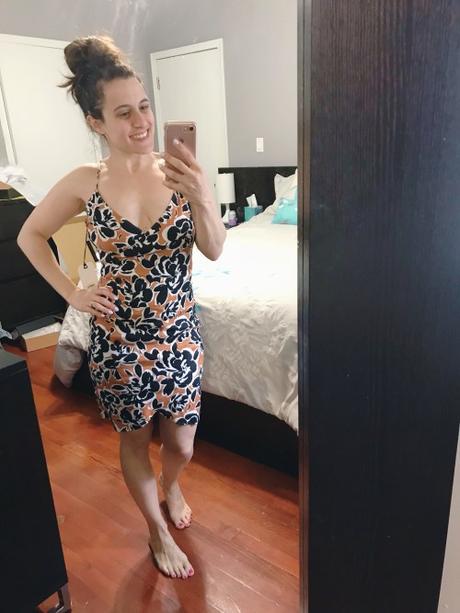 The dress hugged me in the wrong places and was a little too loose up top, but I like the print, and would make a sexy date night dress! Just not a great fit for me.
Leith Wrap Mini Dress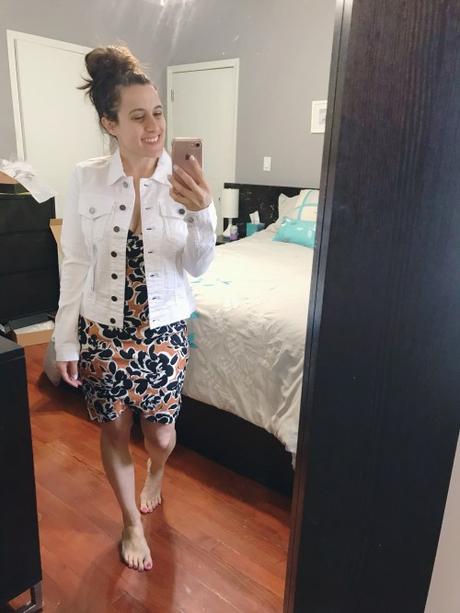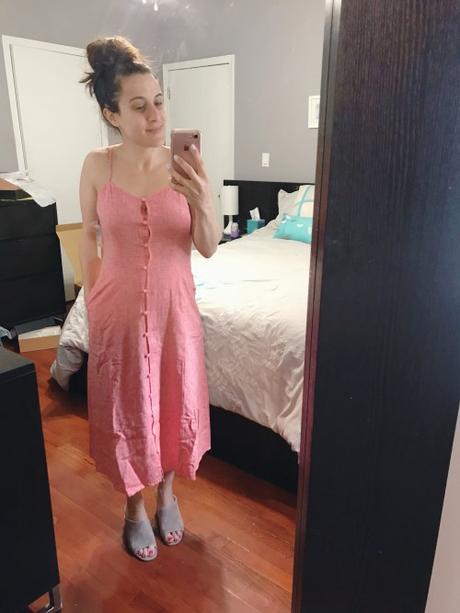 I loved this button down dress when I pulled it out of the box, but it ultimately didn't work for me. The buttons in the chest area pulled too much and you could see right through the holes to my bra which wasn't flattering. Super bummed, because I loved the color, pockets, and fit of the rest of the dress. Shame the buttons were weird!
Hinge Button Front Midi Dress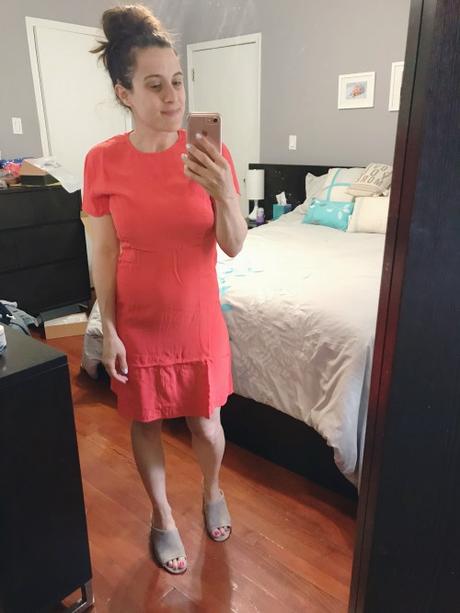 This dress was really cute online, and I wanted to love it, but the material wrinkles really easily, and it was not flattering on my body at all. I LOVE the color, but between the wrinkles, the fact that it hugged me in all the wrong places and since it's not nursing friendly, it's just not gonna work for me.
Something Navy Flirty Mini Dress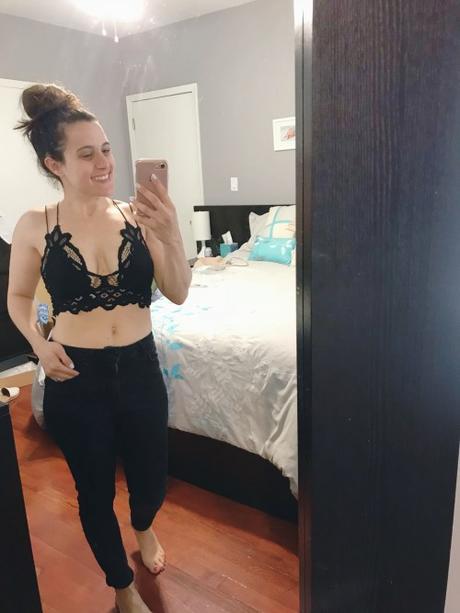 Definitely keeping this black bralette from Free People. Perfect to wear under those summer tanks or shirts where your bra peeks out, because it has such pretty detail you don't mind showing it! Perfect summer staple.
Free People Bralette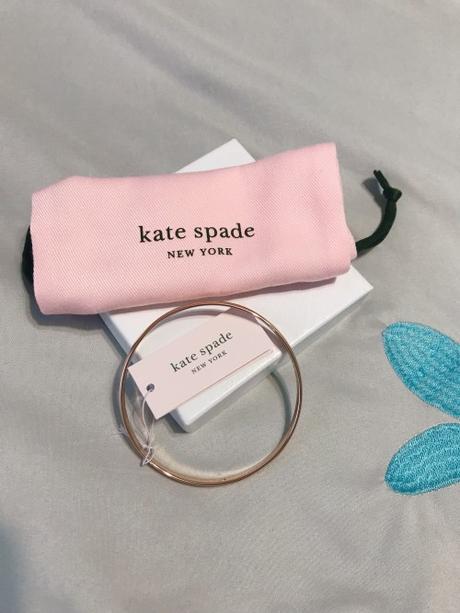 This simple rose bangle was also included in the Trunk inscribed with "Stop and smell the roses." Classic and chic. Goes with anything. Keeping this for sure.
Kate Spade Rose Bangle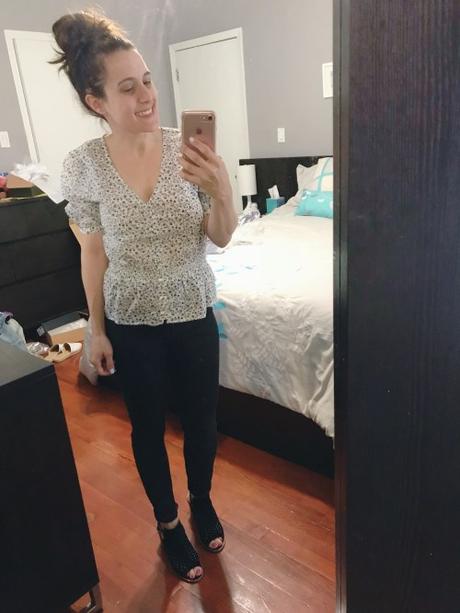 I liked the idea and style of this top, but for the price, I didn't think it was worth it. It was a little short and a little sheer. It was okay, but I didn't love it.
Madewell Woodland Floral Smocked Waist Top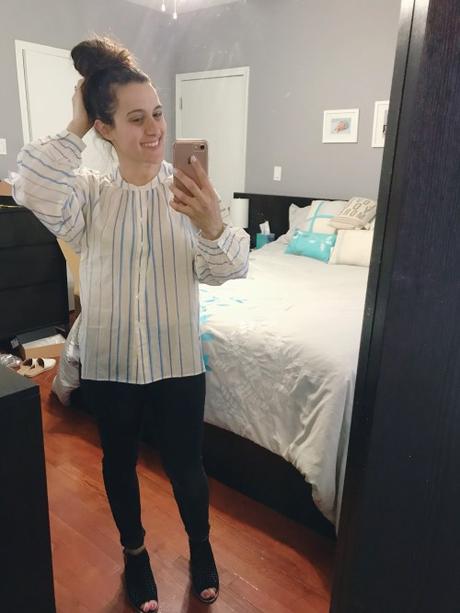 This top was a little large and didn't really do me any favors. Loved the print, but not the fit. Just kinda made me look wider than normal.
Madewell Striped Peasant Top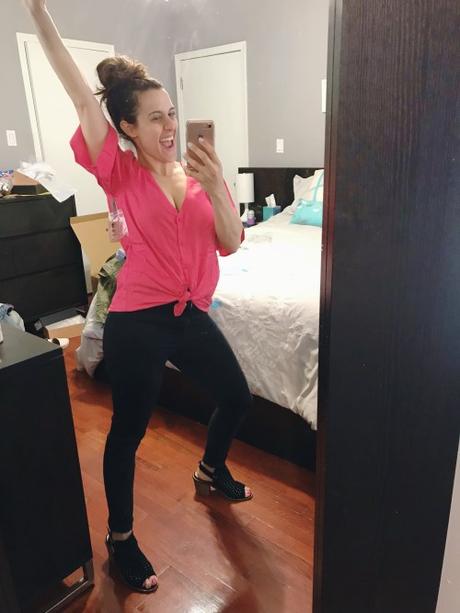 Thinking my stylist doesn't really understand the "mom bod" going on right now. Haha. The color of this top was pretty, but way too low cut for me. I spend a lot of days at the playground with my kids and unless I'm nursing my baby, I don't really want my boobs hanging out, ya know? So this was a no-go, but I felt like striking a pose anyway. 😉
Hinge Button Front V-Neck Top (similar)
FYI - jeans and shoes are mine and I linked them here:
Zara High Waist Black Jeans (similar)
Chinese Laundry Carnival Sandal
********************
And that's it for my May Trunk Club Try-on! I need to send back what I don't want today, so if you have any suggestions for what I should keep and what I should return, PLEASE let me know!!!
I have the full try-on behind-the scenes posted in my Instagram Stories so feel free to check that out as well. All the items are linked here in case you want to purchase them (I do receive a teeny tiny commission if you use my link, so THANK YOU for using it - it helps me to continue doing these types of try-ons!) OR sign up and get your own personal stylist to have a trunk delivered to your door! I love a good package, and the fact that I don't even have to leave my house or bring children with me shopping is clutch!
********************
Hope you guys had a great weekend! We celebrated my nephew's 1st Birthday, Knox was Baptized into the Catholic Church, and my boys made my mom and I breakfast in bed down in Maryland! The boys were seriously so super sweet to me all day, and we had a wonderful weekend celebrating lots of great things! I was also able to keep up my workouts while away and got in a sweat sesh with my mama!
Back in Brooklyn today and it's a gloomy, rainy one here, but going to make the most of it! New clothes always help. 😉
Make it a great week everyone!
XO,
Gina