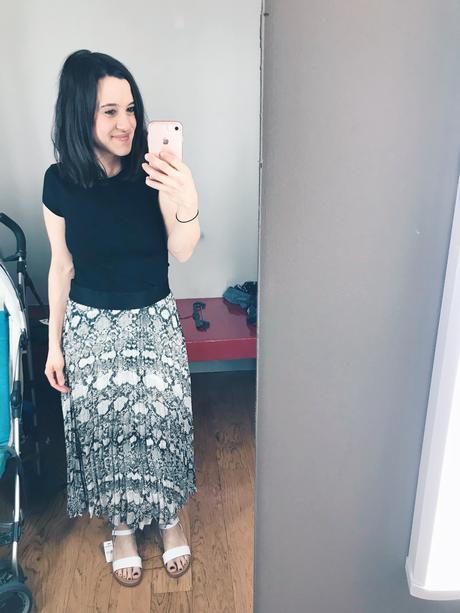 Express Black Top / Snake Print Pleated Skirt / White Strap Flat Sandals
This tee is so comfy and fitted yet stretchy. I sized up to a Small and it fit perfectly. They didn't have this skirt in my size, but I loved it, so I ordered the XS in store and they are going to ship it to me. These sandals were so comfy and had to have them. I also got them in black.
We are leaving for our trip to Punta Cana in less than 3 weeks (Thanks Beachbody!), and while I ordered a bunch of online cuteness for the the boys, I wanted to hit brick and mortar to do a little shopping for myself. I didn't have a ton of time AND I had to bring my littlest with me (and you all know how THAT goes!), but I did find a few items to take home and some cute things to try.
I will say that most of what I saw in the stores today was a lot of beautiful, crisp neutrals...black, white, tan, brown, blush and other light neutrals and animal prints for spring. LOVELY....definitely not your typical spring styles, but also not totally what I would go for to bring on a spring break trip. You guys know I'm a little sassy, and love some BOLD prints especially for a tropical vacation!! So it was tough to find what I was looking for today in terms of this specific trip, though not impossible, and it also didn't deter me from buying things LOL. Spring is definitely looking classy in the stores this season, but I may need to hunt for a few more tropical style vacation finds, especially since I have a trip to Barcelona + Ibiza coming up this summer as well!
Alas, here is what I tried on at Express + American Eagle today: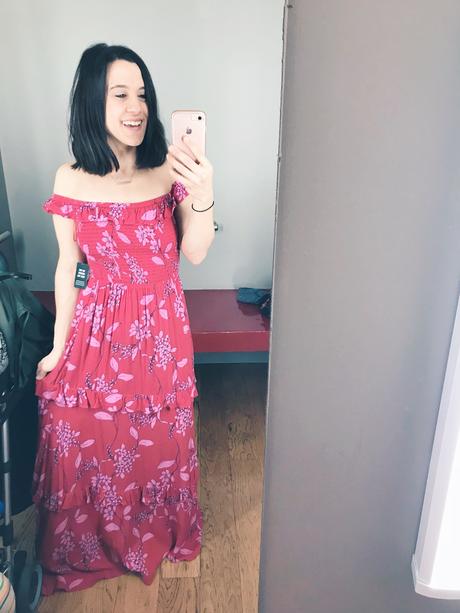 Floral Off the Shoulder Maxi Dress
I TRULY loved this one, and it fit really well aside from the length. It was dragging on the floor with me at 5'0 and I would have to wear a high heel with it for sure. If you are a bit taller than me, it's really lovely! They also had it in WHITE with colorful flowers which would be perfect for my trip to Spain coming up.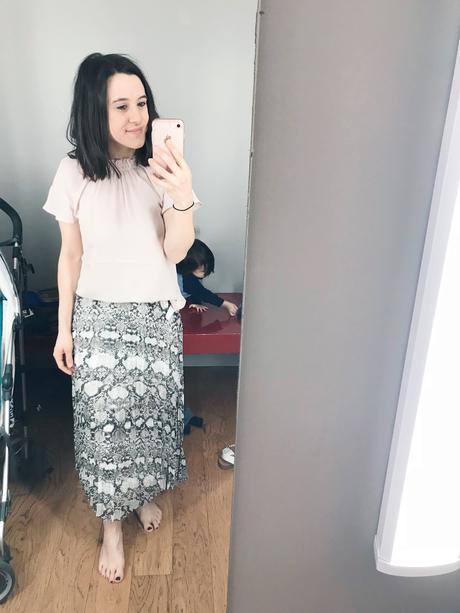 Truffle Pink Ruffle Mock Neck Top
I saw this top online first and loved it. I wasn't sure about this top in the store when trying it on. I sorta felt like it was forced or awkward, but looking back at the pics I kinda like it now! Haha. I think the color is just out of my comfort zone, but maybe I need to embrace it! That said, this top comes in a ton of colors.
My little guy is in the background. Hehe. He was a good sport.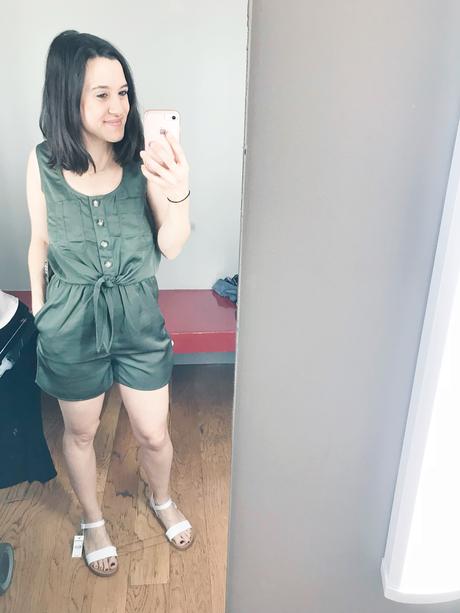 Front Tie Romper
You all know I love a good romper! This one was super cute, but it was a little baggy on me in the XS, so I would definitely size down. I also wasn't sure about the material. It was VERY comfortable, but seemed like something I would wrinkle or ruin when I washed (I am not into ironing/steaming my clothing, I'm just lazy when it comes to that stuff haha). But I did like the look of this one!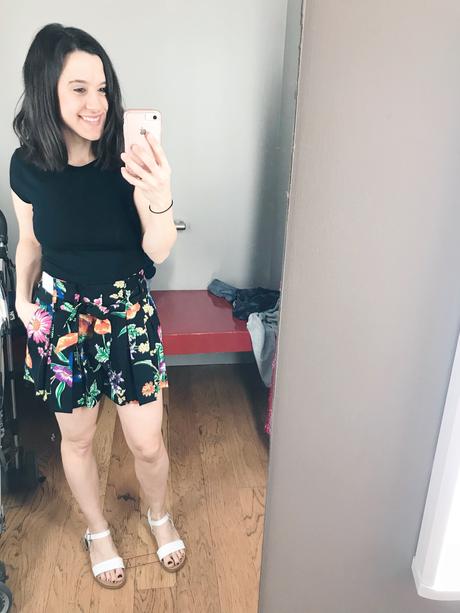 High Waisted Floral Print Front Tie Pleated Shorts
Now THESE shorts are exactly what I am talking about when I think of a bold print for a tropical vacay! And they are a black base, so I would wear these in a NY minute this summer too. The size 2 fit me perfectly, and they were really comfortable, so they definitely came home with me. I also swapped out the sandals for the black ones and took those home too!
Before leaving Express, I snagged some amazing earrings as well. I feel as if I've been neglecting the accessories lately, and they always used to be a big part of my style. So I stocked up a little. I don't have photos but here are the links to the earrings I purchased as well:
Metal Resin Circle Drop Earrings Faux Leather + Metal Disc Earrings Set of Three Resin Hoop Earrings Twisted Textured Hoop Earrings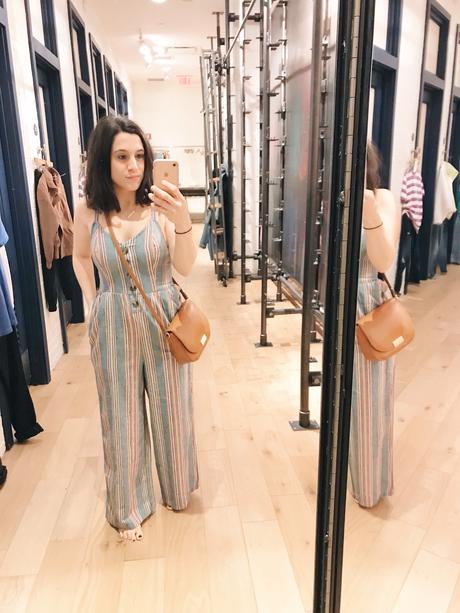 American Eagle Striped Denim Jumper - Cross Body Bag
I loved this on the rack, and it was extremely comfortable, but it was too baggy on me in the back. There was a ton of room, and combined with the wide leg, the way it settled wasn't flattering for my body and made me look much wider and boxier.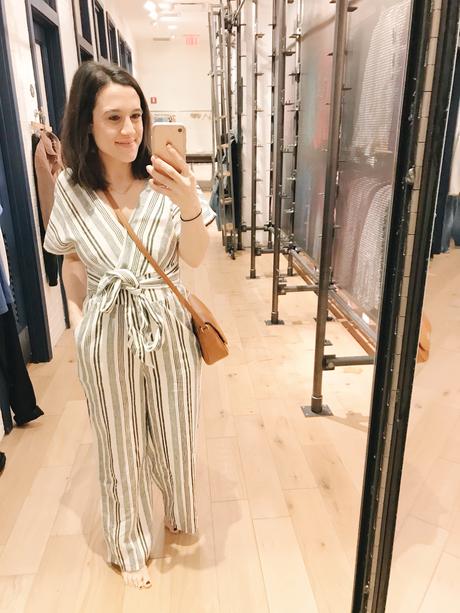 Short Sleeve Surplice Jumpsuit
And then I found THIS one! This jumpsuit was a much better fit, and super comfortable. It's a little long here, but I have the shoes at home to pair with it so I knew I could make it work! The photo online show the model tied it in the back, but I tied it in the front here and I think it could work either way. This one came home with me for sure. The cross body bag came home with me too.
Lastly, it wasn't part of spring attire, so I didn't include a photo here, BUT this incredible multicolored sweater was 50% off on the sale rack in my size and it's still available online, so I figured why not link it here. It is SO comfortable and even though I won't get a ton of wear this season, I will still rock this during the cooler months next winter! It's VERY oversized, but I went with the XS and really love it.
Alright, that's it for now. Any suggestions on where I should do a try-on next?
Hope you're all having a great week so far!
XO,
Gina