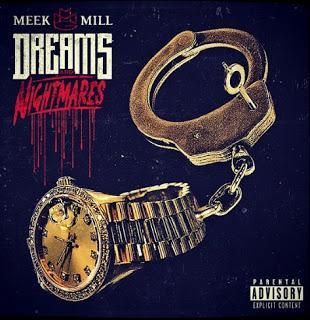 "Trouble Sleeping?"


Meek Mill's Dreams and Nightmares
Another week in hip-hop history, and another major debut album is freed to the world. Philadelphia's own Meek Mill drops his major label debut album under Rick Ross'
MMG
. As a northeastern rapper, Meek's sound is actually more southern sounding. The days of Philadelphia rhymesters Cassidy and Freeway are over. Meek Mill's time is now, with the release of
Dreams and Nightmares
.
On the intro and title track "Dreams and Nightmares," Meek introduces himself as he showcases his unique ability to dominate the often-changing instrumental. As the drum pattern switches up, so does his vivacious flow. It is easy to hear his anger and hunger as the song intensifies, which is where Mill is truly at his best.
Unfortunately, the album is a tad up and down in terms of consistency. The album's second track "In God We Trust" sounds like a typical mix tape track. Tracks like this display Meek Mill's ability to rap, but fall short in offering the hip-hop world something fresh and new from his work we haven't already heard. The very next song "Young & Gettin' It" is drowned out by the overuse of auto-tune. This is unfortunate, as the auto-tune function in 2012 doesn't really serve a strong enough purpose on a debut, hardcore rap album.
Meek Mill snaps back to reality on "Traumatized," snapping over a gritty, story-telling type beat. Songs like this one prove that Meek is capable of meaningful and lyrical substance. It is here, where he talks about the traumatic experience of his father's murder. He spits, "when I find the ***** that killed my daddy know I'mma ride, hope you hear me, I'mma kill you *****." His anger reaches its peak on this track, as he seeks revenge on his father's killer.
"Believe It" is another mix tape track at best, in terms of complexity. The album reaches it's highest note on "Maybach Curtains," featuring John Legend, Nas and Rick Ross. This is a very honest and uplifting approach from Mill, as John Legend provides the perfect chorus. Nas uses his lyrical prowess to bulk up the track even further, as Rick Ross bodies the track like he does best. Moving onward, Meek finds help from Drake on the mainstream-appealing "Amen." This radio-ready cut finds the perfect vibe for cruising around in the car on a lazy day.
The next track "Young Kings" discusses the new era of hip-hop artists, as they are making the way for the future of rap. "Lay Up" features Wale, Trey Songz and Rick Ross, and plays the role of the lady's song on the album. Trey Songz sets the mood, while Wale provides the wisdom and Rick Ross provides the strength. On "Tony Story Pt. 2," Meek returns to his rugged story-telling rap, once again capturing the mind and soul.
Mary J. Blige makes her presence felt on "Who Your Around," as she lays down the perfect hook. Mill kicks some knowledge on this track, discussing how the company one chooses to keep can make or break him/her. He talks on how he's had to leave some who were bringing him down behind. "Now when I ride by I breeze through, I don't even stop, ain't a need to."
Right when the album is growing incredibly smart, another dud "Polo & Shell Tops" sounds as though it wouldn't even make his mix tape. The albums' last two joints "Rich & Famous" and "Real ***** Come First" aren't anything special either. An unfortunate conclusion to a fairly solid debut album comes across as a disappointment.
The album's inconsistency has ended up being Meek Mill's scariest nightmare. He has, however, provided some dream-like hope on some extremely strong tracks. As his career develops, and he matures as an artist, he will likely find his greatest success when he tells his goriest tales from the street. His natural knack to story-tell and reveal the hood's scariest truths is what draws real rap fans to him in the first place. Through the course of time, he must stick to his strengths in order to remain relevant in the ever-changing, competitive hip-hop scene. Far from perfect,
Dreams and Nightmares
shows hope for Meek Mill's future as one of rap's up-and-comers.
RRR Score: 6.75/10
Written by Seth Kaplan