The Expectations...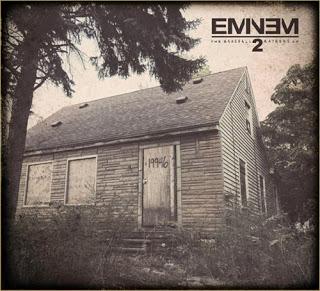 So, what are we to expect from
MMLP2
? Here's a look at the
track list
:
1. Bad Guy2. Parking Lot (Skit)3. Rhyme Or Reason4. So Much Better5.
Survival
6. Legacy7. Asshole Ft. Skylar Grey8. Berzerk9. Rap God10. Brainless11. Stronger Than I Was12. The Monster Ft. Rihanna13. So Far…14. Love Game Ft. Kendrick Lamar15. Headlights Ft. Nate Ruess16. Evil Twin
We know that, based on this set of 16 tracks, there is lots of potential here for Eminem to work with. He links up for the second time with Rihanna and for the first time with Kendrick Lamar. There does not seem to be a shortage of tracks on this project here either. We also know that Rick Rubin and Dr. Dre have teamed up as co-executive producers on
MMLP2
, which would lead us to believe that is a very positive thing. However, Dr. Dre WAS the executive producer on Eminem's critically terribly received
Relapse
. We still have not been informed as to who is actually providing the instrumental backdrops for each song, track for track. Will Mr. Mathers employ all superstar, big name producers or will he try to rekindle the energy he once had with lesser-known Detroit-native producers he had worked with on projects such as
The Slim Shady LP
and
The Marshall Mathers LP
(1).
Additionally, what flows will Em spew out this go around? Shall he come with the
Recovery
in-your-face-stacked-vocals-all-over-the-place-chaotic approach or will he deliver the smooth-witty-not-stacked-clear-funny-demonic approach he blew up off of from his early days in the rap game? There are many questions still left to be answered before we can fully know what to expect from
MMLP2
this November 5
th
.
Comment on what you feel we could/should expect from Eminem's upcoming
MMLP2
...