President Carter: Magna Carta Holy Grail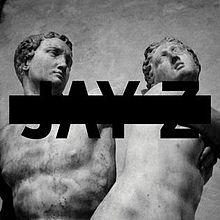 He just wants a Picasso.
Magna Carta Holy Grail
proves that Jay Z may still want a little more than that from the so-called rap game. Sean Carter shows his continually growing hunger on this album, which is filled with high highs and low lows.  With the helpful creative influences from superstar producers
Rick Rubin
, Timbaland, Swizz Beatz and Pharrell Williams, Jay Z slices back into the rap scene in effortless fashion.
MCHG
starts off hot with the Justin Timberlake-assisted single
Holy Grail
. On this intro cut, Jay discusses his struggles and his love-hate relationship with fame. "I can't even take my daughter for a walk…"
The next track on the album,
Picasso Baby
, features Mr. Carter rapping about how he is the modern day Pablo Picasso. Hidden behind metaphors, Jay reveals how all the things success has brought him really has not changed his life at all. He talks about how having that Picasso painting one has always dreamed of having cannot make some unhappy individual suddenly happy. His ten-minute, super artistic video for the song has recently brought a strong visual component to the track.
Track 3,
Tom Ford
, features an aggressive Jay Z spitting bars over a hypnotizing Timbaland-produced instrumental. Lines like "I don't pop Molly, I rock Tom Ford" display his effort to promote hard work and getting things done as opposed to dabbling with drug usage and essentially going nowhere in life. Track 4,
FuckWithMeYouKnowIGotIt
, features Jay and Rick Ross going back and forth boasting and bragging over Boi-1da production. As the first four tracks of the album are extremely high-energy, from here the album's whole vibe suddenly shifts…
The Frank Ocean-featured
Oceans
showcases a very lyrical Sean Carter rapping and rhyming slavery-related metaphors. Frank Ocean's emotional hook provides the Pharrell-laced backdrop with an incredibly smooth fullness. From here,
F.U.T.W.
features Jay inspiring people who came from similar backgrounds to really make an impact in this world. Some powerful bars can be found on this cut such as "America tries to emasculate the greats, murdered Malcolm gave Cassius the shakes."
SomewhereInAmerica
, produced by Hit-Boy, showcases a nifty Jay Z dissing the Internet, and blames our technological advances for the evident, diminishing human intellect. On
Crown
, Jay Z reminds his fans he is still the King of hip-hop.
Heaven
places Mr. Carter questioning religion and a higher power, along with other various theories and mythologies. "Question religion, question it all…" The King of hip-hop's wife, Queen Beyonce Knowles, finally makes an appearance on
Part II (On The Run)
. This 'sort of' sequel to
Bonnie & Clyde '03
features a harmonizing Beyonce, an RnB-style instrumental and an old-school flowing Sean Carter through 3 verses. Next, on
BBC
, Jay Z finds help from Nas, Justin Timberlake and Pharrell over the lush, jazzy Neptunes-produced vibes.
Jay Z finally delivers his ode to his daughter, Blue Ivy Carter, on
Jay-Z Blue
. He takes on the role of a man who divorces his wife, but actually wants to be there for his child as he calls himself 'Daddy Dearest.' Here, Sean battles with not wanting to be like his dad while being afraid of the responsibilities brought on by fatherhood. The last 2 tracks on the album,
La Familia
and
Nickels & Dimes
feature a traditional Jay Z flow over classic hip-hop production.
MCHG
find Jay Z in an innovative mindset as he tries to blend classical art, modernism and hip-hop. He tries to mix the current rap trends with clever, more traditional hip-hop tones. Some of the songs are instant classics and others are instantly forgettable. That being said,
Magna Carta Holy Grail
proves Jay still has it and that there is plenty left in Mr. Carter's tank.