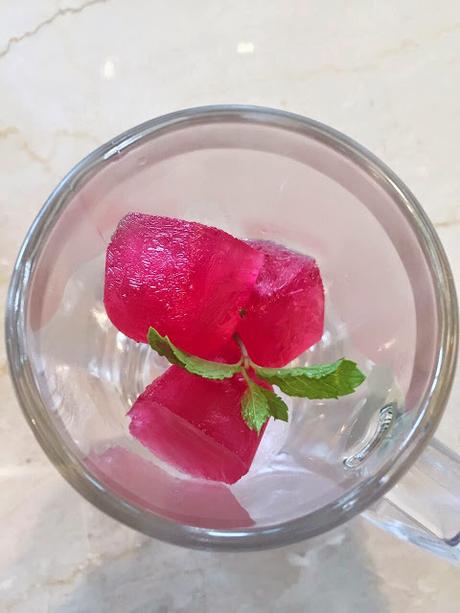 Now, I am not a very cocktail person – Punjabi Soul prefers neat, unadulterated drinks. If I have to, then I would rather have LIIT or similar potent concoctions.
But I have friends who would rather go-slow.
So I have found a perfect place where all of us can go together and spend hours of chatting compounded by choice of poison for each. All head towards Trident BKC.
Drinks that guarantee to make you feel you are in Goa (minus the harsh sun-tan), Trident has created a range of drinks all in-house. Providing a choice of 8-9 cocktails, it has something for everyone. I tasted few of their cocktails represented under. I am also suggesting some possible food combinations you can try to compliment these drinks.
Start the evening with:
Melon on the rocks
– I would call this a quick drink to get the mood set for a great evening ahead. This is a gin based cocktail that has watermelon as base of it. While it seems like a rather normal cocktail, the twist comes from frozen melon juice ice cubes. Visually beautiful and easy to go down. Combination – Works well with a light garden fresh salad, greek salad or grilled white meat.  
Easy being Green
– Now we can't leave out our health-freak friends who would rather look for healthy options even on a drink night. This cocktail is just for you. Made with all healthy things and green. Combination –  Of course all healthy salads.
Move on the real deal:
Roseberry
– If there was a drink on the menu that could deceive you, it is this. By the looks of it, it is a simple martini – some would say very lady-like drink – pink in color. One sip and you would know it hits you like a bus. This one is potent in its alcohol content. Caution sign says – Looks are deceiving. Go slow on these ones. The unique twist comes from vodka that is rosemary infused and ice cubes that has black olive and rosemary frozen in. This is my personal favorite. Combination – Goes well with spicy starter, lamb and red meat. 
Mangifera
– It's the mango season, we are Indians and we are crazy about anything mango in this season. This drink will help you satiate your mango craving supplemented with alcohol, just for the effects. The uniqueness of the drinks comes from the balance between sweetness of mango and freshness of basil & lime combined together. This is the drink for you if you like to take your alcohol slowly and last throughout the night or afternoon. This one is a heavy drink, so skip the food.
Close the night:
Toblerone
–  Just the name, not the actual chocolate. Baileys with coffee served over chocolate ganache and ice. This one failed to impress. A bit diluted and thin, takes away from the real creamy taste of baileys.
Overall – Perfect for your girly evenings and friends catch-up over drinks. 
Disclaimer - This review was done on an invitation from the establishment. Views expressed in the review is entirely ours and without any bias. Pictures of the dishes are not the standard portions, they are sample portions.