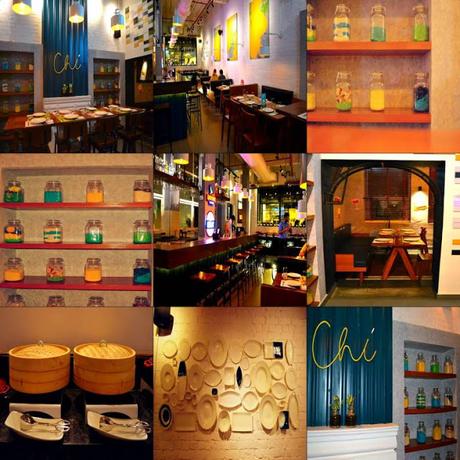 Chi has maintained its place as a good Chinese restaurant in SDA since a long time. They have opened a new outlet at Janpath, Connaught Place and I was really excited when I got an invite for a blogger's meet by The Little Black Book.


Their new menu is witness to the fact that they have completely reinvented themselves. The new menu is not yet, but will soon be a part of the SDA outlet but those visiting the Janpath outlet will get to try some really authentic South East Asian Flavours.

Their dumplings menu is delightful. Dimsums, that come in various shapes and sizes, have become too common and almost every Asian restaurant in the capital keeps some variety of them in their menu. We were served Xiaolongbao (Soupy Pork Dumplings) and Prawn Cheung Fun (Fried Prawns rolled in flat rice noodles). The Pork dumplings were really good and the meat inside was soft and tender. The prawn inside the Cheung Fun was also quite flavourful but the flat rice noodle wrap was thicker as compared to what I've had before.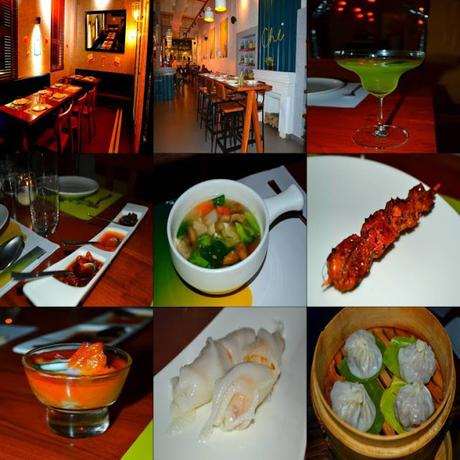 The Entrée menu is diverse and reminded me of the authentic street fare that I've tried at various places in Malaysia and Thailand. It was evident that they haven't compromised on the ingredients in their dishes, even the ones that required hard-to-find Vietnamese spices. The fish and the chicken on the skewers tasted really well, and had a lovely balance of flavours. Fish with thai Curry paste was tantalizing to the tastebuds and the flavor of lemongrass did not overpower the taste of the thick red curry reduction.
The Chaing Mai Noodle Soup was clear and light, unlike most of the soups that kill the appetite. Another intresting dish that we tried was Prawn Goi Kuan Chay that are a steamed version of spring rolls made with paper thin fresh rice sheets and sweet peanut relish. Sticky rice and chicken served inside the banana leaf too had mild but perfect flavours.
We were already quite full when we tried the main course. The items that I found noteworthy in the main course were Ikan Rica, an Indonesian style fish fillet served with a vinegar and cashewnut sauce, and Japchae, Korean style gluten free cellophane noodles. The best part about the fish fillets was that they were crispy on the outside and soft on the inside. We tried pancakes as dessert, the interesting part about which was the sweet coconut filling.
The Entrée items took away the limelight for me. They have Bira on the tap. I am yet to understand why there's so much hype around Bira. But I don't mind if people are happy to drink it. It, coupled with some authentic Asian snacks, will definitely ensure a perfect evening.
Quick Facts 
Chi Cook House 
68/1, Janpath
Nearest Metro Station: Janpath
Contact: +91 9810010244
Meal for two 1500(Approx)