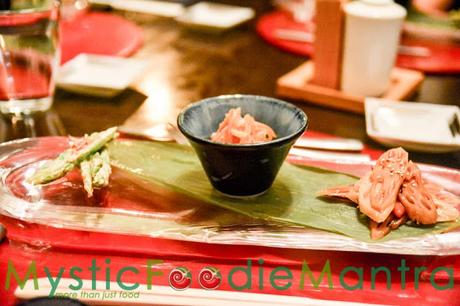 A restaurant that has a small, cozy PDR where you can sit and oversee the Qutub Minar in full moon – That is definitely romantic!
Welcome to EN, one the most romantic Japanese or rather most romantic restaurant in Delhi. Situated in Ambavatta building, it has its own unique charm!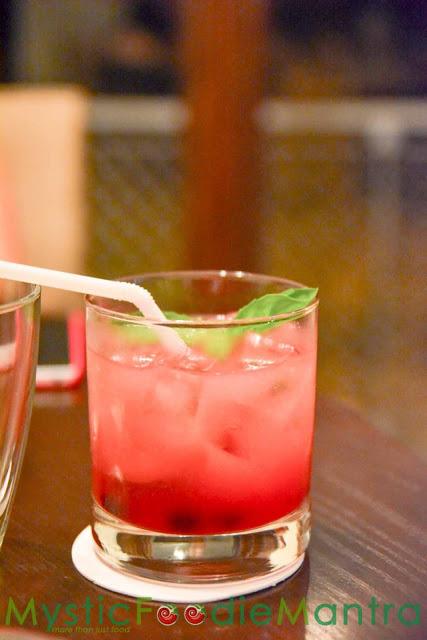 As the weather is changing, this is best time to enjoy candlelight dinner on the terrace of En and enjoy the picturesque view of Qutub Minar, against the setting sun. I haven't been able to take my thoughts of the beauty, serenity and the amazing meal that I enjoyed at En Private PDR, open terrace, smoking area – you will fall in love with this place instantly!  
When I got an invite from EN to review the place, I was excited as I love for Japanese food, though it took time for me to develop the love and taste.
Now let's talk about food.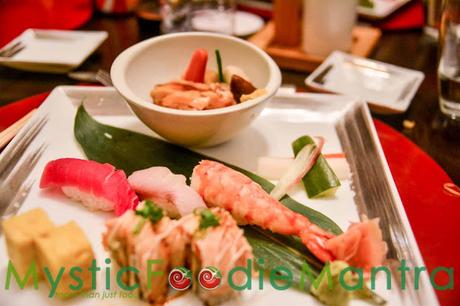 Buta Kakuni (Japanese braised pork belly) takes 28 hours of slow cooking with dashi, soya sauce and mirin. The art is to cook it for very long on slow fire, the fat of the pork melts and makes the meat juicy and soft. Certainly one of the best pork belly I have eaten in Delhi.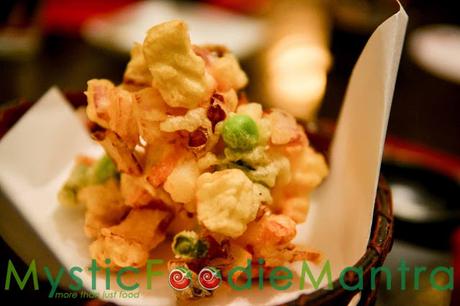 Dashimaki Tamago is a type of Japanese omelet that has layers of eggs. Soya sauce, sugar and vinegar in this omelet gives it a sweet and salty taste. This omelet is delicious and I will definitely recommend everyone to have it! I enjoyed the delicious sushi platter which has - tuna nigiri, prawn nigiri, yellow tail nigari and baked salmon. Kakiage -diced vegetables dipped in a tempura batter and deep fried ,served with tentsuyu sauce was excellent and vegetarians will love it.
While I was gorging on the food, I also tasted their signature cocktails. Wasabi Mary is their take on Bloody Mary and it has excellent flavor of wasabi – gives you a nice kick. Yokohama punch, another vodka based drink has blueberry sauce, guava juice and basil leaves that makes it a refreshing cocktail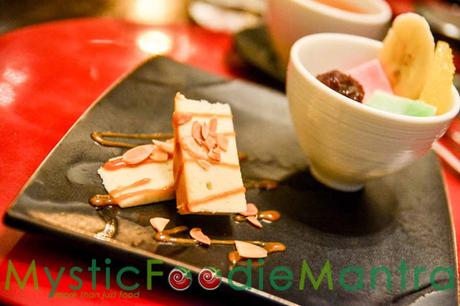 Anmitsu agar jelly (Japanese traditional dessert) and japanese cheese cake 
We finished our meal with Anmitsu agar jelly and Japanese cheese cake. I loved it!
En in my opinion is one of the most romantic restaurants in Delhi and you can enjoy your Japanese meal with your loved ones in those small, cute PDR overlooking Qutub Minar.
#MFMBites - Pork Belly, Assorted Sushi, Dashimaki and Japanese Cheese Cake Quick Facts Address: H-5/1, Ambawatta One Complex, Kalka Das Marg, Mehrauli, New Delhi, Delhi 110030Phone:088262 97103Hours: Lunch 12:00 – 2:45 pm
Dinner 6.30-10.45PM
Meal for two - 2500-3000(Approx)