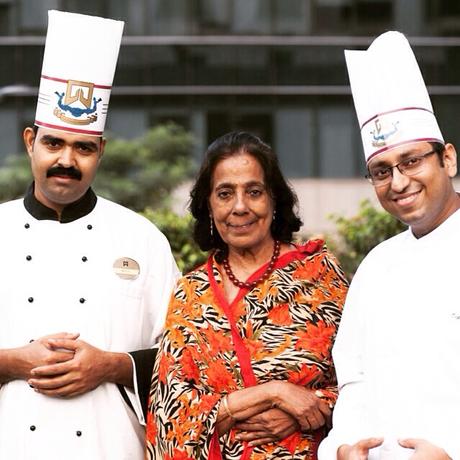 L- Masterchef Mofid, C- Salma Hussain, R- Chef Vipul 
Have we lost the age old recipes? No it's not lost - it's forgotten! We don't have the time and patience to get into the prolonged way of doing things. Times have changed. Today, neither folks at home have time, nor the passion as everything has to be made quickly and needs a quick fix.
Salma Hussain too shared the same when I was at Delhi Pavillion , Sheraton Saket to enjoy the food festival of Shahjahanabad. It not only turned out to be a memorable event, but the taste still lingers on.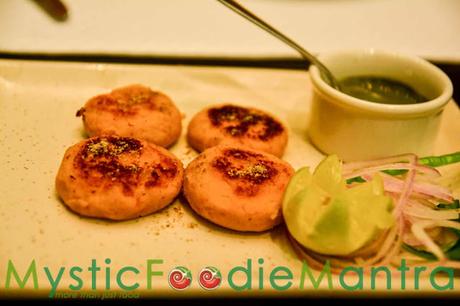 Mahi naranj 
To avoid the scorching summer of Agra, Shahajahan preferred Shahjahanabad as his abode and it is interesting that Shajahan's daughter, Jahan Ara, had laid the foundation stone of this place.   
The glory of Shahjahanabad was at its peak during the kingdom of Shanjahan and even during the realm of Bahadur Shah Jafar, the last Mughal emperor, it didn't fade away.
Shahjahanabad

today is Old Delhi. The greater part of Old Delhi is still confined within the space of Shah Jahān's walls, and several gates built during his rule—the Kashmiri Gate, the Delhi Gate, the Turkman Gate, and the Ajmeri Gate—still stand – Source - http://www.britannica.com/place/Shahjahanabad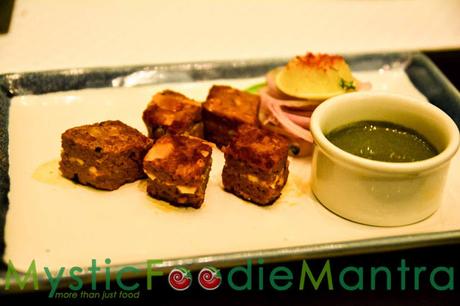 dum ki launz 
In those days, cuisine of kayastha and baniya too were part of the
Shahi (Royal) Dastarkhwan (
a Persian term, literally means a meticulously laid-out ceremonial dining spread)
of Shahjhanabad.
As I shared earlier, the recipes aren't lost, but forgotten. Salma  Husain  and master chefs of Sheraton, New Delhi have undertaken enormous efforts to serve food of time immemorial that seems to have been forgotten or just exists  in memories of people who got the opportunity to relish such cuisine.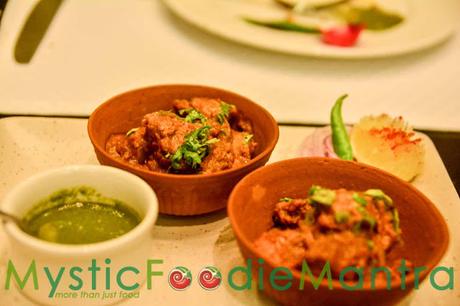 kuzeh kebab
If we have a food festival curated by Salma Hussain, then of course it will be sumptuous meal along with stories on the cuisine. Come here to experience Khwan-E-Mazi, the forgotten era of Shahjahanabad. Mahi naranj is an unusual combination of fish and orange, dum ki launz – thrice cooked mutton kebab, shalgam gosht , dum ki macchi – fish cooked in rich gravy – each dish is unique. Apart from this, you will also love,  Lazeezan – the unique mutton pulao, basmati rice cooked with mutton on dum and Murg e taaus – chef's secret recipe, a rich chicken preparation. We ended our journey with surprise desert, which is named "guess the name". It is a gulab jamun which was made of mutton – Truly an unbelievable dessert.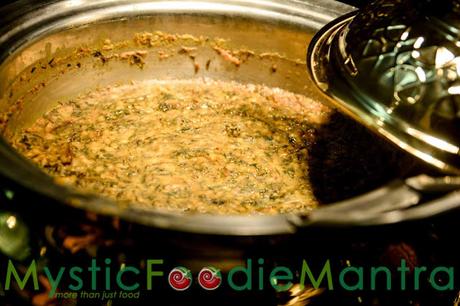 dal sagpetha 
This curated food festival shouldn't be missed! Visit Delhi Pavilion at Sheraton Saket to enjoy the forgotten recipes of Mughal/Post Mughal era. This will be dinner buffet at a special price of Rs 1750 plus taxes at Delhi Pavilion, their new stunning all day dinning.