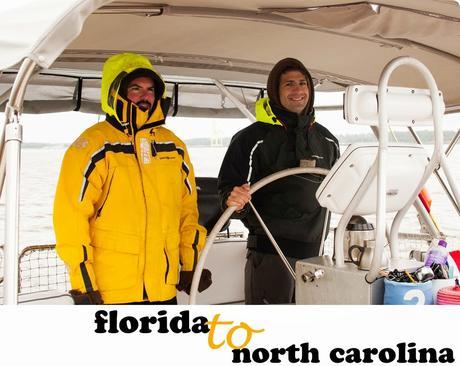 We left Ft. Lauderdale Florida around 3 in the afternoon and arrived in Wilmington North Carolina at noon three nights later. We picked up Alex (above) from the airport in Florida and left as soon as he got on the boat. He put a shout out to Hank with Offshore Passage Opportunities to see if anyone was interested in coming with us on short notice. Glad we did! Alex is great with kids and a fast learner even if he is a chatter box. This way I got skip night watches so I was fresh to deal with the kids during the day.
On the first day Pri vomited all over me and sent my clothes moldy because I didn't rinse them in time – yucko. I felt quite seasick and laid on the floor covered in kids most of the day. Over the next couple of days I started feeling a little better and by the 4th I was good, but we were also there.
My body HATES sleeping underway. It's all the noises of sailing that keeps me awake and my body constantly fighting the motions. Finally by the 3rd night I'm always completely exhausted and crash. We made really good time with the Gulf Stream, averaging about 8 knots. But this is with downwind sailing with maybe 10 knots wind. Not bad. We were trying to beat a front that was moving in with 30 knot head winds so we had to motor sail a lot to keep up the pace. Gradually the weather got cooler and the morning we rolled into North Carolina it defiantly felt like spring. Brrr.
Well now we're here in Wilmington it's time to get down and dirty prepping for the Northwest Passage. We plan on building a cockpit enclosure, install another heater, make foam insulation panels for all the windows and hatches and pretty much gear up for freezing weather.
Alex will be sticking with us for the next couple of weeks before our trip up to Massachusetts, he's going to either hate us or love us, only time will tell.
We purchased an inReach tracker while in Florida, check out our tracker page (tab top right of blog) keep up to date with our movements.