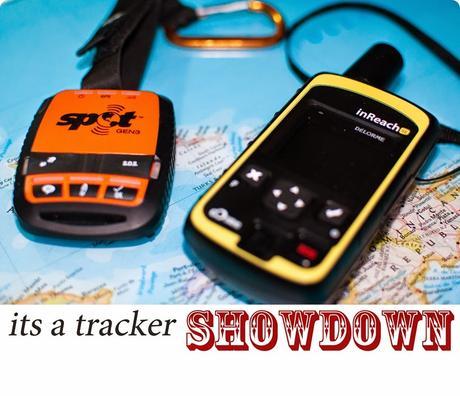 We love the fact that our family and friends can track us when we're sailing and through
Spotwalla
we can put a map up on our blog (see our tracker page). We used the
Spot Gen3
tracker when we were in States, Bahamas, Caribbean, Nova Scotia and Newfoundland. We now have
Delorme inReach
onboard and have used it so far in the States.
So which is best? Cue western music.

Spot Gen3
The 
Spot
is easy to use, tracks well and good if you're on a budget BUT it does run off the
Globalstar
satellites which don't give you 100% worldwide coverage. See
Spot coverage maps.
If you're planning on sticking to the States, Bahamas and Caribbean I highly recommend the Spot. The device itself costs $169.95 and the plan we chose was $149 a year. This is the plan with the most features.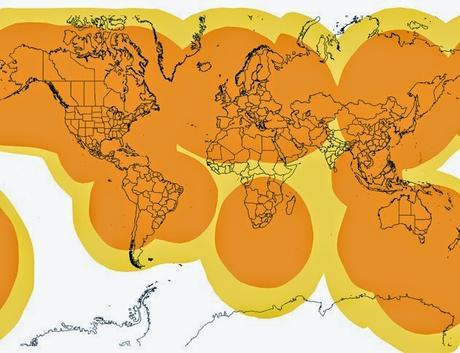 Spot features:
SOS – alerts emergency responders of your GPS location
HELP – alerts family and friends
CHECK-IN – text message sent out to family and friends
CUSTOM MESSAGE – text message sent out to family and friends (needs to be pre set up online)
TRACKING – tracks you in real time to an online map
MOVEMENT ACTIVATED TRACKING – lets Spot know only to send out tracking locations when you're moving.
Spot Pros:
cheap yearly plan, extremely simple to use. Another thing that we do love about the Spot is that it has a very definite flashing light letting you know that it's on and when it's sending location updates. It also runs off of lithium batteries that last a surprising long time. There is no need to worry about running your inverter when it's time to charge.  Rugged design that can take a beating – but not a swim overboard.
Spot Cons:
you can't text messages from the Spot, the custom message has to be set up online. It also doesn't support social media – not that that's a deal breaker. The coverage is lacking when you plan to do an ocean crossing or want to venture into the polar regions (ie. Northwest Passage).
Delorme inReach
The
inReach SE
runs off the Iridium satellites, see
coverage maps
. Iridium covers 100% of the globe so you have no worries about hitting a dead area on crossings or in the Arctic and Antarctica. But for the this great coverage you pay the premium price. The inReach SE device will set you back $299.95. We chose the Freedom plan (month to month contract) of $34.95 to be debited from our account. You can check other plans
here.
We would have saved some dough and gone with an annual plan but if we make it through the
Northwest Passage
we plan on spending a year in Alaska where during the winter we wouldn't be needing the tracker.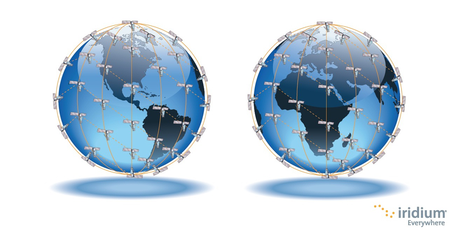 inReach SE features:
TEXT – send and receive 160 character text messages (directly from the device or linked with your smart phone – we haven't tested this yet)
SOS – alerts emergency responders to your GPS location
TRACKING – tracks you in real time to an online map (you can change the interval of tracking at anytime via the device)
SOCIAL – post to social media
inReach Pros:
we love the color screen and that you can actually send text messages from the device. We haven't tested it yet but you can actually pair it with your smart phone and text from there which would be a lot easier. It has a rugged casing and audible sound when you receive messages. Love the month to month plans that you can cancel at anytime. Also we like that we can change the intervals of locations sent on the device. On crossings we send every hour but what if we have to jump ship? To send every 10 minutes from a life raft is definitely a plus, not that we would ever like to test it.  I think the biggest pro is the coverage, you can't beat 100% coverage. I trust the iridium coverage with my life.
inReach Cons:
definitely the device and plan pricing but it is a superior service. Even though you can text from the device it is extremely frustrating. Just remember trying to text from your phones 10 years ago? Also I can never tell if the device is working/ transmitting just by looking at it. You can go into the screen and open up the tracking and it will let you know when you started tracking, how many points have been sent and when you will send the next gps location.
Conclusion:
If we were to stick close to the States and do the Bahamas/ Caribbean run that is very popular we probably would have just stuck with the Spot. It works great and is a bargain. BUT if you do plan on doing long crossings I would definitely invest in an inReach SE, it will give you the peace of mind that money can't buy. It also has a ton of great features that will keep all your family, friends and blog follows happy.
You may have guessed that we do plan on getting another iridium device to make calls on and for downloading weather. Why don't we just us the tracker in the handheld device? We think it's a great idea to have a some emergency padding in case one goes down to send out text or emergency GPS positions.