Hi everyone, Max from Impassionedcinema and Clair from Cinematic Delights are back to talk about another trilogy. This week we take a look at The Bourne Series, one of the high watermarks for action cinema.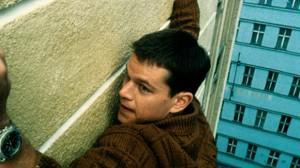 The Bourne Identity
Max: Who knew Matt Damon could be an Action star? There were glimpses he could hold his own in action movies, but The Bourne Identity is on a different level. Matt Damon plays Jason Bourne, a military weapon that has malfunctioned. Not understanding why he has super human strength and intelligence due to amnesia, Bourne is on a mission to find the answers to his past.
The way Bourne effortlessly takes down his challengers is still copied today, most notably by James Bond, because of just how well it works. Nothing is left in the background except the crunching of bones and the breaking of glass. Bourne Identity also features one of the best car chase sequences in history. Probably the highlight in the entire series, it was awesome watching that Mini pulling off all that action.  The Bourne Identity also manages to end on a note that makes it a complete movie if the franchise didn't take off. After that outing of course it was going to take off.
Claire: Minis. The use of Minis in a chase scene through the streets of Paris is just one of the many reasons that I like The Bourne Identity so much. Released in 2002 and directed by Doug Liman, The Bourne Identity follows Jason Bourne (Matt Damon) as he recovers from amnesia and tries to establish who and what he is.
Fast-paced with an intricate plot, Identity brought to life a new brand of movie spies. It sucked you into the world of Bourne, Treadstone and the CIA, and you are right there with Bourne as he struggles to understand his past before he then starts to realize why he can speak fluent German and why he instinctively knows how to defend himself from attackers. Bourne is a very smart guy and Identity is a very, very smart film.
Max: I've seen Bourne Supremacy before, but it just isn't as memorable as the other two films. While Jason Bourne has been able to stay in hiding for two years, there are agents who still want him dead. Now, Jason Bourne has a renewed interest in the operation he worked in and revenge on his mind.
A new lead villain is introduced as the true mastermind behind Operation Treadstone and Bourne learns about the first mission he ever succeeded in. Finding more information about his background along the way, Bourne Supremacy feels like a middle film and suffers for it.
Supremacy carries on where Identity finished, and is much of the same: the Bourne world is still as slick, intricate and exciting as it was before. The stunts, including more fantastic car chases, are excellent and Bourne has a new sparring partner in the former of Kirill (Karl Urban), a Russian FSB agent. Kirill isn't the only new character, however. A host of other fascinating and devious characters make an appearance as Bourne delves deeper into the world of Treadstone.
The Bourne Ultimatum
Max: Believe it or not this was the first Bourne movie I saw. Considering how vital the storyline is, it was quite hard jumping into the universe at that point. The film was reviewing far too well for me to pass on it, so I finally saw a Bourne film. Paul Greengrass is known for his hand-cam action and it gives this Bourne installment a raw feeling. Needless to say I was entranced by the action.
Parkour was becoming the hot thing to emulate in Hollywood at the time and it shows as Jason Bourne is running on the roofs of buildings in Tangier. Of course this film fully answers the questions behind Jason Bourne and successfully ends the franchise with quality. I love how they used the Moby song 'Extreme Ways' as the ending for all three films. Really tied them together.
Claire: Greengrass returned to the helm once more for Ultimatum, which sees Bourne as he continues to seek revenge. Along the way he meets a newspaper journalist who has uncovered information about another operation, Operation Blackbriar, which is an upgrade to Treadstone.
As the plot thickens further, and yet more characters are introduced, its clear that the world we saw in Identity had barely scratched the surface. Ultimatum is exactly that – the ultimate part in Bourne's story, and the final conclusion to the Treadstone saga. With a clever plot twist part way through the film, the final part of the trilogy remains as exciting and intricate as the other parts. And, as always, excellent acted with fantastic action sequences.
Final thoughts
Max: The Bourne Series is America's answer to Britain's James Bond. Featuring Matt Damon as a no holds barred operative and leading ladies that are mostly convincing, the Bourne Series had a lot going for it. All the way down to the actors who appeared as villains or co-stars.
While I do probably enjoy Bourne Ultimatium the best, I can understand why Bourne Identity is the most loved. It introduced the world to that character. For me it's because Clive Owen plays a villain. It's really odd seeing him in such a minor role. I highly recommend The Bourne Series for a solid trilogy of action movies.
Claire: It's hard to single out just one film as, for me, this is another consistently good trilogy. Visually, Damon suits Bourne very well. In the nicest possible way, he doesn't stand out: you wouldn't particularly notice him walking down the street, and you wouldn't know that he was a black ops agent. However, that's what would make him the perfect agent.
I'm going to go with Identity, however, as it was such an excellent introduction to the Bourne world. And, though this may sound incredibly blonde, I enjoyed it all the more because I could actually follow it, even though the plot does get quite complicated.
If you'd like to look at the next entry in the Bourne Universe check out this trailer for The Bourne Legacy starring Jeremy Renner.