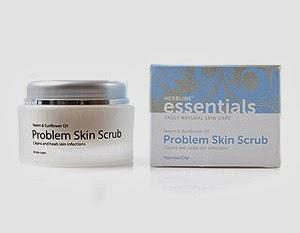 The name definitely does the product great justice as your skin looks clear and skin infections are healed in no time.T
he exquisite balance of Herbline Essentials organic ingredients makes it perform instantly and gives miraculous long lasting results.It can be used on the face and body with equal efficacy as well.On another note, the scrub can also be used as a facial mask for a deeper cleansing effect by applying and allowing it to dry before rinsing.
The natural antiseptic properties of its ingredients work to clear skin infections and relieve the symptoms of oily and spot prone skin to expose you as the epitome of radiant glam.
For the past two weeks, I have been exfoliating with Herbline Essentials Problem Skin Scrub once a week.The first thing I noticed about the scrub was it's smell.It has a strong fragrance which is mostly present during usage but gradually fades away post rinsing.
Within the first week I noticed that my skin was notably cleaner.
By week two,
I was starting to believe that my super soft skin was just a figment of my imagination, as there was no way this scrub could make my face that smoot
h.
Due to my combination skin and acne outbreaks, this beauty product is highly recommended and I would definitely purchase
 it on an ongoing basis.
L
ike our fan page on Facebook
here
,
or follow My Vitrina on Twitter
here
*Photo: Courtesy of Herbline Essentials