Hey Girls,
Tell me what do you think is a girl's most important and cherished physical attribute after her face and eyes ?? Hair, of course. I am sure, most of you would agree with me. If you had read a few of my old posts, ..........you may remember how I have been blessed with thick, heavy and dry hair, which never seems to give up when it comes to throwing tantrums almost every other day. :Sigh: If only the dry part was missing in my hair. So, I am perpetually on a lookout for shampoos/conditioners/hair masks, which can reduce the dryness of my hair.

 

A few months back, when TRESemme Smooth and Shine shampoos were launched in India, a lot of blogger friends used it and were quite impressed with the results. So, how could i be left behind ?? I too jumped into the wagon and grabbed the variant meant for 'Dry and Rough Hair'.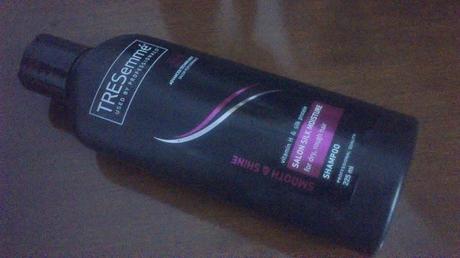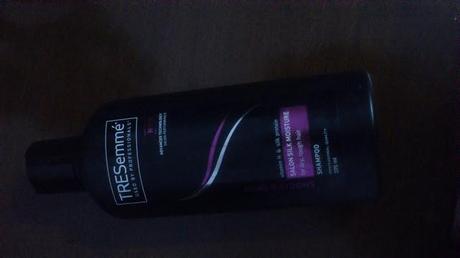 Price: Approx Rs. 130 (Inexpensive)
Net vol: 225 ml
What it claims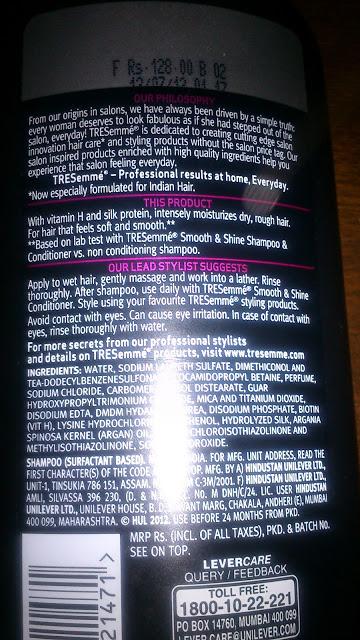 My experience with TRESemme Smooth and Shine shampoo for Dry and Rough Hair
The shampoo comes in a big black bottle with a screw on cap which also has 'press cap' at the top to dispense the product. Quite easy to use and travel friendly, but who carries shampoo bottles daily in handbags, unless we are travelling? Bad Joke, Sorry.

 

The Shampoo is pearly white in color and has a lotion like consistency, not too thick and not too thin. I take about 1 & ½ teaspoon of shampoo in a bowl and fill it to the brim with water to dilute the shampoo. I always dilute my shampoos for easier application on hair. I usually shampoo twice because my hair has a thick skin and refuses to feel clean unless slathered with shampoo. (maybe it's just in my head, but I like shampoos which give a lot of lather). It has a mild fragrance which lingers for few hours after shampoo.
After wash, my hair does feel soft but it still becomes frizzy after drying and by next day, it is back to its misbehaving best. It does clean hair and scalp well but I cannot say that it made a lot of difference to my hair, just it makes my hair look great on the day when I shampoo. I think I was expecting a lot from this range of shampoos but if you ask me, it's an average shampoo, nothing bad and nothing great. I would recommend it for girls with mildly dry and rough hair. Girls with very dry and rough hair can join me in the search for perfect shampoo.
Please do suggest any shampoo for very dry and rough hair, tried and tested by you.
TRESemme Products are available at Beautykafe.