Please take a look at my new trend report for the US fashion blog 
Fashion Vignette
.This week trend is all about POWER PRINTS which have dominated the A/W RTW 12 catwalks worldwide.As you can see the runway imagery is filled with color and exciting design which is not a typical A/W color pallet, which has given all shows a fresh and bold zest.My main focus on this report was to identify various styles of prints which shows a sense of power and style which have been heavily communicated throughout print and pattern this season.I have broken down the trend into key elements which i have reflected by selecting garment/prints carefully to give a clear idea.Here are the trend elements below;
POWER PRINTS
THE KEY ELEMENTS TO THIS TREND ARE:
Strong colourful prints for A/W RTW 2012.

This trend shows the direction of louder and brighter prints exaggerate to create more powerful and strong persona.

Geometric shapes

merged into exciting repeat

s

Traditional hounds tooth print recreated in bold fresh colours

Art deco abstracted

Repetitive loud motifs

Simplistic shapes vs detailed merging contrasting pattern

Reinventing the 'working wardrobe' for modern women.
Trend Forecaster weekly contributor -
HanaMarie.☮
[
hanamarie-hanamarie.blogspot.com
]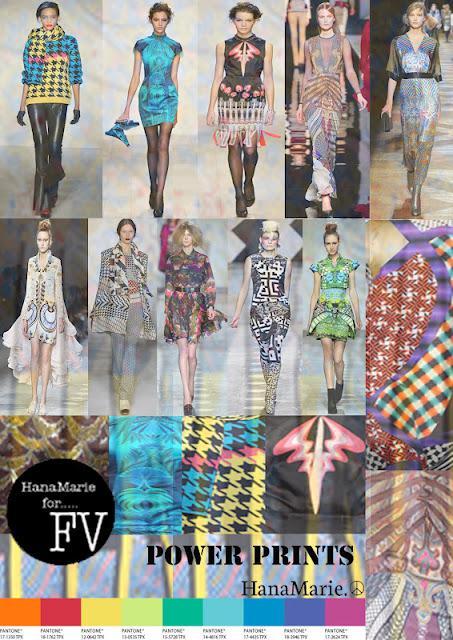 © 2012 by HanaMarie. All rights reserved
Inspirational layout may not be reproduced or transmitted in any form or by any means, electronic, photocopying, or otherwise, without prior written permission.
Source of inspirations:
Henry holland,
Holly Fulton, Holly Fulton, Etro, Dries van Norton, Mary Katrantzou, Basso & Brooke, Fashion East, Meadham Kirchhoff,
Holly Fulton, Mary Katrantzou, Basso and Brooke, Meadham Kirchoff, Holly Fulton, Henry Holland, Holly Fulton, Etro.
You might also like:
>>TOOLS - CONCEPT BOARD >>DESIGN CONTEST - JEWELRY DESIGN >>FEATURED ARTIST - DIANE MELMS >>DESIGN CONTEST - EUROPEAN FASHION AWARD FASH 2012 ACTIVE FEATURED ARTIST - DONNA SY
LinkWithin