by Linda Williams / The Willits News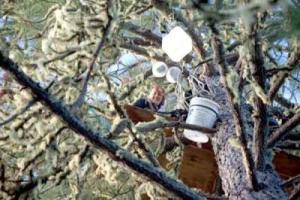 Twenty-four-year-old Warbler in her pine tree, 50 feet above the ground along the bypass route. I m doing pretty good, she says. (Ree Slocum/Courtesy) (The Willits News)
Rain, wind and frosty conditions during the past week have not dampened Warbler's spirits as she continues her tree-sit to stop the Highway 101 bypass around Willits.
The contractor has yet to begin work on the bypass. "We are waiting for feedback from the Army Corps of Engineers on a couple of permit questions," says CalTrans spokesman Phil Frisbie, "and when that is resolved we will authorize the contractor to mobilize. We hope to begin construction later this month."
"I'm doing pretty good," says 24-year-old Warbler as she perches about 50 feet above the ground in a pine tree along the bypass route. She is staying warm with two sleeping bags, and so far her tarp is keeping rain off and there hasn't been any snow.
At her height Warbler can really feel the wind, causing her pine tree to sway. She has been tree-sitting since January 28.
One of her main surprises has been that it isn't the wind and rain that has interrupted her sleep, it's the incessant sound of cars and trucks driving on Highway 101 located about 100 yards from her perch.
"The constant noise from 101 is very distracting; it reverberates through the valley," says Warbler. "It makes me even more aware of how the bypass will affect the sounds of the valley."
So far there has been few signs of the contractor gearing up for work on the new highway, except for CalTrans' vehicles driving back and forth on the access road located beside her tree.
Law enforcement from the California Highway Patrol and the Mendocino County Sheriff's Office has maintained a watchful but respectful presence. CalTrans personnel have stopped and photographed the protest scene, but there have been no confrontations.
Warbler is bolstered by both the emotional and the material support she continues to receive. Supporters on the ground have brought her hot meals for breakfast and dinner as well as supplies and other sundries. Groups have come to sing and entertain her as well.
"This has become the epicenter for the community's gathering protest against the bypass," says Warbler. She has been encouraged as well by the growing number of area residents taking the organized tours of the bypass footprint. "The last class had 35 participants; it is a good way to understand the true impact this bypass will have. I really want people to get involved and spread the word."
Warbler has done a lot of camping and backpacking prior to this new adventure. "It is a whole new experience living in a tree."
The toughest part of the experience for Warbler has been, "I really miss my goats." Before her tree sitting experience she tended a herd of 13 goats, milking twice daily. For someone who is used to farm life getting enough exercise has also been a challenge.