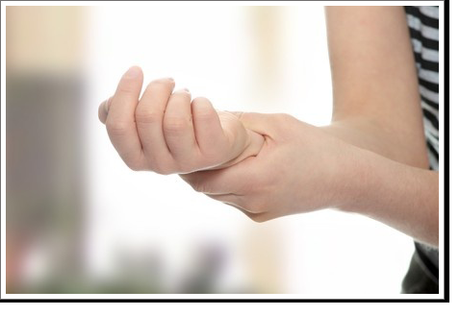 Carpal tunnel syndrome is possibly the most common nerve disorder experienced today. It affects 4 – 10 million Americans and is usually very treatable. Middle-aged to older individuals are more likely to develop the syndrome than younger persons, and females three times more frequently than males.
Fast Facts
Carpal tunnel syndrome may interfere with hand strength and sensation, and cause a decrease in hand function.
Other conditions, such as arthritis, tendonitis and other nerve involvement, need to be ruled out before diagnosing carpal tunnel syndrome.
Physicians can diagnose carpal tunnel syndrome by history of the symptoms, physical examination and electrical testing, and in some cases by use of ultrasound or MRI.
Carpal tunnel syndrome can be treated effectively with medications, splinting, steroid injections in the wrist and/or surgery.
Risk Factors:
CTS is associated with a family history of the disorder.
Many studies indicate that women have a significantly higher risk for carpal tunnel syndrome than men do.
Older people are at higher risk than younger adults.
Signs and symptoms of CTS include:
Nighttime painful tingling in one or both hands, frequently causing sleep disturbance
Feeling of uselessness in the fingers
A sense that fingers are swollen even though little or no swelling is apparent
Daytime tingling in the hands followed by a decreased ability to squeeze things
Loss of strength in the muscle at the base of the thumb near the palm
Pain shooting from the hand up the arm as far as the shoulder
CTS should be diagnosed and treated early. A standard physical examination of the hands, arms, shoulders, and neck can help determine if your symptoms are related to daily activities or to an underlying disorder.
A More Cost-Effective Alternative to Surgery
As expensive as Carpal tunnel release surgery already is, there is also the cost of post operative therapies that may be necessary to strengthen and to teach the patient appropriate ergonomics. The amount of time necessary will depend on how quickly the patient recovers. The average cost of the procedure, therapy and other related expenses can average around $29,000.
As experienced chiropractors in Augusta GA, Georgia Clinic of Chiropractic has had tremendous success to treating patients for carpal tunnel syndrome.  In addition to providing customized chiropractic treatments, Georgia Clinic of Chiropractic is also able to provide patients with super pulsed cold laser therapy, with settings specifically made to treat carpal tunnel syndrome.  Approved by the FDA, cold laser therapy has been proven in multiple studies to be an effective form of treatment for patients suffering from carpal tunnel syndrome.
Therapeutic lasers work by supplying energy to the body in the form of non-thermal photons of light. When converted to chemical energy, it can be used by the cells to accelerate the normal rate of tissue healing, thus blood flow is increased, swelling is decreased and muscle elasticity is improved helping to reduce pain.   You can schedule a complimentary consultation to find out if our customized treatments may be the answer you've been looking for.
---
Augusta GA Chiropractors Georgia Clinic of Chiropractic provides customized care. Visit our main website at www.georgia-clinic.com for a chiropractor in Augusta GA and a chiropractor in Evans GA that provides customized treatments.

You can schedule your appointment by calling our friendly staff at (706) 814-5053 or use our online form.