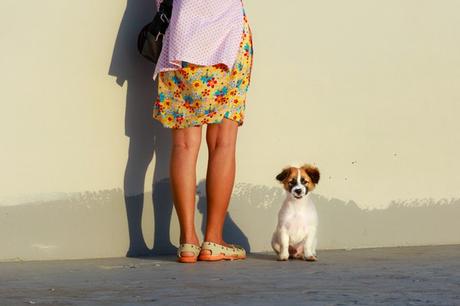 Indian Railways is one of the best transport for travelling with pets to longer distance. It is safe, affordable, has easy laws and allows small, big, all kinds of animals.
There are two ways to take your dog with you in a train, either in the luggage compartment inside a cage or along with you inside the AC 1st class cabin. Travelling with pets in the luggage compartment is always a bit risky. It is a small cage where your dog won't be able to move properly or be able to sleep. There won't be space to even pee or poo. Also, you will have to go from your compartment to give food and water to your dog and its the last compartment of the train and you will have to cover a lot of distance and you will have to prepare in advance for the stations where you can go and feed. Your dog might get health issues travelling in that cage, it's always safer to keep the dogs along with you.
Booking a 1st class cabin: You cannot take your pets inside a regular sleeper or even 2nd or 3rd class compartment. The only way to take the pet is by booking a 1st class AC coupe or cabin. A coupe is a two-passenger room and a cabin is a 4 passenger room. In case you have more than one dog with you, it's always better to book a cabin. You will need to book the entire cabin, ie. 4 seats or if its a coupe, 2 seats. While booking online in IRCTC app also you have the option to select coupe or cabin after you select 1st class AC preference.
It would be best if you select a station from where the train is starting so that it is easier for you to get into the train without much rush and also if your destination is the last stop of the train but even otherwise it is possible.
Remember to have your pets vaccinated before the travel. Get a letter from the veterinarian saying that the pets are fit for travel by train and their signature and seal on it. Also, keep copies of the vaccination records.
You will know if a coupe or cabin is allotted only on the day of the travel and in case you don't get it then again, you will have to keep the pets inside the luggage compartment. So the best way is to write a letter either by email or post to the Chief Booking Officer of that particular railway station, quoting your PNR number of reservation and requesting that a coupe or cabin is allocated to you since you are travelling with pets and you want to keep them with you.
On the day of the travel, arrive at least 2 hours early before your train time and go to the parcel office of the railway station. Submit the vaccination record as well as the letter from the veterinarian there and get travel slips from there for each animal as per their weight. Find out the coach position of the AC 1st class compartment of your train and wait there so that you will not have trouble getting into the compartment when the train arrives.
Always remember to take less luggage with you when travelling with pets so that it is easier for you to manage or else arrange for a coolie to handle the luggage while you can be with the dogs. Keep the dogs on a good leash and hold on to them so that they won't feel scared with all the noise and rush of the railway station.
Keep lots of old newspapers with you so that you can put it on the floor of the coupe or cabin for your dogs to do poo and pee. It is not much safe to take the dogs out during stops as getting in and out from the train can be difficult and dangerous. Dog diapers are also available in pet stores and can be used during journeys. Also, it's good if you can carry an air freshener to use in the compartment so that other cabins and coupe passengers do not complain of any smell from your side. Keep bowls with you and give the dogs lots of water during the journey. It's better not to feed them too much but in case it's a long journey that takes more than 1 day by train then keep dry or wet packaged food ready with you to feed them.
All the same rules applicable while taking cats too.
Keeping your pet comfortable is the most important factor and an AC 1st class journey is one of the best experiences ever for them.
Happy Pet Journey
Post Courtesy - @celebratinganimals