Narendra Bhawan, a new luxury boutique hotel in Bikaner, is all about a mix of modernity, grandeur, stories and luxury. The hospitality and stories are the USP of this place according to me, and anybody who experiences staying at Narendra Bhawan once will always have extremely high expectations from any other property they stay at.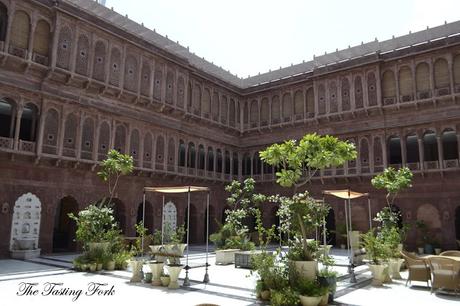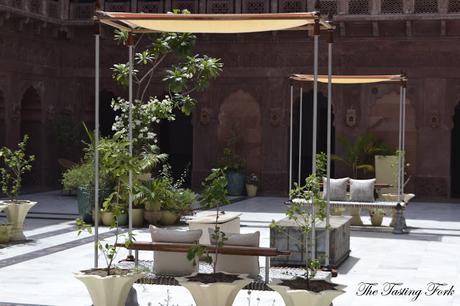 I had the opportunity of staying at Narendra Bhawan last month with other food and travel bloggers from Delhi and Mumbai, and my experience was one that cannot be described in words. In this post, I will tell you all about the food experiences and food meditations at Narendra Bhawan, and will take you through the rooms, other amenities and a tour of the place too.
Here's how my itinerary for Narendra Bhawan was:
Day 1: Board an overnight 8-hour long train from Delhi to Bikaner at 11
Day 2: Reach Bikaner at 8:30-9AM and transfer to the hotel. Spend Day 2 and Day 3 at the hotel.
Day 4: Leave Bikaner at 10:30PM and reach Delhi the next morning around 7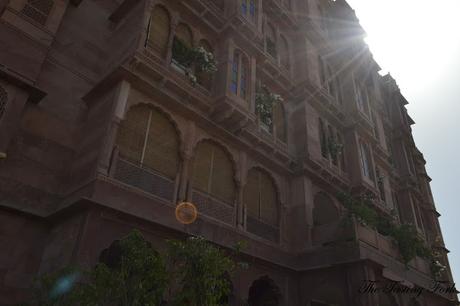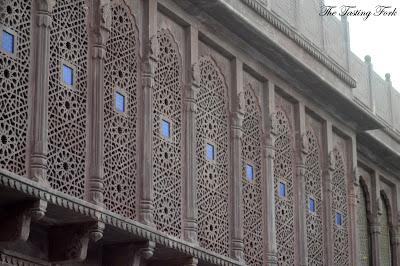 Narendra Bhawan is Narendra ji, the king of Bikaner's, residence that has been converted into a hotel. With a central courtyard on the first floor that's the highlight of the hotel for me, the hotel has several rooms with various categories, each category denoting one phase of Narendra ji's life, and the décor matching that phase. The room that depicted his youth was what we stayed in- chic modern interiors, smart cabinets with flawless smooth wood, lamps lined above a crisp dark wooden study table, a plush leather maroon chair with a green carpet in the middle of the room. Right in front of a comfortable cushiony bed was a small wooden cabinet, with a television above that (of course), and doors that could close on the TV if you wanted. Like it was never there. The most important part of a room for most people, apart from the bed, is the washroom. With white marbled walls of the bathing cubicle on one side and a glass door on the other, and a white tone of the washroom overall, it was as chic as possible. The room exuberated luxury and modernity, comfort and zing, and that's exactly what I experienced too.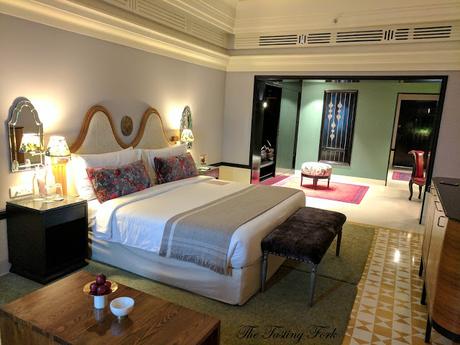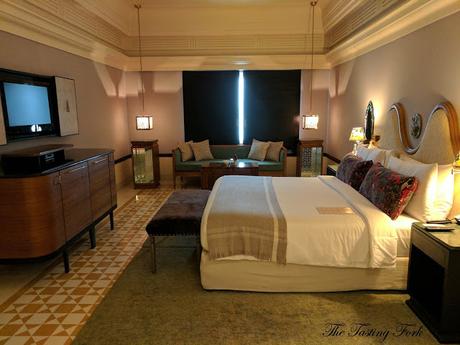 The hotel has an infinity pool from where you can see the entire Bikaner city. They have a tea room, a restaurant, a central courtyard, a private dining hall, and a spa which is scheduled to open soon. They also have a section which is called the Gaushala, the entrance of the hotel that has high tables and chairs and is covered like a cabana, only not a private one. It's the perfect place to enjoy your evening drinks at, with music playing, the place dimly lit, and a great great vibe!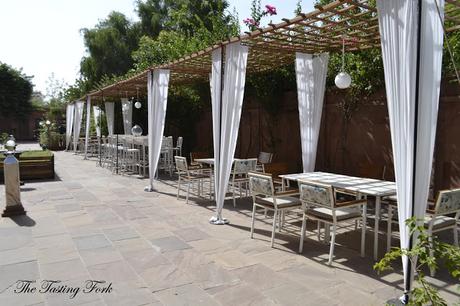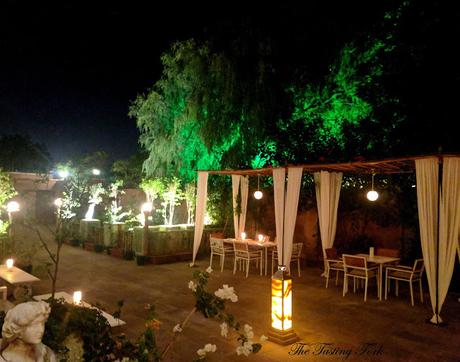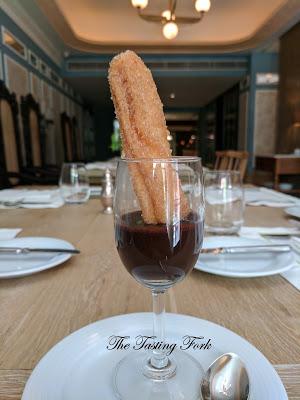 We were given a grand welcome with rose petals and nagaade, and were served bite-sized kachoris and samosas with welcome drinks. After checking into the room and freshening up, we headed for a course-by-course breakfast (yes, that's a thing). Fresh cut fruits, fresh juice, and flavoured lassi was course one. Course two was kachori with dahi and chutney (what's a trip to Bikaner without having kachori- the food item synonymous with Bikaner?), course three was Besan ka chilla with a trio of chutney, course four was poori with methi ki subji and imli ki chhaachh. The most incredible course out of the lot in terms of how I was being introduced to such mix of flavours and subjis completely unheard of. And last came a churro dipped in thick luscious chocolate. The chilla was my least favorite of the lot, but the poori and churros completely made up for that.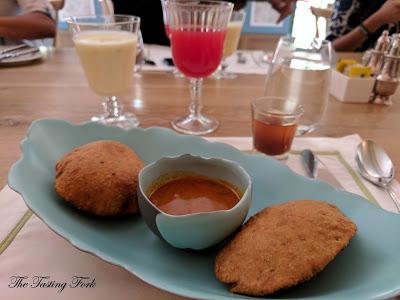 After the fulfilling breakfast, we headed to Laxmi Niwas Palace next door for a tour of the palace and a lunch, which brings us to Food Meditation number 1. Narendra Bhawan has a lot in store for travellers and tourists, and it leaves no stone unturned in giving people experiences they will cherish for life. One such component of the signature Narendra Bhawan experience are their food meditations. We experienced a total of 4 food meditations during our stay here, and each was better than the other one. Enriching, educating, and broadening the horizon for the food world.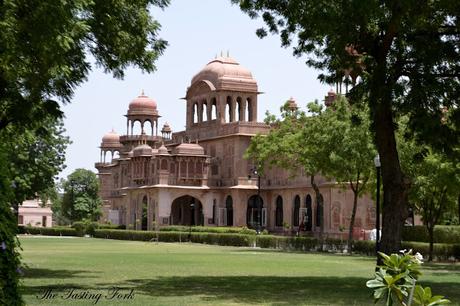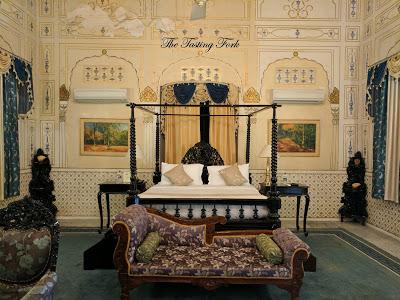 Food Meditation 1- Museum Lunch at Gold Room, Laxmi Niwas Palace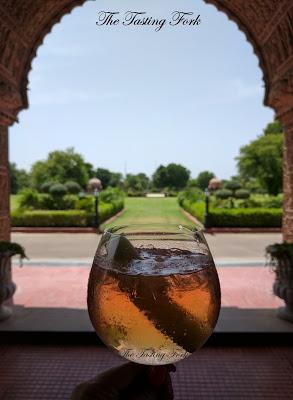 After a tour of the hotel rooms, the pool area, central courtyard, and other sections, we were led into the Gold Room, which got its name from the gold painted walls. Upon our arrival at the palace, we were greeted with Narendra Bhawan's most special Gin &Tonic. If you visit the property, you must order for one of these, and then watch yourself order for multiples over the course of your stay. Refreshing, pleasing, fragrantic, potent and delicious. This still doesn't do justice to the taste.

The Museum Lunch is a rendition of the menu that used to be served here decades ago. Every course has been understood and tried to make a new rendition of, and the menu you get has both the old and the new menu, so you can make your own comparisons and decipher the old menu yourself, if you can. Though that is a failed attempt I'd say.
A sit-down course-wise dinner paired with wines, we started with a bruschetta with bell peppers and a creamy mousse. Moved on to an asparagus mousse served chilled, with a compote underneath. Melting in the mouth! Saw the chef gracefully cutting slices of the mousse and preparing each plate in front of us. The first course was paired with a light fruity sweet Petit Chablis. Then served a heart-warming soup, Potage Dubarry, which is essentially a creamy cauliflower soup.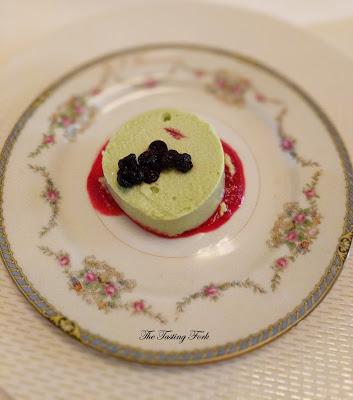 Right after the soup was a soft juicy piece of Pomfret served with Bernaise Sauce. Vanished into some corner of the stomach because of how well it was cooked, that we didn't even realize how quickly we enjoyed every bite with the lovely bernaise sauce and were ready for our next course!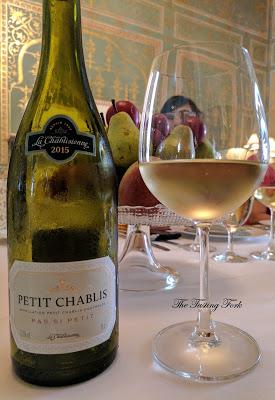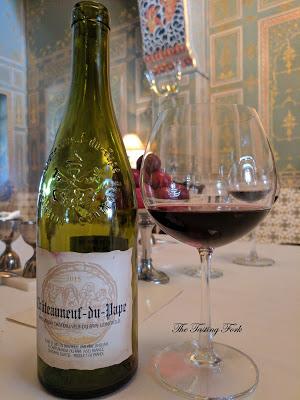 Now if you move away from the finesse part, and you go to indulgence, you will have to give it to the Duck Cutlet we devoured next. With a crisp and thin coating, and a fine stuffing of duck mixed with a little bit of veggies, topped with some sweet and slightly tangy sauce to balance the saltiness of the duck, this was pure bliss! The duck was of course paired with a red wine, Chateauneuf-du-Pape.
If you'd like to even guess what our next course was, I'd say you should save yourself the failed attempts. After so many dishes and so many courses, you'd expect another dish maybe. But what came to our table was a thali, called Plat de Bikaner. With a full-fledged thali consisting of starters, main course like mutton, chicken, curry, dal, subji, several types of roti, some rice, salads and pickles, a thali which could have easily been your entire meal is served as a single course in the museum lunch. Let's just say every component of the thali is perfect, and wonderfully, served hot too. It's delightful to say the least!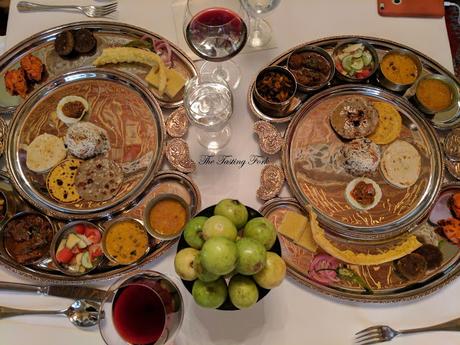 The meal ended with dessert which was served buffet style. To our surprise, the dessert section consisted of a cheese platter. Over the course of next few days, and meals, I understood how cheese and alcohol (wines and gin particularly) had a very special place in the food experiences here. And they weren't just alcohol and cheese, they were a league apart! A cheese platter and some baked apple pie, and you were set to do anything but conquer the world. All I needed was to hit the sack after such a crazy meal experience!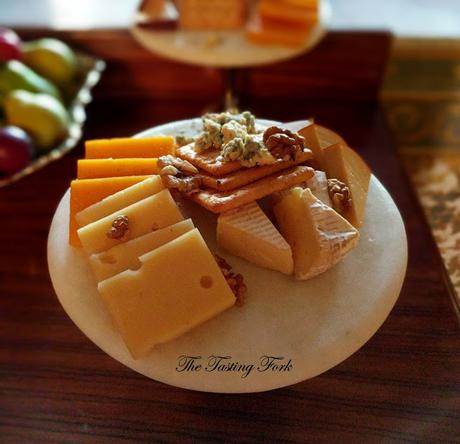 Food Meditation 2- Le Dinner en blanc Darbari
After resting a little, we headed for our next food meditation, which was about dining under the stars, in an open land far far away from civilisation, in the middle of the desert, and a small lake beside which all this was planned. Upon reaching our spot, which took about 45 minutes from the hotel, we were all dumb-struck for a few minutes. Imagine an open land with canopies made out of white cloth, cushions and pillows all silver and glittering, the sky a sober shade of pink and purple, a calm lake with the reflection of everything around, Rajasthani melodies being played on a flute in the background, and it's just you and nature. To get us into the mood and complement the setup with our clothes, we were all asked to wear white. An evening made even more gorgeous.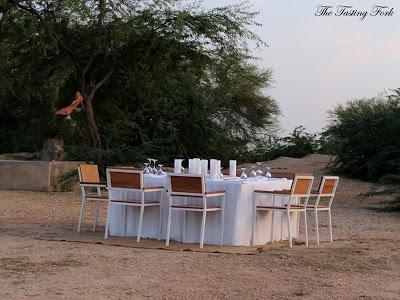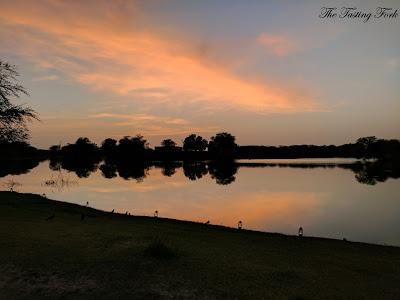 The team at Narendra Bhawan set up a full-fledged bar with the best alcohol, ready to make any cocktail we fancied, and it just didn't stop at that. They had devised an entire makeshift kitchen to cater to us for the entire evening.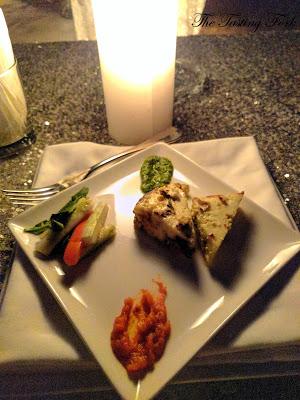 As the Sun slowly set and the sky turned from shades of pink to shades of orange and deep blue, to finally black, we saw a sky full of stars above us. Visible like we can touch them, twinkling like they've been doing since the inception but we get a chance to see them only in a place like this, away from civilization. With the evening beginning, we all sipped on our cocktails and the appetizers starting pouring in. Kebabs char-grilled, cocktails served chilled, it was descending into a night where people shared stories and sang songs, only to find their inner selves being calmed by everything around. For dinner there was a dinner table lit with candles, with white sheets and chairs silver in colour, and food that you cannot imagine you would get even in a hotel, let alone in the middle of nowhere.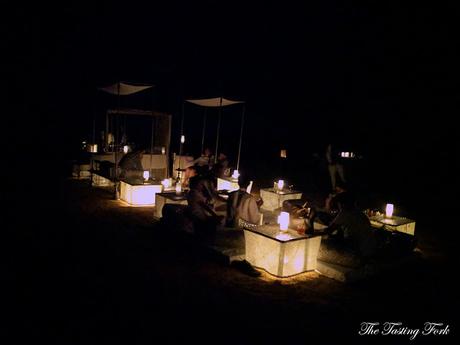 Raan Biryani, Saalan, Paneer, Dal, Vegetable Biryani, Chicken, rotis, and Makhaane ki Kheer, were only some of the things I chose to try because of the excessively full tummy from all the eating during the day and earlier from all the appetizers. Mind-blowing food, food that makes you go wow, meat that makes you go 'so tender'!
Food Meditation 3- Literary Lunch at P&C
P&C, Pearls and Chiffon, is the hotel's multi-cuisine dining restaurant.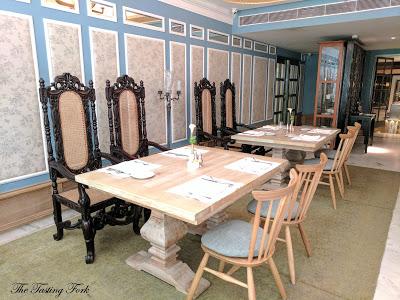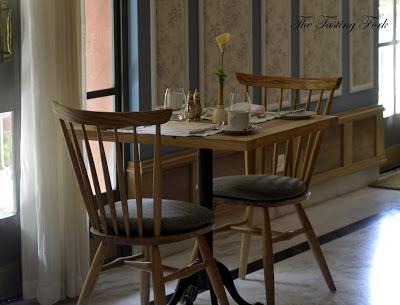 The next morning we missed our breakfast because we slept in for a little longer than we thought. So you can imagine how hungry I must be for our lunch. The next food meditation was based on 6 literary pieces (6 books), and each course was prepared in sync with the plot of each book. There was only an excerpt of each book given, and each person read each literary excerpt, after which the respective course was served and we were explained the inference of that course from the book. My most favorite food meditation! Or maybe the next one was my favourite, but it's a tough choice. I strongly believe literature educates you and enlightens you like nothing else. No amount of practical learning enriches you like getting into a story and feeling the character. And imagine enjoying course after course based on different plots. The whole conceptualisation and execution of this literary lunch is pure art work, and the team should take a bow, and give themselves a pat on the back for doing this so seamlessly.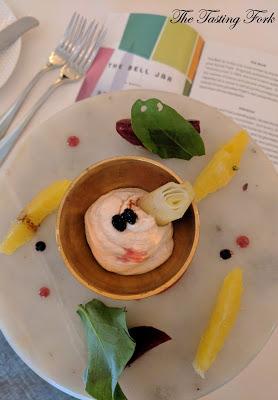 The first course was based on The Bell Jar, where the protagonist of the story had her mind and heart like they were captured in a jar. The rendition of this in the food was splashes of pomegranate juice on the interior of the bell jar. The moment you lifted it up, you could get a strong smoky smell, and saw your dish underneath. The smoke you sae coming out is the protagonist being freed. Such is the inference every course took. Simply brilliant! This course was a Goat's Cheese Mousse served with oranges and roasted beets.  

Next course was Chowder, a shellfish extract with chunks of prawns in it, and served with some cheese balls on the side. Extremely delicious! The story with this course was Moby-Dick or, the whale. So you get the gist- every course had a story that the inference was taken from. We were served Chinese style chicken in the next course, and in another one we were served Lamb Daube, which was lamb braised in wine, balsamic and olive oil, garlic, herbs, orange peel, cinnamon and nutmeg. This was what the menu had as the components, but now I need to emphasize on the brilliance of this dish. Every piece of lamb was juicy and soft like there is no comparison, every piece of lamb was through and through infused with flavour, and the coming to the curry, that is what the star was. I could taste orange, cinnamon and nutmeg as the underlying flavours, but the balsamic shone beautifully and made the dish a piece of art. Really. People on the table could not stop raving about this dish, and I was no exception. Being so stuffed with the previous courses, we still wiped our plates clean till the very last drop. The story with this course was Virgina Woolf's To The Whitehouse.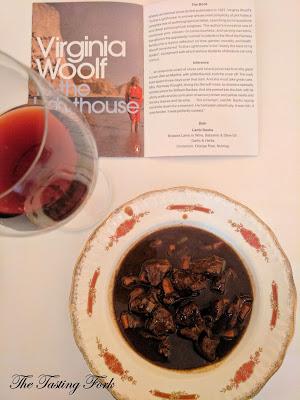 Every course was paired with a wine, and the pairings were beautiful. I must also mention the eye to detail that has been given to the cutlery at this hotel, not just for food meditations but everywhere. The cutlery goes in sync with the food item, the history of it, the nature of the meal, the ambience of the place, and every other component that the hospitality team can look at. Kudos for this intricate detailing.
Food Meditation 4- Le Diner Dans Le Noir at the Night Room
The night room is a private dining area at the hotel, right adjacent to P&C. This was a blind-folded dinner where we were served a course-wise meal, with wine paired with the courses, and we couldn't take out blind-fold off till the entire meal wasn't over. For some people who like to have a control over everything and are too obsessive, this experience can be a little uncomfortable or even intimidating, but for someone like me who likes to embrace everything that comes her way, this was an experience of a lifetime!! I cannot describe the amount of fun I had during this! Before being blind-folded we were shown where our wine glass and water glass would be kept, and after being blind-folded, the server used to come and touch our hand on the plate or the glass whenever a new wine was served or a new course was kept in front of us. We could touch the food, smell it, taste it, and guess what was served to us, but we weren't told what each dish was till the entire meal wasn't over. Exciting to the power of infinity! For a food lover, this is an opportunity to test your skills as well. To know if you really know your food and can gauge the ingredients. Couldn't take any pictures of the food, but you'll have to go by my word- this is an extraordinary experience!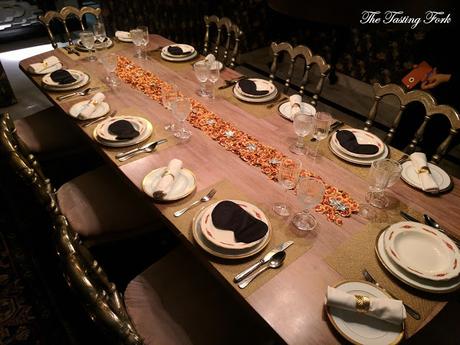 I cannot describe in words what these 4 food experiences meant to me. They all revolved around food and drinks, but they were a thousand times more than that. They had effects on you in ways more than one, and if you really love your food and feel as strongly about it as I do, I'm sure the experience is going to be the same for you as well.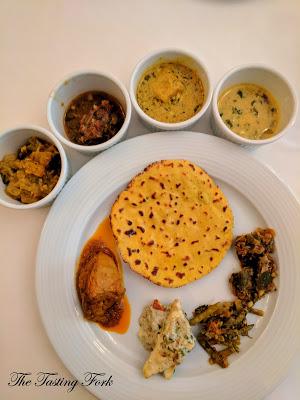 Marwari LunchThis wasn't a food meditation, but a meal that we were served for lunch on the last day. Complete with Dal, Chicken Curry, Mutton Curry, Kadhi, Gatta Curry, Paneer ki subji, gwarfali ki subi, , 3-4 types of roti, and Chhaachh, it was a pure blissful meal! Did not want to stop eating all that goodness but I sadly had to. I don't know what I should recommend at this hotel and what I shouldn't. Because there's nothing that I shouldn't and everything is worth trying here.
Some other experiences
Owners of sherbet shop in Bikaner which is a hundred 100 years old, came to the hotel to make us try some of their offerings, and the sherbets were nothing like you can get in Delhi. Flavours like Jasmine, Rose and Sandalwood are to die for!! All natural, with no artificial sweeteners, imagine the kind of cocktails and mocktails you can make with stuff like these. Got bottles of it back home and everyone loved it!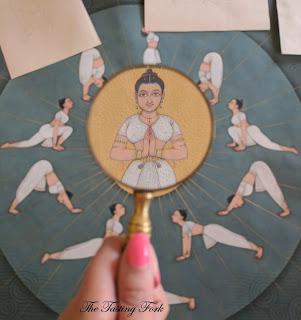 We also met Mahavir ji, an award-winning miniature painting artist who makes paintings that are unbelievably intricate! Using a magnifying glass to see the intricacies in his work, imagine meeting a genius like him who is one in a million in the world, and has also won a national award. He has a studio based out of Bikaner, and if you're ever in the city, you must must go to his studio and have a look at all his work. The lobby at Narendra Bhawan also has some of his work on display.
The hospitality at Narendra Bhawan is unparalleled, and the food takes the entire experience to a whole new level. The rooms and the property of course don't need any selling, but I'd still want to say they're one of the best you can find! The best! I'm going to go back to Narendra Bhawan real soon!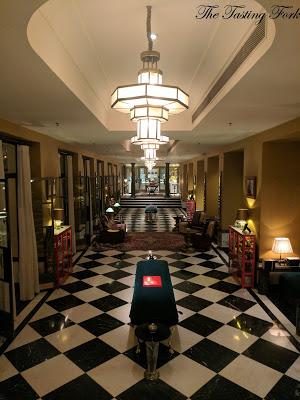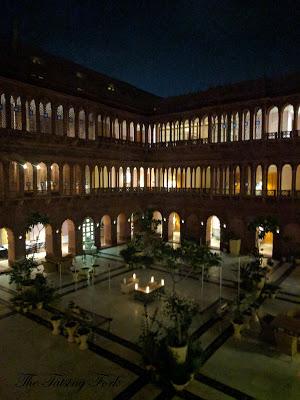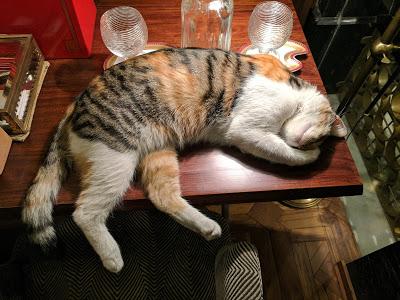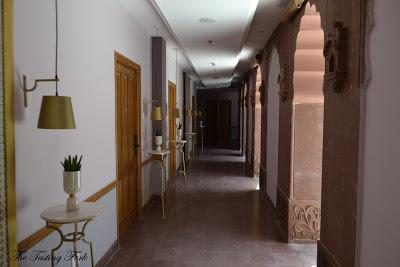 Disclaimer: The review was done on an invitation from Narendra Bhawan. All views expressed are unbiased in nature but readers are advised to exercise their own discretion.Connect with me on:Twitter: @sahibagursahane
Instagram: 
@thetastingfork
Facebook: 

www.facebook.com/thetastingfork
Snapchat: @thetastingfork