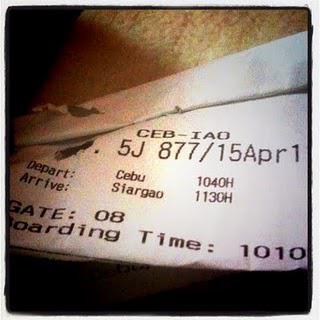 Boarding Pass for the Canceled Flight
I never knew that I would finally experience first hand to have a flight canceled and more so being stranded somewhere far alone. It was an unexpected turn in my supposed grand adventure, but I have no regrets. After all, Cebu is the city where I'd love to live in outside of Metro Manila. It's like a compact, laid-back, and less stressed version of Metro Manila.
Anyway, I flew to Dumaguete last Thursday and flew from Dumaguete to Cebu Friday morning. The original plan was from Dumaguete, I would connect via Cebu to Siargao and spend two days there to see the beach, then take the barge from Siargao to Surigao. I'd then take a connecting flight from Surigao to Manila with a six-hour long layover in Cebu, just so I can spend the afternoon there. Read more...
The night before, I already checked what the weather will be like in Siargao. My iPhone weather app indicated thunderstorms the whole week. I was however basking in holiday euphoria that I didn't give it much thought. At the airport, 15 minutes after the estimated time of departure, we didn't have a boarding call yet, meaning the flight is considered delayed by industry standards. I had a bad hunch already then, and lo and behold, Cebu Pacific calls the cancellation of my flight due to bad weather in Siargao.Because it's a cancellation due to force majeure, as a budget carrier, Cebu Pacific can only offer to be put on the next morning flight to Surigao or anywhere in the Philippines, a fee-waived rebooking of up to thirty days, the creation of a travel fund that can used up to three months, or a card refund. After pleading to the station supervisor and manager of Cebu Pacific for some time, I found that since I bought my flown tickets per sector and my Surigao-Manila via Cebu as a throughfare, I need to buy a return ticket to Cebu should I wish to pursue my Siargao trip up to a month from April 15. I won't go into details of their policy, but basically, that's it.
Good thing, I have a Zest Air return ticket that was open dated due to a cancellation. I rebooked it and had it connected with my Siargao flight in May. I also decided to just stay for the night in Cebu, since it has been a long, stressful day already.
I went to the ever-dependable Facebook page of the Pinoy Travel Bloggers group and posted that I was stranded in Cebu for the night. Carla posted that she was free, and she has contacted Doi also. I was honestly touched at how warm and welcoming they were. I suggested that we meet in Asiatown IT Park in Lahug, as the last time I've been there was in 2009 on my first adventure alone. 
When I thought it's going to be only the three of us, Edwin and Edcel were there too! We happily chatted about travel and blogging over crepes at East West. I had to leave by midnight to go check out the clubs at Mango Square.
The following morning, I found myself in Carcar, Cebu and sampled all the food, while in the afternoon, my Zest Air flight has been delayed by an hour. Now this trip really has to have all those sudden twists. I'll write more about all these soon, but right now, I'm so tired.
In the wise words of Sir Estan as told to me, "Take advantage of the change of plans. Don't see it as a negative event." As stressful some portions this trip were, the excitement was well worth it.