Visita Iglesia
is a Catholic tradition here in the Philippines that can be directly translated to "church visit." Annually, pilgrims during Maundy Thursday visit either seven or fourteen churches to represent the fourteen Stations of the Cross.
It has been our family's tradition to do a Visita Iglesia every year, but this year, my mom just came home from a trip, so my parents just decided to rest. Since I was spending Holy Week in Los Banos, Laguna, I decided to do a Visita Iglesia of Laguna's heritage churches by myself, however on Good Friday (April 22, 2011). I had the mission to spend under 300php, since I was coming from Los Banos only.
Read more…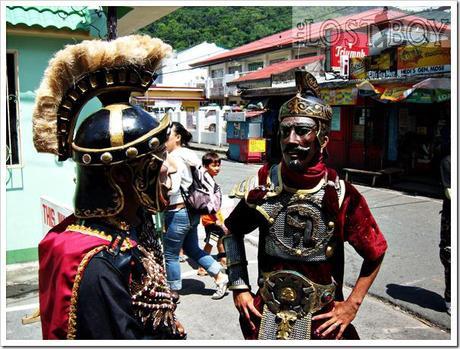 From Los Banos Junction, I took the air-conditioned bus to Sta. Cruz, Laguna. I know this is not the cheapest mode, but because it was almost an hour's trip on a hot, humid day, I didn't mind the 10php difference. I have never commuted farther than Sta. Cruz, so I told the conductor that I was headed to my first stop, Pakil. He advised me to take the jeepney to Siniloan from the bus terminal and tell the driver to drop me off at "Turumba."
As the jeepney passed along Pakil's highway, I saw a "Turumba" marker that points to a street, leading to
San Pedro de Alcantara Church
. I could see the belfry already, and it took a five-minute walk from the highway. Inside the church, I took photographs of the prepared floats for the afternoon's procession. I then asked a parish servant where the Our Lady of Turumba was, and he told me to proceed to the chapel at the second floor. I went to the chapel and prayed, but I did not see a statue of Our Lady. I did not do my research beforehand, so I was walking around the second floor, looking for the image. Only after I went home that I knew that the image is an oil canvas painting not a statue, and indeed the relic is encased inside the chapel on the second floor.
It was past noon already, and the sun was at its highest. The heat did not deter me, but I was concerned about my skin and skin tone. Anyway, I was going to my second stop already—Paete, the town famous for its woodcarving. I took the jeep to Sta. Cruz and alighted at the street marker leading to the town proper. After a few turns, I was able to reach
Santiago Apostol Church
, where Ian and his friends Joel and also Ian approached me. We had lunch together at a small eatery and shared our travel stories.
Right in front of the eatery, we witnessed the 3PM Good Friday procession, marking Jesus Christ's death. There was a unexplainable, bordering on eerie solemnity about the procession, as all we heard were the rhythmic stomps from the men that were carrying the glass-enclosed image of Jesus Christ's body.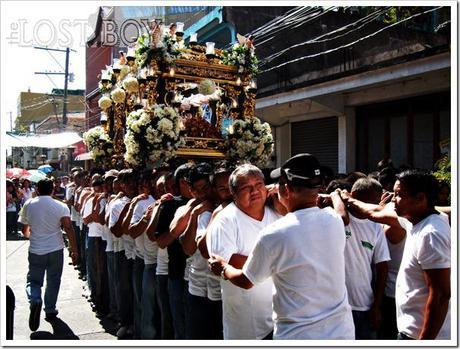 We took the Sta. Cruz jeep going to Longos in the town of Kalayaan. Along the way, we saw flagellants who were performing their annual penance. They were whipping themselves to their flesh, and I cringed. Personally, I am against this practice, but here in the Philippines, we could only tolerate their way of faith.
Again, we were dropped off right at the street leading to
San Juan Bautista Church
. We witnessed its sad fate—though still whole, it was damaged and unpreserved. I found out later on that typhoon Milenyo destroyed the church's roof, and since the parish does not have enough parishioners than it used to and the parish itself is not financially wealthy, they instead replaced the original stone roof with a steel roof.
We went back to the highway and took the jeepney bound for Lumban, which is famous for its hand-embroidered Barong Tagalog and gowns. The church was a long walk from the highway, and I could already sense the tiredness of my companions, who were traveling from the day before. We reached
San Sebastian Church
and explored what used to be an infirmary to ailing Franciscan missionaries.
We also saw the nearby Lumban River, where the Laguna Copperplate Inscription was found. According to history, it is the earliest known written document found in the Philippines by Alfredo Evangelista in 1989.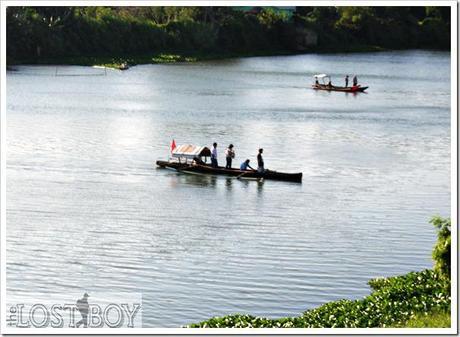 From Lumban, we reached
Nuestra Senora de Guadalupe Church
, which is just along the highway of Pagsanjan. Inside the church compound, we could already see a crowd gathered outside for the late afternoon procession. We went in and prayed, as it was the last stop for Ian and my newfound friends. After saying goodbyes, I rode two jeepneys: one to Sta Cruz, then another Calamba-bound jeepney to Pila.
I got to Pila during the late afternoon procession, so jeepneys were not allowed entry into the town proper. Fortunately, a man was kind enough to guide me near the church. By the time I reached the
Shrine of San Antonio de Padua
, however, the procession had just ended. I took pictures of the saints and dug into street food, since I was really starved. I took a final jeep to Los Banos fulfilled that I saw six churches, while sticking to my set budget.
So as I've said, my budget was 300php, since I came from Los Banos. But below, on the other hand, I have adjusted the budget to 500php for those who are planning to do the same trip, with the bus station in Cubao, Quezon City or Buendia, Pasay as the starting point:
Summary of Expenses if Coming from Cubao or Buendia Bus Station
Bus from Buendia or Cubao to Sta. Cruz Terminal 150php (estimated)
Jeepney from Sta. Cruz Terminal to Pakil 22php
Jeepney from Pakil going back to Paete 8php
Jeepney from Paete to Longos, Kalayaan 9php
Jeepney from Longos, Kalayaan to Lumban 11php
Jeepney from Lumban to Pagsanjan 8php
Jeepney from Pagsanjan to Sta. Cruz 8php
Jeepney from Sta. Cruz to Pila 17php
Bus from Pila back to Buendia or Cubao 130php (estimated)
Subtotal Transportation Expense 363php
Money left for food and other expenses 137php
It was quite an experience to see and learn about the history behind these churches. Unfortunately, some of them were not pristinely conserved, so what we can do is to not contribute to their destruction anymore. They are God's homes after all.
Many thanks to my unexpected companions that day,
Ian dela Pena
of
Dreams of a Brown Man
,
Joel Aldor
of
Illuminati Tours
, and photographer
Ian Colendra
. Until the next, guys!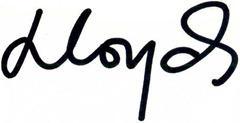 Related Posts: Laguna Heritage Churches Part 1: Pakil, Paete, and Longos and Laguna Heritage Churches Part 2: Lumban, Pagsanjan, and Pila