We took the free transfer from Orinda Beach Resort to Station 3. From the main road, we had to walk through the access road to the Station 3 resorts then again to where we are staying: Arwana Hotel. I know you are amused by the name, and we had admittedly made fun of it too. However, it's safe to say that it's one of the better value accommodations in Boracay. I will write a separate review on Arwana Hotel soon.
After being served welcome drinks, we were brought to our room. It was quite spacious for a standard room, but then I found out we were upgraded to superior for free. One problem, however, is that we were given one double bed, when I asked before hand for two single beds. They quickly set up an extra mattress though, so it wasn't a problem. Read more…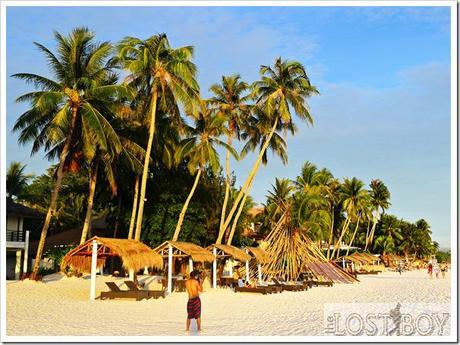 We got prepared to meet Karl and Brian, also my cousin's friend who came in that morning, for lunch. Christian and I wanted to try Boracay's restaurants, but looking at their menus, they are beyond our 300php budget. We all agreed to eat at Andok's instead!
So after lunch, the three went to a coffee shop in Station 2 with a long name. I forgot the name, of course. Why can't they just name it short like Starbucks, right? Anyway, I walked back to our hotel, and only then I realized that it's far! I took around 20 minutes to go back, but I did take pictures along the way.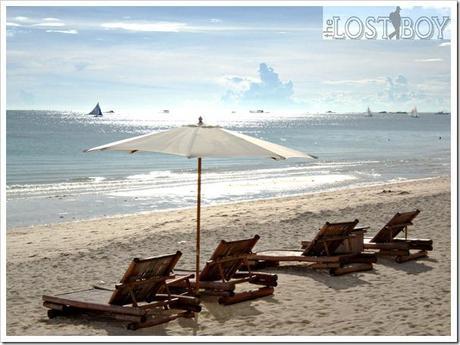 Met with the three boys to chat some more until late afternoon, then they wanted to go to Discovery Shores for happy hour. These guys sure do want to get drunk early! I did not object though, since it would mean I could see Discovery Shores for the first time. And so we journeyed off to Station 1.
While walking on the beach, I decided to take pictures of the picturesque Boracay. It was almost sunset, so I took out my camera only to find out that it ran out of battery. My camera sure does know how to ruin a vacation. Good thing, Brian let me use his Lumix, so it was all good. Took around 200 shots of the beach, the water, the people, and of course, the sunset.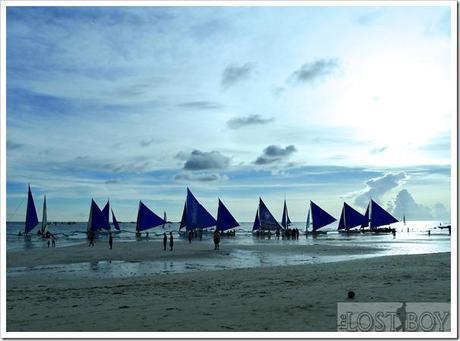 Walking on the beach and taking these pictures made me realize that while I sometimes think Boracay is overrated, it is still one of the most beautiful places in the Philippines. I don't mind being in this piece of paradise for long stretches of time.
It took me some time to catch up with the three who were already on their second mojito at Discovery Shores. Mojitos are around 300php for two on their happy hour. If you read my blog enough, you'd know that I'm allergic to alcohol, so I just took pictures of the place. Discovery Shores is not to be outdone in the aesthetics department. I will post more pictures on a separate post.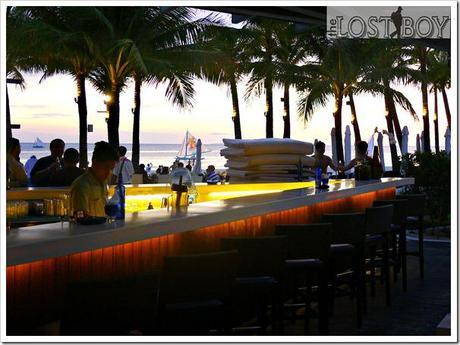 For dinner, we went to some buffet. It was only less than 300php for an all-you-can-eat meal that includes shrimp, fish, crab, squid, pork, and some more others. Boracay is popular for those buffet deals, but be sure to shop around for the right buffet first.
After dinner, we went to our respective hotels to prepare for our night out. Christian wanted to nap a bit, so I went out alone for a bite. To my defense, I wasn't able to eat much at the buffet, and the dinner was hours ago. I went to get a "Choriburger" for 50php, tenga ng baboy (pig ears), and isaw baboy (pig intestine). The last two are the kind of street food I eat a lot back home.
Past midnight, after checking out some places, Christian finally joined me. Only Epic and Summer Place were alive that night. We went to the former and danced a little. Brian joined us around 2am without Karl who is fast asleep. They had a beer, then we all headed back to the hotel where we continued chatting some more about love and life.
Christian told us that a day in Boracay seems to last faster than a day back home. Indeed, it does. Before we knew it, the sun was rising already. It meant that we're flying back to Manila soon, but we seized the chance to have a last early morning dip. We still had time for one more Jonah's shake—Christian and I tried their bestseller, the banana peanut chocolate shake. It was then time for us to hurriedly pack our bags, eat a quick breakfast, and checkout.
Our trip to Kalibo International Airport would have been uneventful, if not for the cooperative that operates the van service to the airport. This is the cooperative that sells van tickets right at Boracay's jetty. Do not buy your van tickets from them.
Before we boarded the fastcraft, I decided to ask the man at the desk if they could take us to  the airport in Kalibo in time for our flight. He coordinated with the Caticlan terminal and said yes. We bought our tickets and rode the van after the short boat trip. We were getting nervous when it wasn't getting filled. I reminded the dispatcher that the guy manning the desk in Boracay said we would get to the airport on time. He responded that the van isn't going anywhere unless it fills up completely. I insisted again that the guy at the desk in Boracay said we would make it and has even coordinated with them through their two-way radio. He said it was our fault that we came out late from Boracay, and it was up to us to know that we wouldn't make it to the airport on time. With this, I unfortunately went livid, which normally doesn't happen.
I told him that the guy in Boracay should have informed us that we wouldn't make it, else we would have ridden the regular van service that leaves faster. I opted for their van service because we were assured that we would make it on time. Christian was telling me to calm down, but the guy was still insistent that it was our fault and not theirs. My frustration was explainable though, as the last time I checked, tickets back to Manila were worth more than 5000php each. I very well know that Cebu Pacific is not forgiving on latecomers.
We finally left at such a dangerous time, at around one and a half hours before check-in closes. Long story short, we made it on time, running. Christian said we were like The Amazing Race. Heck, I'd really run if it meant more than 10,000php penalty for missing a flight!
After check in, I bought some of Kalibo's ubod or sticky rice cakes, which were 20 pieces for 100php. I went back to the airport and saw how chaotic Kalibo International Airport was. Even at its upgraded state, it cannot handle a mob of passengers of three Airbus 320 flights, with some more flights checking in. The final X-Ray hand baggage scan wasn't working either. Hope the government would do something about it.
We finally boarded the plane and that ends our Boracay holiday. Until then, Boracay!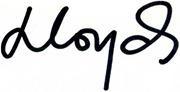 P.S. Many thanks to Christian, whom I consider my cool, tolerant big brother figure. Thanks also to Karl and Brian, whose presence in Boracay came as a very pleasant surprise. We wouldn't have enjoyed Boracay as much without you guys. Looking forward to being in the same island again!
Related Post: Travel Diary: I Can't Let Summer Pass without Boracay (Part 1)